This Paleo Lemon Zest Ice Cream is tangy, creamy, and so delicious! Easy to make and dairy free, naturally sweetened and low FODMAP.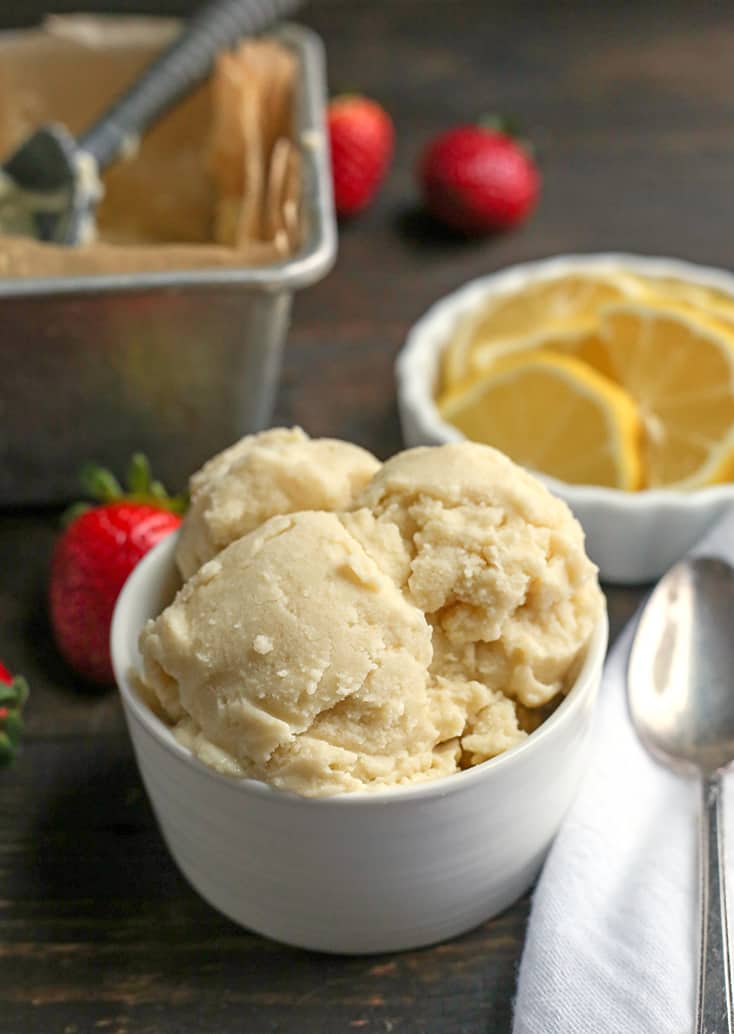 Now that you know how to make the perfect Paleo Lemon Curd, it's time to make some ice cream with it. Really, once that's made this comes together quickly. Even with making the lemon curd, it's pretty quick.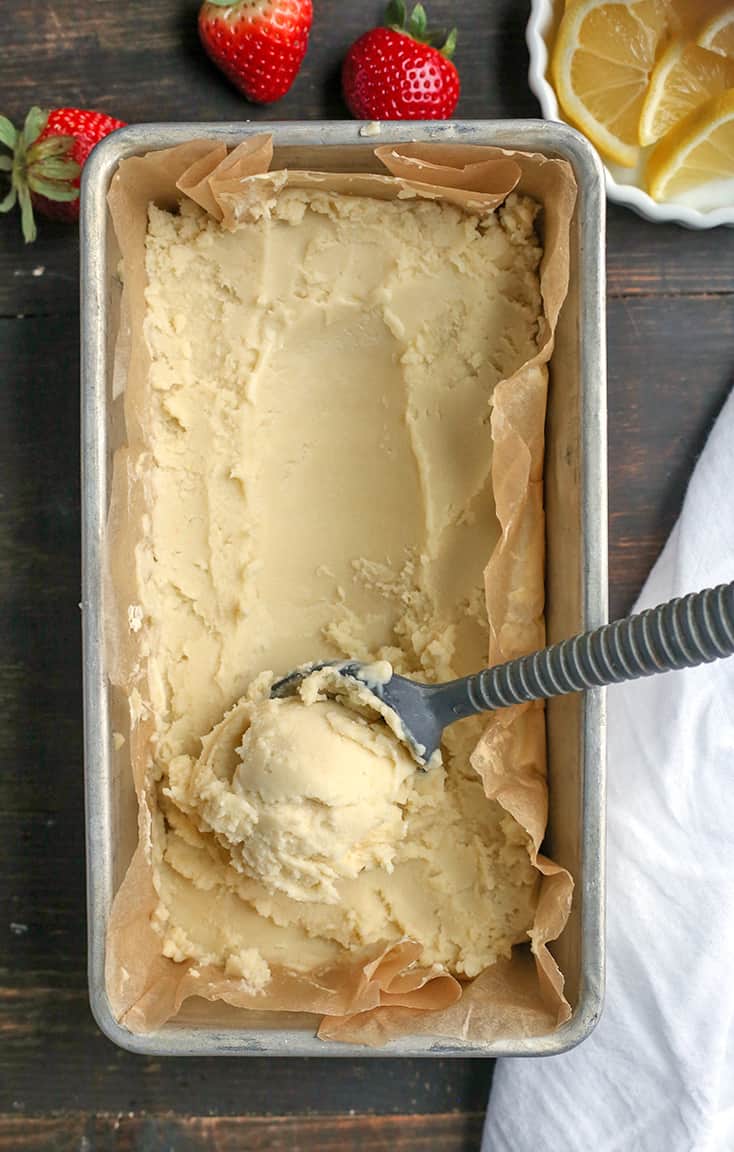 This ice cream is not overly sweet, which I think is a good thing. It is naturally sweetened with maple syrup (in the lemon curd and a little more added), but the lemon flavor really shines. You could definitely add a little more maple syrup if you want it sweeter, just taste the mixture before refrigerating it.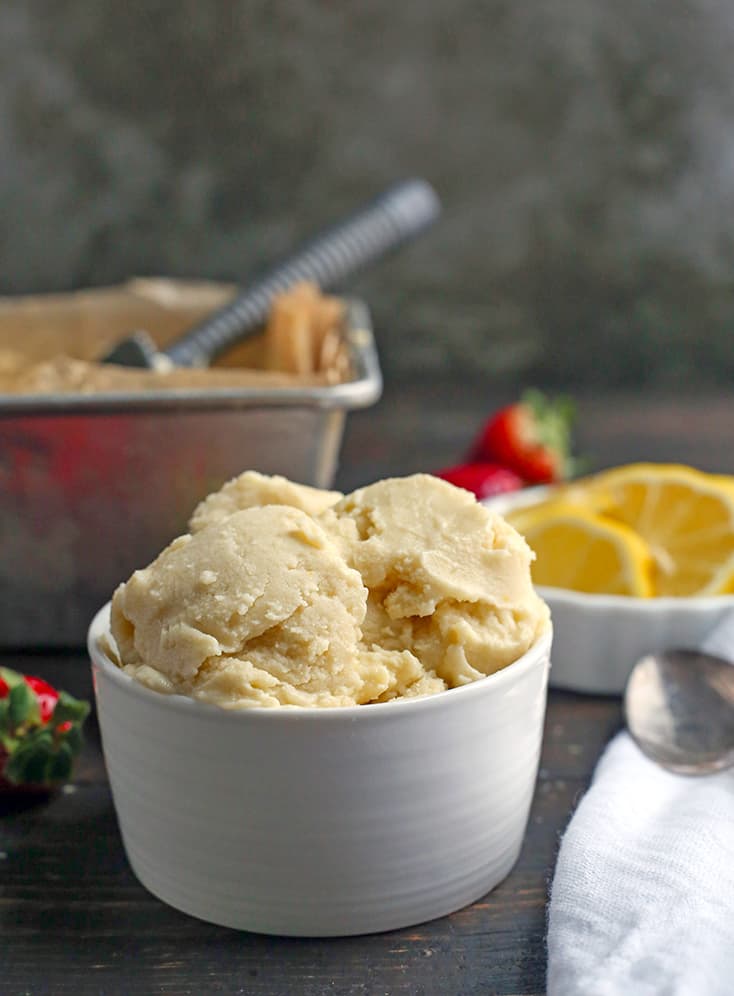 Low FODMAP
This is low FODMAP, but you can't eat the whole batch at once 😉 Coconut milk is okay at ½ cup servings or less, so keep your servings to around that much to keep it low FODMAP.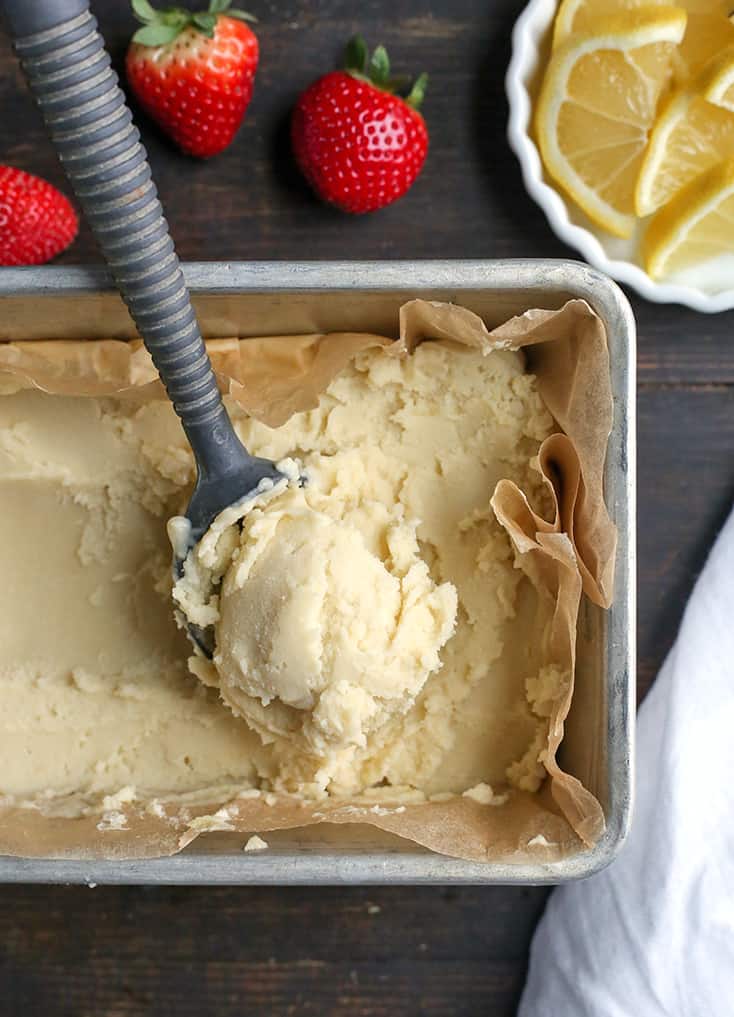 I always like to use grass-fed gelatin in my ice cream. It helps it not get too icy. It will turn the mixture into a lemon jello though- just a warning. When it cools in the fridge it will thicken up. It's fine to go in the ice cream maker like that. It will get smooth as it churns.
I get the question a lot if ice cream made with coconut milk tastes like coconut. It can, but it depends on the coconut milk you use. I like Natural Value Full Fat Coconut Milk- it's creamy and doesn't have too strong of a coconut flavor. It also doesn't have any thickeners, like guar gum, that can irritate your gut. (This is not sponsored, I just like this one the best)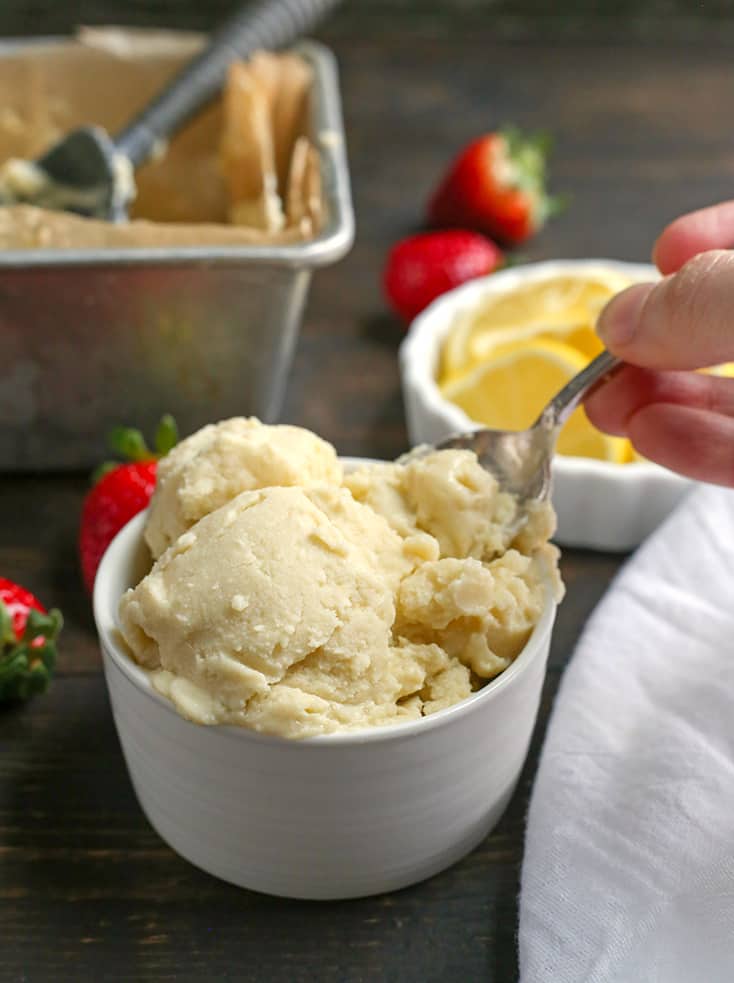 You can eat this right away when it's the consistency of soft serve (my favorite!) or place it in a pan and freeze it for harder ice cream. It is good to take it out of the freezer about 10-15 minutes before scooping so it's not too hard.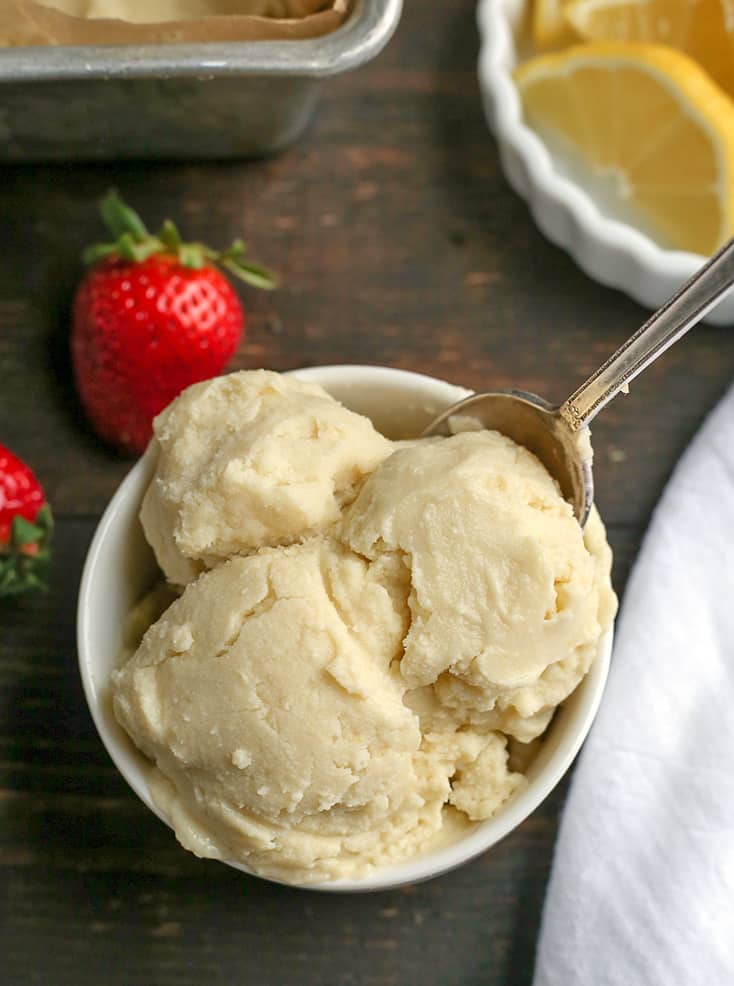 This ice cream is light, refreshing and so delicious! I know you will love it.
Here are some more ice creams you will love: Paleo Mint Chocolate Chip Ice Cream, Paleo Pumpkin Ice Cream, Paleo Death by Chocolate Ice Cream, Paleo Vanilla Bean Ice Cream, and Paleo Chocolate Almond Butter Ice Cream.
HERE is the ice cream maker I have and love.
Hungry for more? Subscribe to my newsletter and follow along on Facebook, Pinterest and Instagram for all of the latest updates.
Paleo Lemon Zest Ice Cream
Instructions
Before you begin, make sure ice cream bowl has been freezing for at least 24 hours.

In a small sauce pan, combine the lemon curd, coconut milk, and maple syrup. Whisk to combine. Sprinkle the gelatin evenly over the mixture and let bloom (just let it sit there) for 5 minutes. Whisk in the gelatin and turn the heat to medium. Warm until the mixture is smooth and everything is combined. It doesn't need to come to a boil.

Pour the mixture into a medium bowl. Let cool, then refrigerate at least 3 hours or overnight.

Pour the cooled mixture into your ice cream maker and follow manufacturers directions for churning. Mine took about 6-8 minutes.

While ice cream is churning, prepare a loaf pan. Line it with parchment paper and cut away any excess that hangs too far over.

Scoop ice cream into pan then freeze until solid or eat right away, it will be the consistency of soft serve. After removing it from the freezer, let sit out for 10 minutes at room temperature before scooping, just to make it easier.
Notes:
*Keep the serving around ½ cup to keep it low FODMAP
Nutrition Information
Calories: 153kcal (8%)Carbohydrates: 4g (1%)Protein: 1g (2%)Fat: 14g (22%)Saturated Fat: 0.03gMonounsaturated Fat: 0.001gSodium: 2mgPotassium: 9mgSugar: 2g (2%)Vitamin C: 0.001mgCalcium: 5mg (1%)Iron: 0.02mg