These Paleo Oatmeal Cream Pies contain no oatmeal, but still have the same taste and texture. A soft, sweet cookie with a marshmallow filling. Gluten free, dairy free, and naturally sweetened.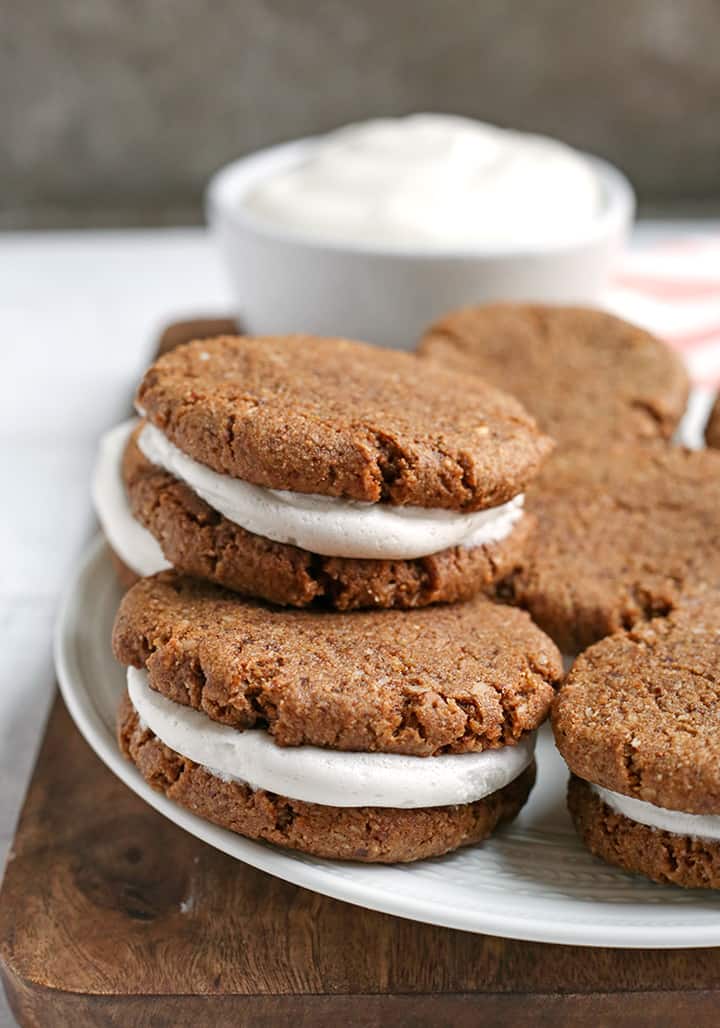 These cookies were fun to make and fun to eat! I'm pretty sure almost everyone grew up eating them and they're so nostalgic. I hope you love this made-over version.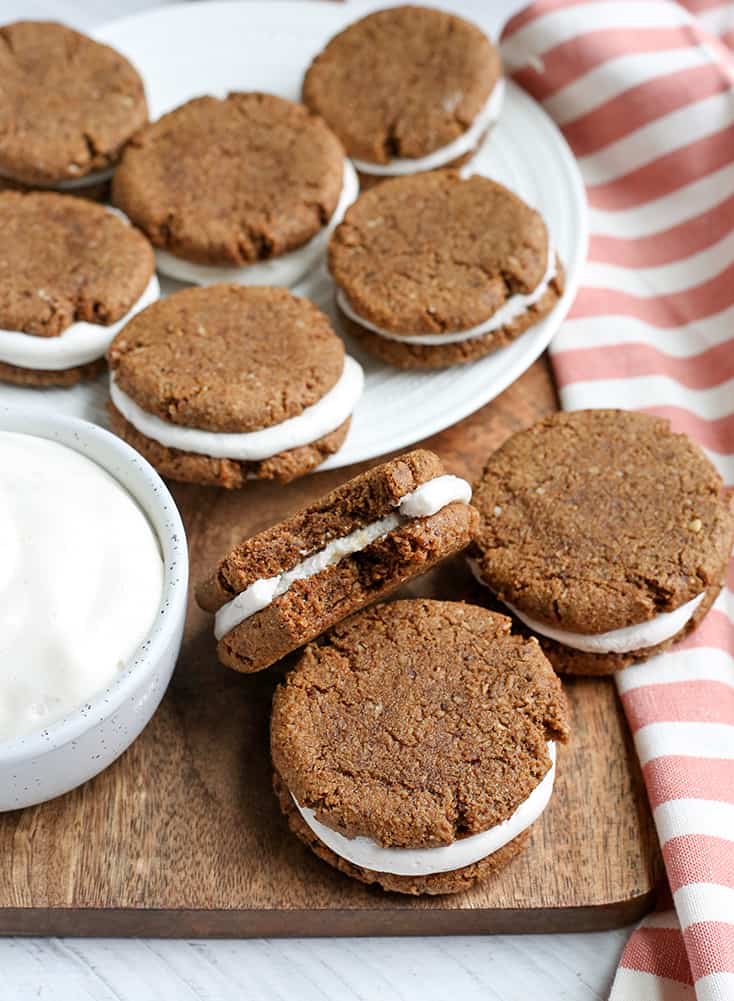 No Oatmeal Cookies
The cookies are an oatmeal-type cookie, but of course made with no oats. Shredded coconut gives that same texture and they aren't overly coconuty. They are soft and the molasses really gives them the classic flavor- don't leave it out! They are easy to make and would be good even on their own.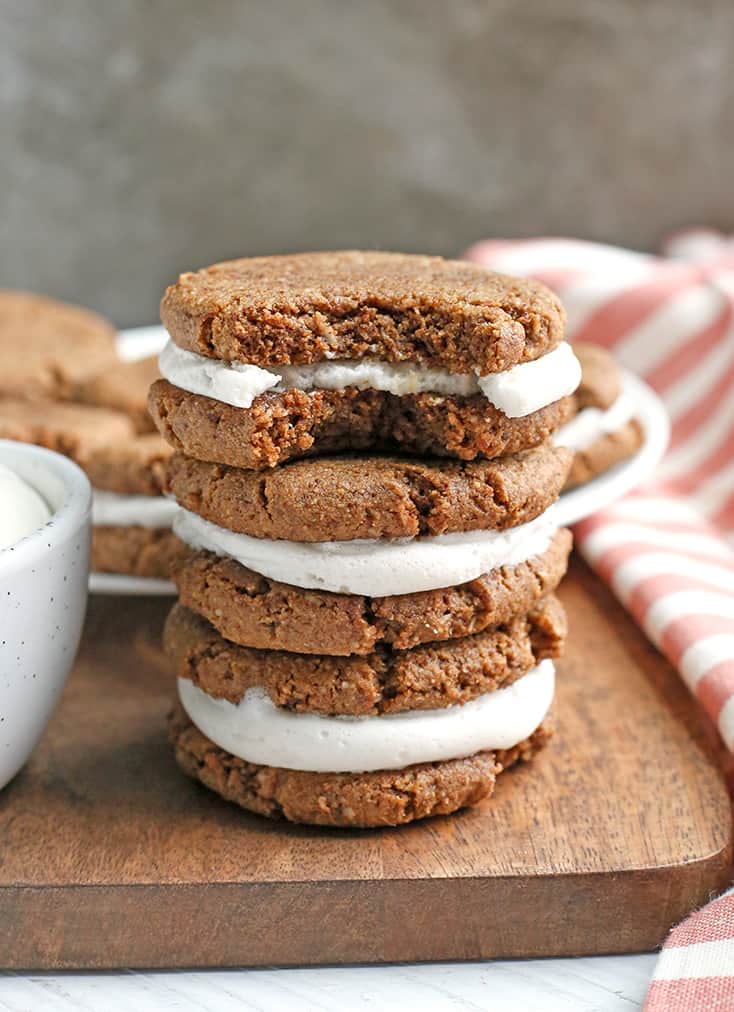 Marshmallow Filling
The original filling is spongey and very marshmallow-like. Making marshmallow may seem intimidating, but it's really so easy. It's more of a marshmallow fluff than marshmallows and it will make a little extra which is not a bad thing. I used a similar recipe to my Paleo Chocolate Marshmallows, but used less gelatin so they wouldn't set up as stiff. You can use honey or maple syrup. I feel like maple syrup is less strong of a flavor, but if you like the flavor of honey then feel free to use that. Either will work. Having a good thermometer and stand mixer make this step so easy!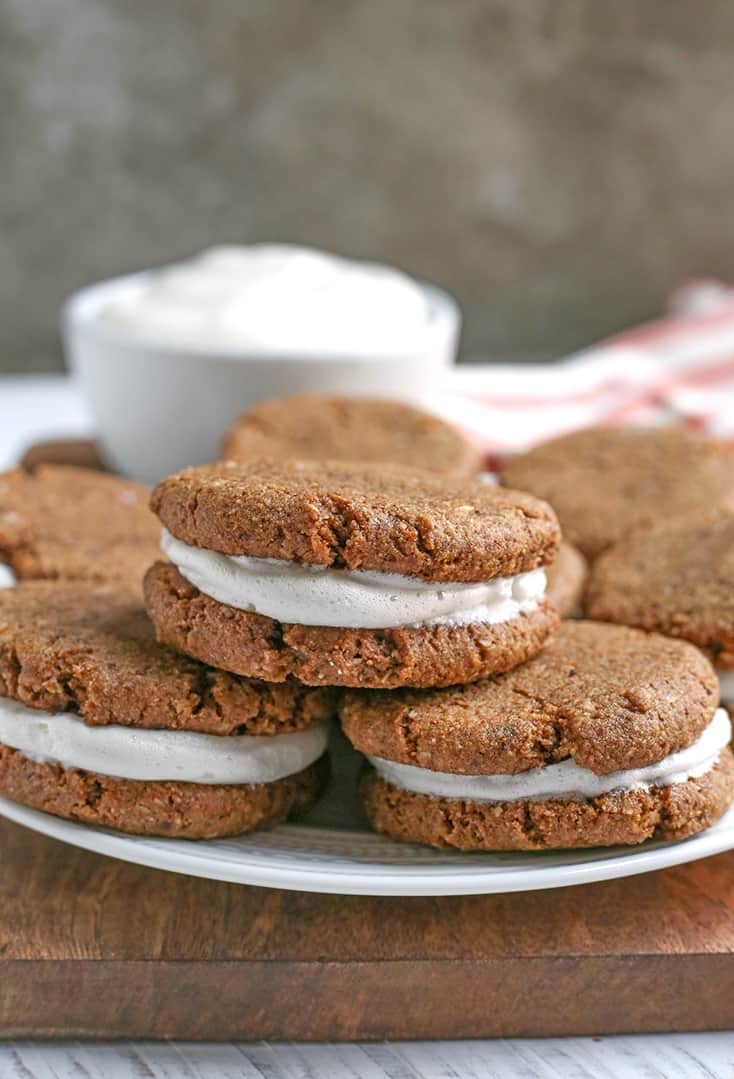 Even thought these are a little more time consuming to make because of the filling, they are 100 percent worth it. If you've been missing the originals then you have to try these!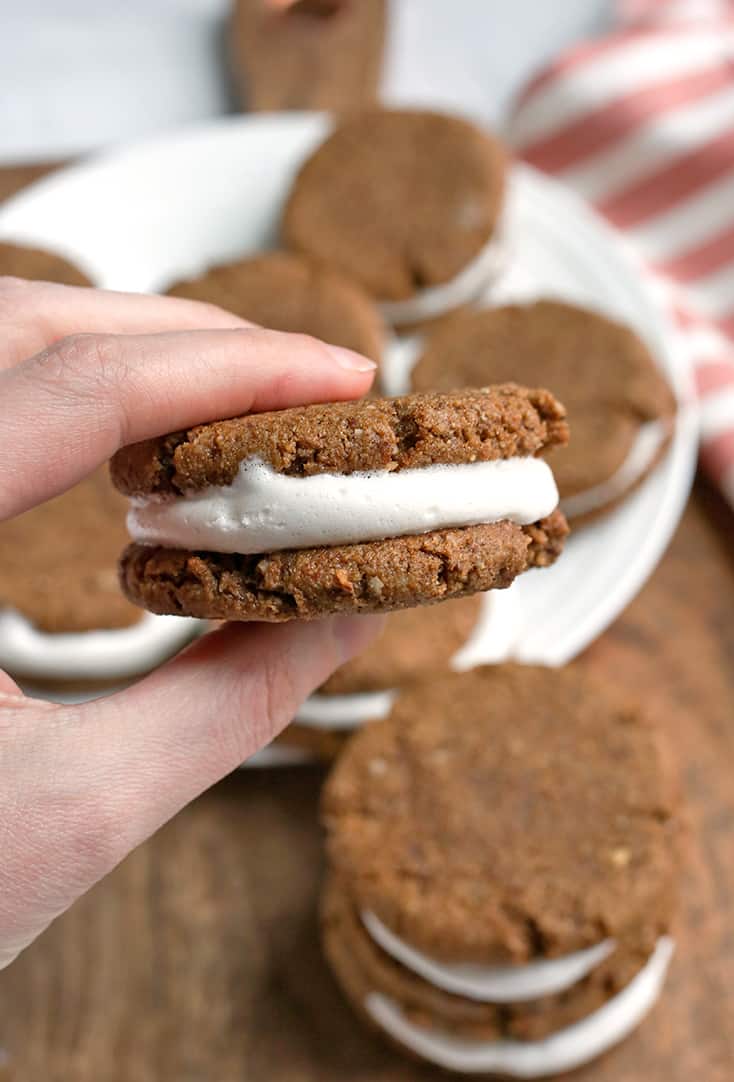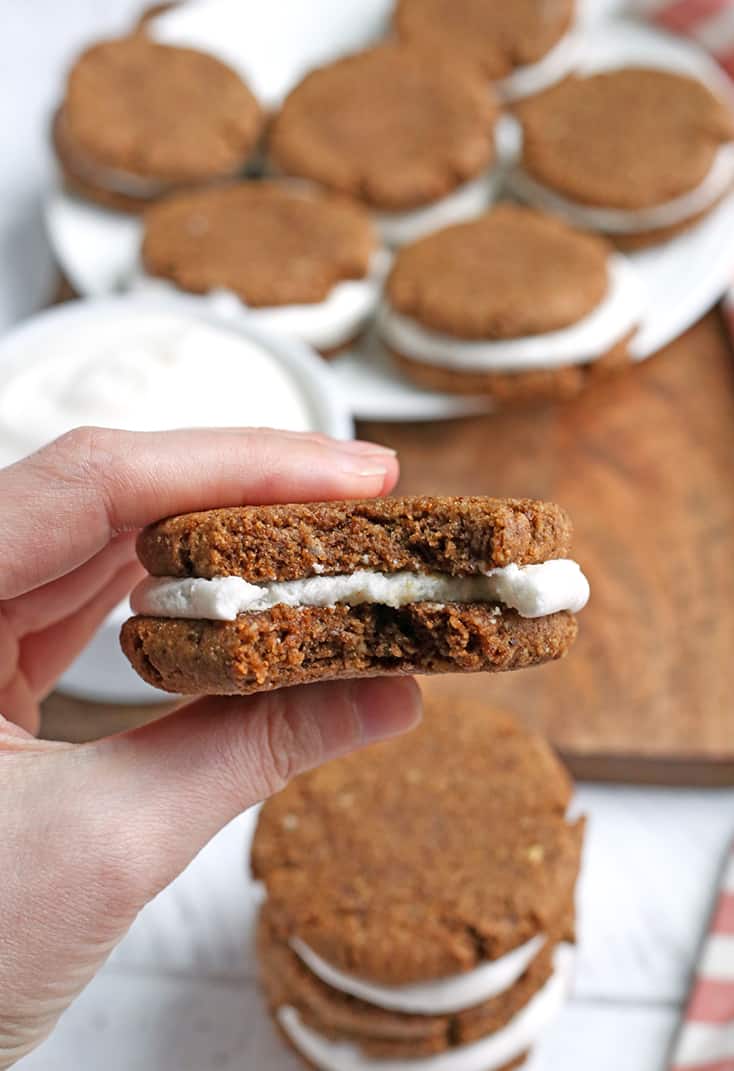 Sinking your teeth in, you get a soft, oatmeal-like cookie and fluffy filling. It's so close to the real deal! They're definitely worth making for yourself.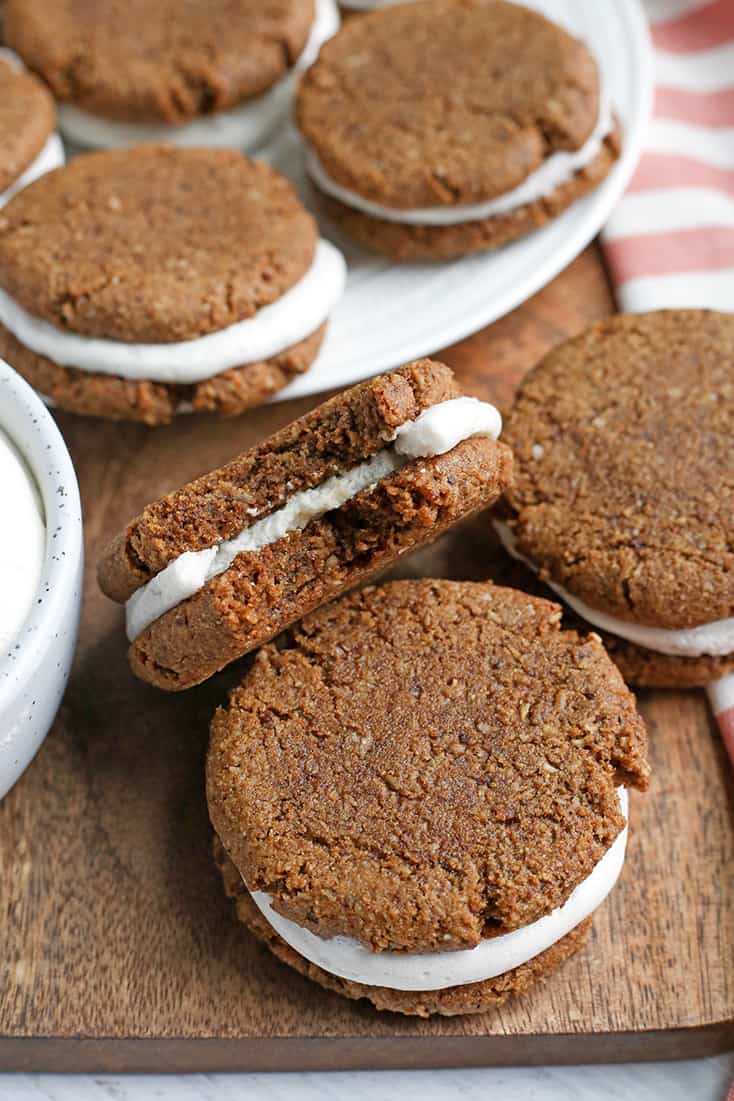 I know you will love these Paleo Oatmeal Cream Pies and here are a couple more copycat recipes you will like: Paleo Twix Bars, Paleo Thin Mint Cookies, and Paleo Vegan Samoa Cookies.
Hungry for more? Subscribe to my newsletter and follow along on Facebook, Pinterest and Instagram for all of the latest updates.
Paleo Oatmeal Cream Pies
Instructions
Preheat oven to 325° and line 2 cookie sheets with parchment paper.

Make the cookies. In a large bowl, combine the almond butter, coconut sugar, egg, maple syrup, and molasses together. Stir in the almond flour, coconut, salt, baking soda, and cinnamon. Mix until everything is well combined.

Scoop cookies onto sheet trays, making 20 equal size cookies. Roll between palms to make a ball and press down slightly. Bake for 14 minutes, until slightly brown around the edges. Let cool fully before making the filling.

Make the filling. Place ½ cup water in a bowl of the stand mixer. Sprinkle the gelatin on top and let it bloom while you make the syrup.

Add the other ½ cup water to a small sauce pan and add in the honey or maple syrup. Turn to medium heat and bring to a boil. Boil until mixture gets to 140°. I boiled mine for 10 minutes and it wouldn't go above 125° and it still set okay, but try to get to 140°. (*UPDATE* When I made them with maple syrup I needed to get the mixture closer to 242°, soft ball stage. I couldn't get it quite hot enough, but after 10 minutes of boiling I added it to the mixer. It took about 20 minutes to whip up, but did work.)


Turn off the heat and let the bubbles stop. Turn the stand mixture on low to let the gelatin mix with the water. Slowly pour the hot mixture in and then turn the speed up to high. Beat until triples in size and light and fluffy- about 6 to 8 minutes. You don't want to beat longer than that or the marshmallow will get cool and hard to spread.

Spread about a tablespoon of the mixture onto a cookie and place another cookie on top, making a cookie sandwich. Repeat with remaining cookies. You will most likely have left over marshmallow fluff that you can use for something else. You can place it in a parchment lined pan and let it cool.

Store cookies in an air tight container at room temperature for a day, then in the fridge after that for freshness.
Notes:
*Or nut butter of choice
Nutrition Information
Calories: 490kcal (25%)Carbohydrates: 50g (17%)Protein: 12g (24%)Fat: 31g (48%)Saturated Fat: 7g (44%)Polyunsaturated Fat: 2gMonounsaturated Fat: 4gTrans Fat: 0.002gCholesterol: 19mg (6%)Sodium: 144mg (6%)Potassium: 228mg (7%)Fiber: 7g (29%)Sugar: 39g (43%)Vitamin A: 28IU (1%)Vitamin C: 0.3mgCalcium: 136mg (14%)Iron: 3mg (17%)