This Paleo Whole30 Hummus is bean-free, but still so delicious. This quick dip makes the perfect snack and also is gluten free, dairy free, and vegan.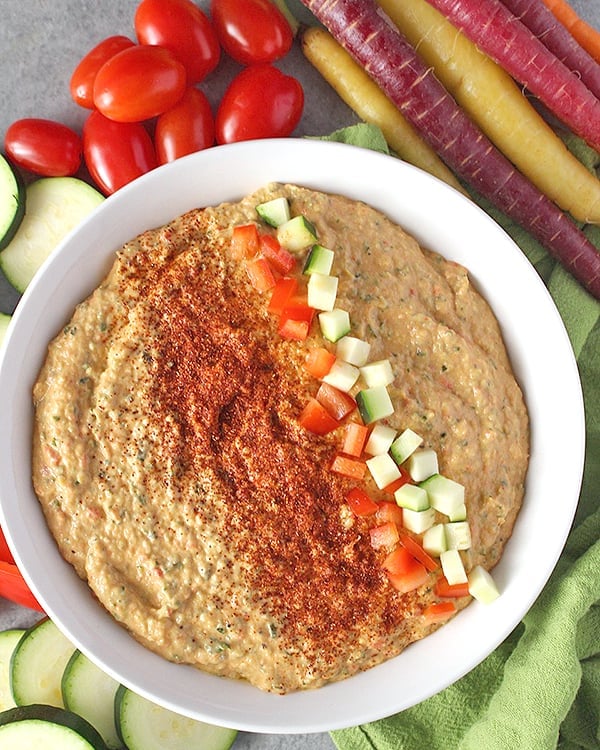 *Pictures updated January 11th, 2017
So my husband is doing a Whole30. For those of you that aren't familiar with that, it's a program where you eat only whole foods for 30 days. No dairy, legumes, grains, sugar (even natural) or paleo treats or breads. Learn more about it here.
As much as I like to bake sweet treats, we eat healthy for the most part. Except for the weekends. Those were filled with pizza and snacks. He was starting to feel the effects of all the crappy eating and felt cruddy constantly. I was already cooking low-carb and grain-free regularly, so this program wasn't too hard of an adjustment. I'll be sharing some of the recipes I'm making because when I was trying to meal plan I was looking for as many different options as possible.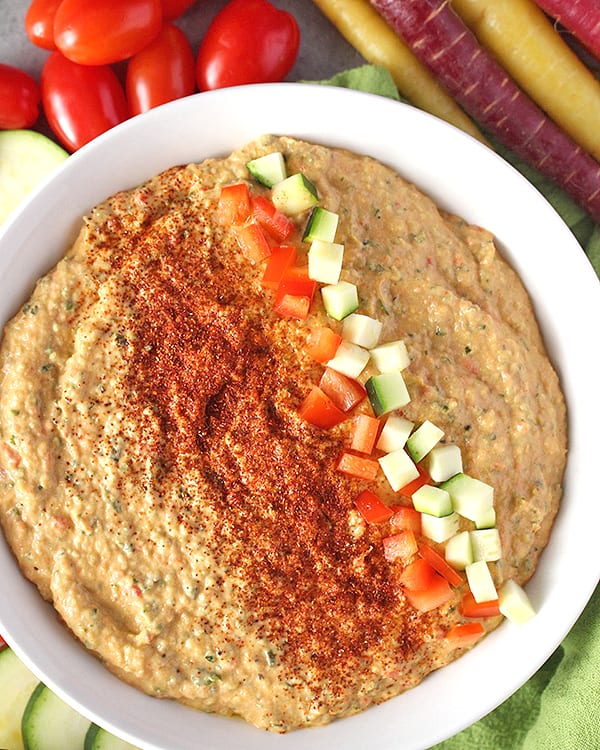 He's only a week into it and already feeling so much better. He has stable energy throughout the day and no brain fog like he normally had. He's never hungry either.
Now onto the hummus. He has always loved hummus, but it always made him feel horrible afterward. He would always have a bad stomach ache which caused him to completely stop eating it. This is such a great replacement for it. The beans are replaced with roasted zucchini but all the other elements of the hummus stay the same- Tahini, lemon juice, garlic, salt and pepper. I made it plain the first time and it's very good that way, but I decided to add roasted red peppers the second time. It was a good decision -it took it over the top.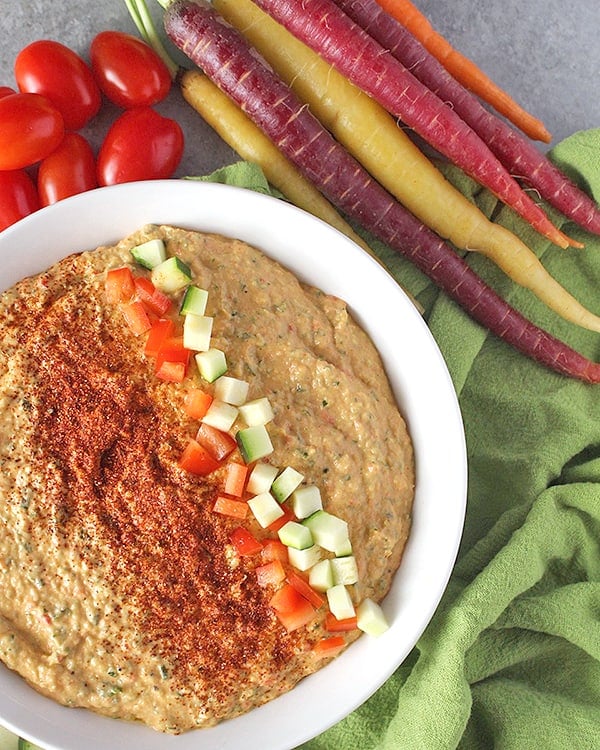 It comes together quick, but is best served chilled. Try to refrigerate it at least a couple hours- overnight is best. The flavors really develop and enhance that way.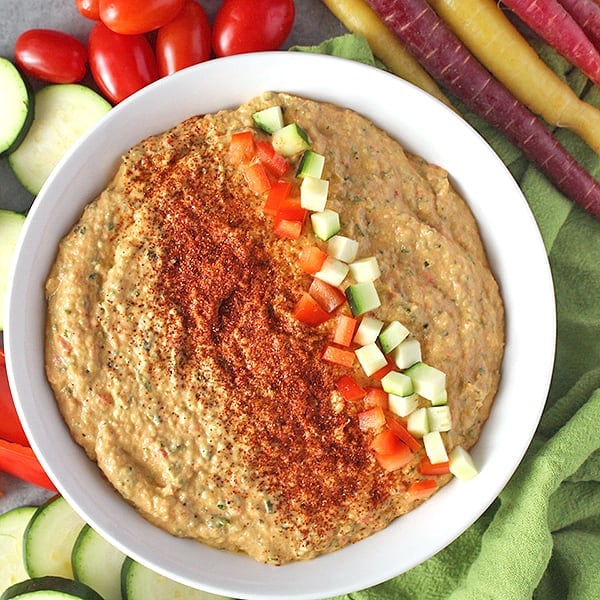 He dipped carrots, broccoli, and snap peas in it. So he's dipping veggies in veggies- you can't get much healthier than that! Even if you're not paleo or on a Whole30, this hummus is delicious. So creamy and garlicky, you'll be coming back for more!
Hungry for more? Subscribe to my newsletter and follow along on Facebook, Pinterest and Instagram for all of the latest updates.
Paleo Whole30 "Hummus"
Ingredients
*optional for red pepper version*
4 oz roasted red pepper I used half of a 8.4oz jar. Be sure to check for no added sugar
Instructions
Preheat oven to 400° and line a sheet tray with parchment paper. Cut zucchini into small pieces and place on tray.

Drizzle with coconut oil and sprinkle with salt and pepper. Bake for 20 min and let cool for 10 min.

Place zucchini in a food processor or blender and add in the tahini, garlic, and lemon juice and process until completely smooth. Add in the roasted red pepper and blend again.

Chill for a couple hours for best flavor. Serve with veggies. Store in fridge for up to a week
Nutrition Information
Calories: 97kcal (5%)Carbohydrates: 5g (2%)Protein: 3g (6%)Fat: 8g (12%)Saturated Fat: 2g (13%)Polyunsaturated Fat: 3gMonounsaturated Fat: 3gSodium: 397mg (17%)Potassium: 245mg (7%)Fiber: 1g (4%)Sugar: 2g (2%)Vitamin A: 197IU (4%)Vitamin C: 19mg (23%)Calcium: 33mg (3%)Iron: 1mg (6%)