This Paleo Whole30 Sausage Potato Breakfast Casserole is the perfect make ahead meal. It's hearty, filling, and delicious! Gluten free, dairy free, and low FODMAP.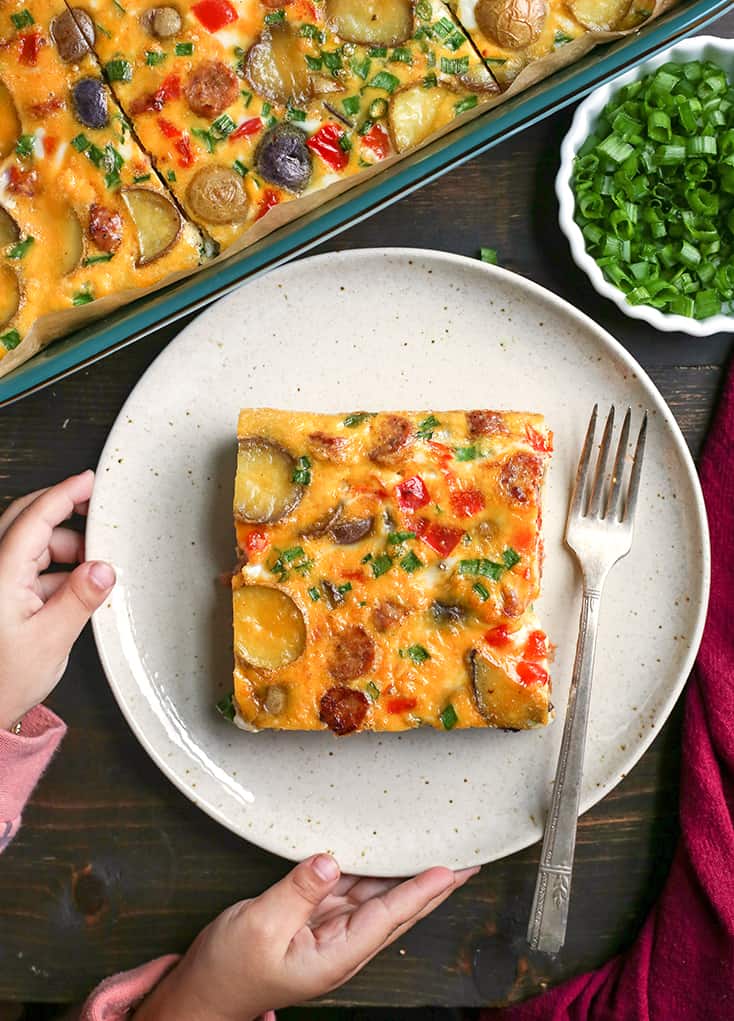 My husband's family has a tradition of eating a breakfast casserole for Christmas morning. It's full of things we don't eat though- white bread, cheese, milk, and canned cream of mushroom. I thought I would come up with a casserole that is just as delicious and comforting, and made with ingredients that make us feel our best, not worst. I went with red pepper and green onion to give it flavor and the colors just happen to be perfect for Christmas 🙂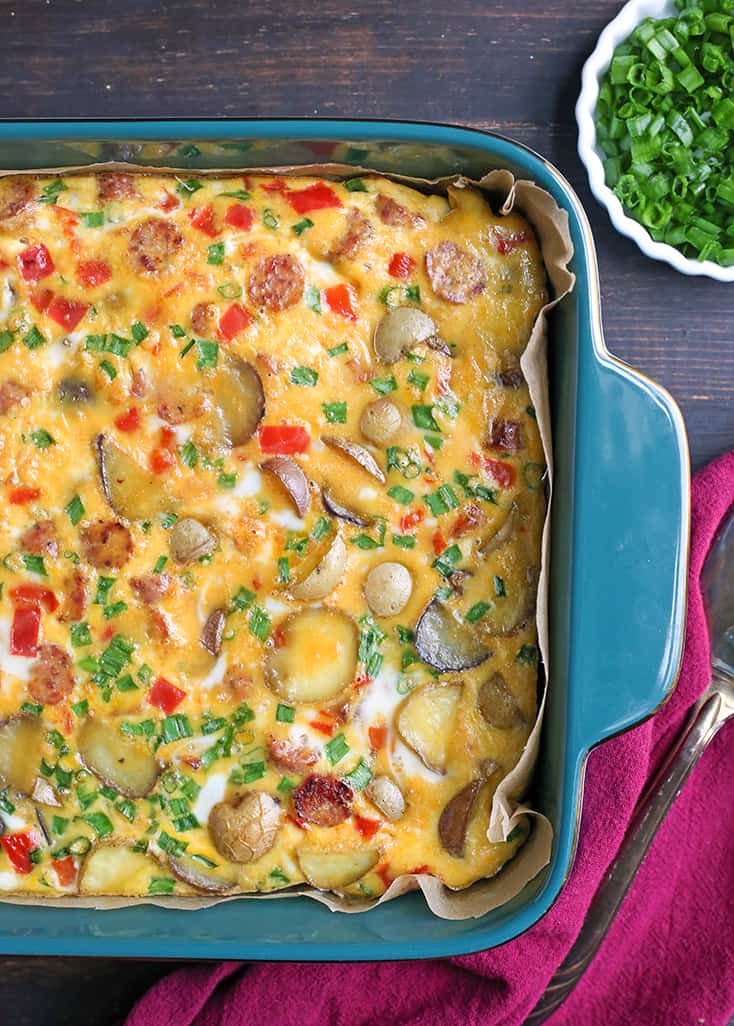 There is a little prep involved, but it's all easy. Get the potatoes cut and roasting while you cook the peppers and sausage. The eggs get scrambled and it all finishes at the same time. Combine and bake in the oven for just 35 minutes. Easy and enough to serve a crowd or enjoy for the week.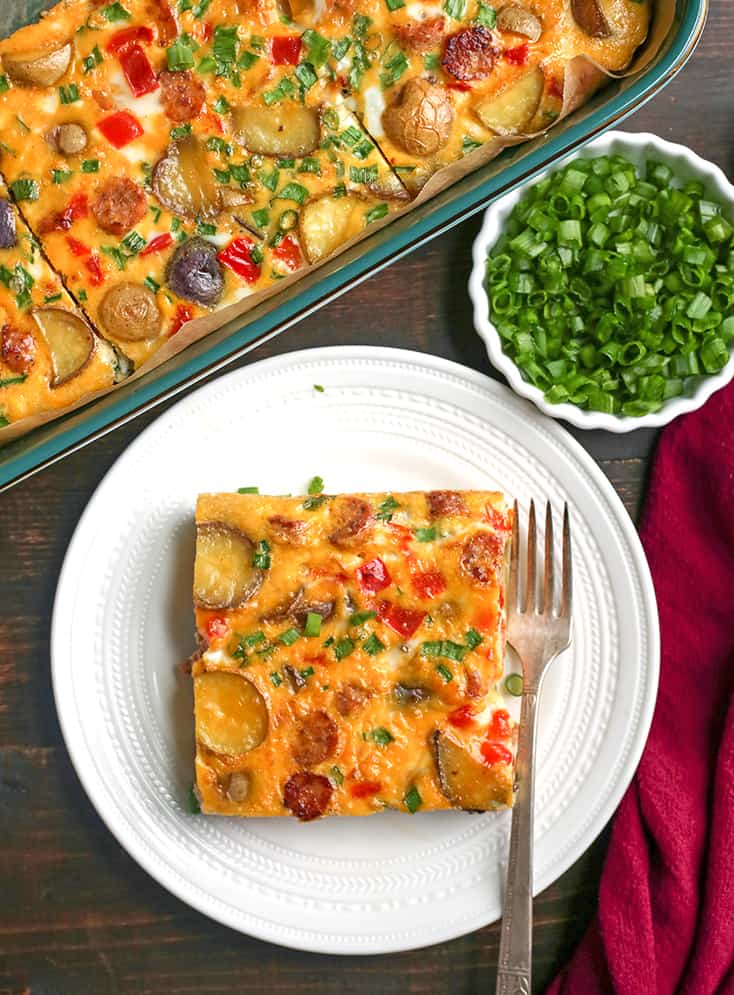 If you are wanting to make this for Christmas morning, here are some prep tips so it comes together quickly. Chop the peppers, cut the breakfast sausage (if using links), cut the green onions and store them all in the fridge. Wash the potatoes and have them on a cutting board ready to cut. Or you could even roast them the day before to eliminate that step in the morning.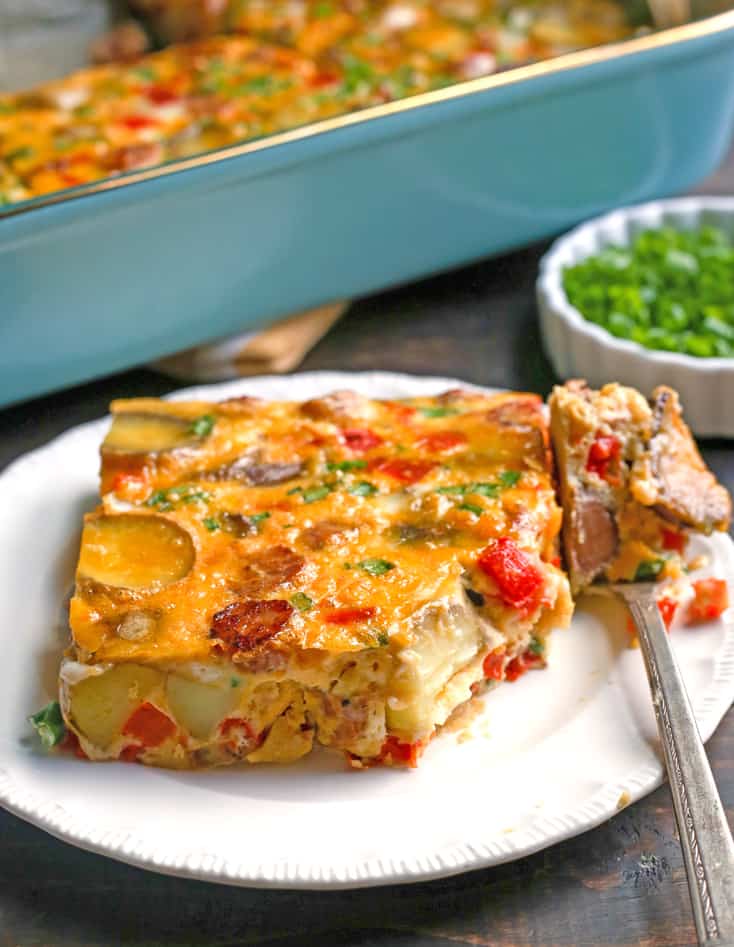 This is low FODMAP and finding a low FODMAP sausage can be tricky. Pederson's Farms is the only store bought kind I've found (not sponsored, just sharing), but you can definitely make your own as well. If you don't need it low FODMAP then use your favorite sausage. A couple other things keeping it low FODMAP- red pepper (not green), green onion (not regular), and white potatoes (not sweet). If you need it low FODMAP just keep it within those guidelines. Otherwise, if you don't need low FODMAP, feel free to use your favorite add-ins.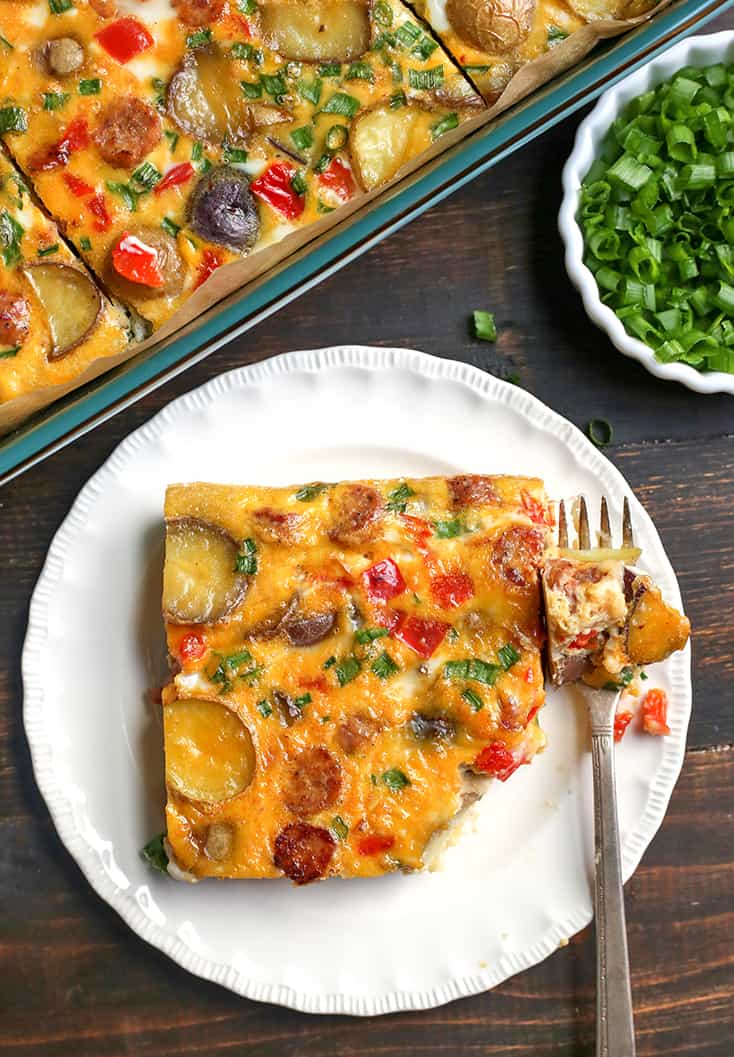 If you're looking for a delicious, filling breakfast for Christmas, your Whole30, or really whenever, then you need to try this. I think you'll love it.
Here are a couple more Whole30 breakfasts you will love: Paleo Whole30 Sausage Gravy and Paleo Whole30 Spaghetti Squash Breakfast Casserole.
Hungry for more? Subscribe to my newsletter and follow along on Facebook, Pinterest and Instagram for all of the latest updates.
Paleo Sausage Potato Breakfast Casserole
Ingredients
1 ½ pounds small potatoes* (4 cups, chopped)
2 tablespoons avocado oil
½ teaspoon salt
1 tablespoon avocado oil
2 red bell peppers, diced
9-16oz breakfast sausage**
½ teaspoon salt
½ cup chopped green onion
15 large eggs
½ cup almond milk (coconut for nut free)
Instructions
Line a 13x9 pan with parchment paper and set aside.

Preheat the oven to 375° and line a baking sheet with parchment paper. Place the potatoes on it and drizzle with the avocado oil and sprinkle with the salt. Toss to mix and bake until fork tender, 25-35 minutes.

While the potatoes cook, prepare the rest of the casserole. Add the tablespoon of oil to a large skillet, add the peppers and cook over medium heat until tender, about 5 minutes. Add in the breakfast sausage and salt and cook until browned, about 5-10 minutes. Take off the heat and dump into the prepared pan. Spread as evenly as possible.

Remove the potatoes from the oven and add them to the pan, spreading evenly. Add the green onions on top.

Crack the eggs into a large bowl and add the almond milk. Whisk until all the yolks are broken and mixture is smooth. Pour on top of the peppers and potatoes and mix everything around to make sure it's even.

Bake for 35-40 minutes, until it is set all the way through. Test by jiggling it and making sure no spots are wet.
Notes:
*I use small potatoes so I only half or quarter them. They are bigger chunks, but it makes for a hearty casserole. If using bigger potatoes, just make sure you cut them equal sizes so they bake the same.  **Check ingredients if needing to be low FODMAP. No onion or garlic. 
Nutrition Information
Calories: 340kcal (17%)Carbohydrates: 15g (5%)Protein: 18g (36%)Fat: 23g (35%)Saturated Fat: 6g (38%)Polyunsaturated Fat: 4gMonounsaturated Fat: 11gTrans Fat: 0.1gCholesterol: 371mg (124%)Sodium: 661mg (29%)Potassium: 612mg (17%)Fiber: 2g (8%)Sugar: 2g (2%)Vitamin A: 606IU (12%)Vitamin C: 9mg (11%)Calcium: 87mg (9%)Iron: 3mg (17%)