I want to share with you why I love Thrive Market. They have so many great paleo, Whole30, and low FODMAP products at a great price. I know you will love them as much as I do!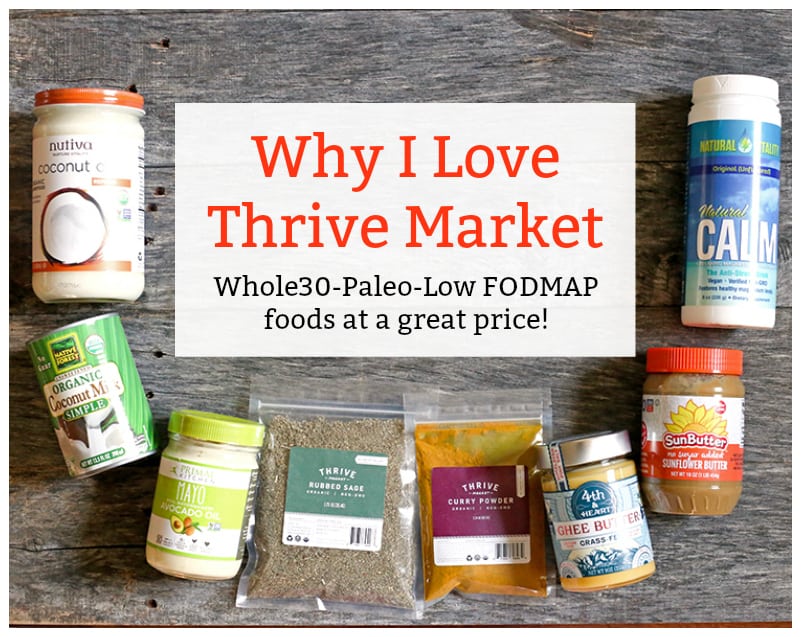 This post is sponsored on behalf of Thrive Market.  All opinions are 100% my own, of course! Thank you for supporting brands that help make Jay's Baking Me Crazy possible! 
I joined Thrive Market not long after it started, before I was blogging. I saw it on another bloggers site and thought how great of an idea it was. Healthy food at a great price, delivered to my door. I was hooked and joined right away. My love for Thrive Market has only increased since then.
What is Thrive Market?
In case you are not familiar, Thrive Market is an online retailer offering best-selling natural and organic products at wholesale prices. They cut out the middleman and you get a savings of 25-50%. There is a membership fee, but it will quickly pay for itself. It's like Costco, only they have way more food options and the savings are better in my opinion.
Their mission is to make healthy living affordable for every family. When you join, you are also sponsoring a free membership for a low-income family.
Helping Me Live a Healthy Life
Thrive Market helps me live a healthy life style because they make healthy products easily available. I live in an area with not a lot of grocery stores and options are limited, but being able to buy pantry staples ensures I always have healthy food on hand.
My Must-Haves
I want to share with you my favorite products to buy. There are so many so this is not a list of everything, just what I buy most. Their site is very user friendly and you can shop by diet- Paleo, gluten free, vegan. So it's nice to be able to click on the Paleo tab and everything that comes up is grain free and dairy free. They also list the ingredients of every item which is a must for me since we can't have certain ingredients like onion and garlic. I love the transparency of the site.
They carry brands you know and love as well as their own brand that is high quality, but affordable. Okay, let's talk about my favs.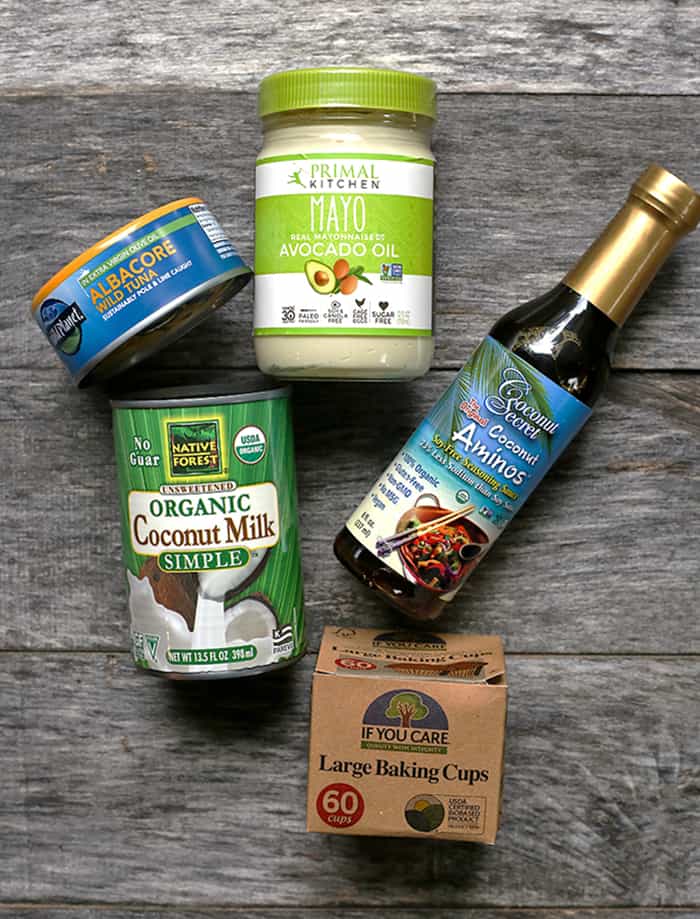 This is kind of a random collection, but it's stuff I order every time. Wild caught tuna is a staple for quick meals and Wild Planet brand is so good. Primal Kitchen Mayo is my go-to when I don't feel like making it myself. It's $2.50 cheaper than at my local store- that adds up fast! Coconut aminos- I use these is so many recipes and I get a lot of questions about them. They are so much cheaper here and they even have their own brand that tastes amazing. Coconut milk with no thickeners- this is important since my husband can't tolerate any "gums" that are traditionally in coconut milk. And again it's cheaper than the store. Parchment baking liners- these are the only ones I use for baking and muffins never stick.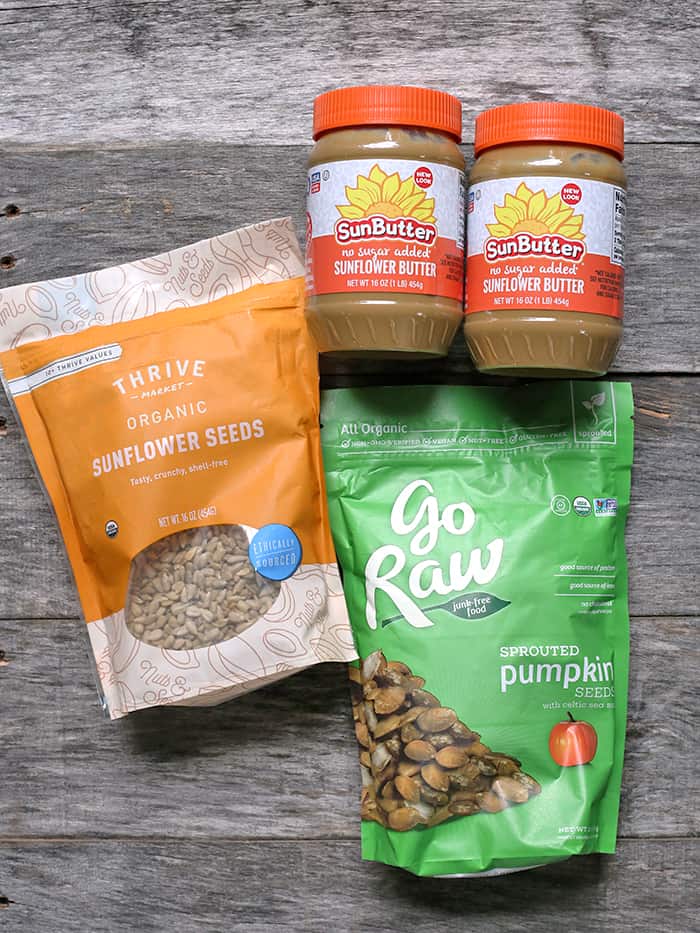 Nuts, Seeds, and Butters- they have such a great selection. This is a very small example of the nuts and nut butters they carry. Currently, this is what we can tolerate so it's what we buy. SunButter- our favorite and I've had some people ask where to get the No Sugar Added one, here with the best price! Sprouted Pumpkin Seeds- sprouting helps make them easier to digest and I think they taste so much better. Sunflower Seeds- I roast these with avocado oil and some seasonings for a snack. Some more great options they carry are cashew butter, almond butter, pecans, and pistachios.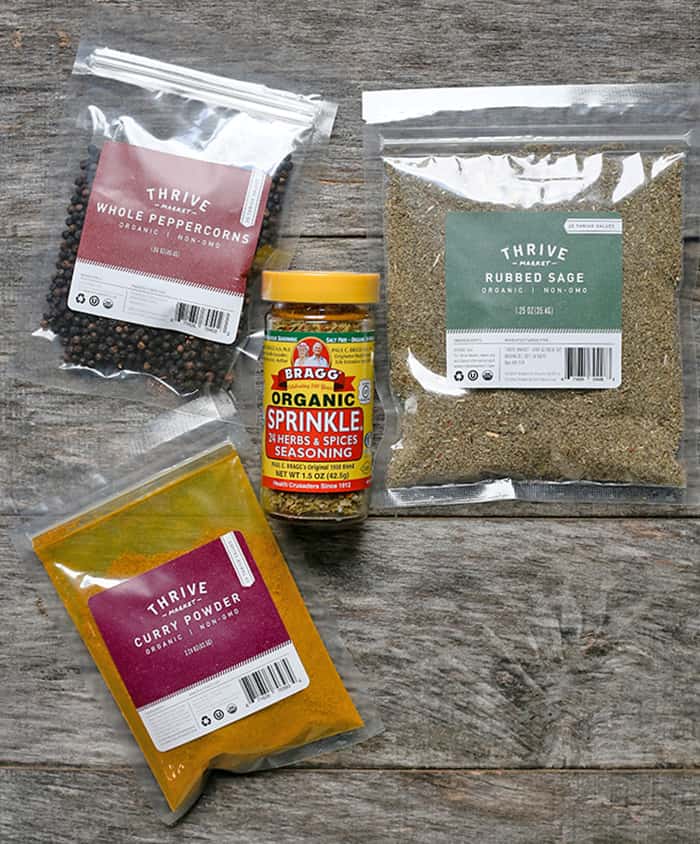 Their selection of spices is amazing! I love that they carry so many in this refill bags that are affordable. Curry powder, black peppercorns (to refill my grinder) and sage are a few of my favorites. Also, this Bragg seasoning is so delicious! It's not low formap because of the onion and garlic powder, but I highly recommend it if you can tolerate those. I really miss it!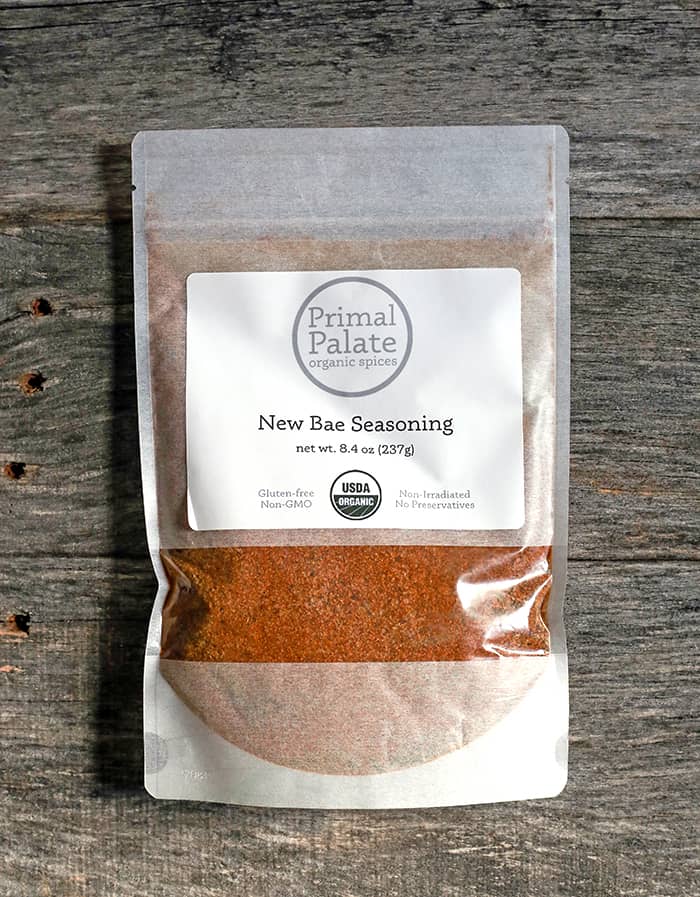 I forgot to include this Primal Palate New Bae Seasoning with the above picture, but it definitely deserves to be highlighted. This is a low fodmap seasoning that we love and it's way cheaper here than Amazon! I was so excited when they stated selling Primal Palate spices. Some others that are popular are Super Gyro, Adobo, Steak Seasoning, Meat and Potatoes and Breakfast Blend.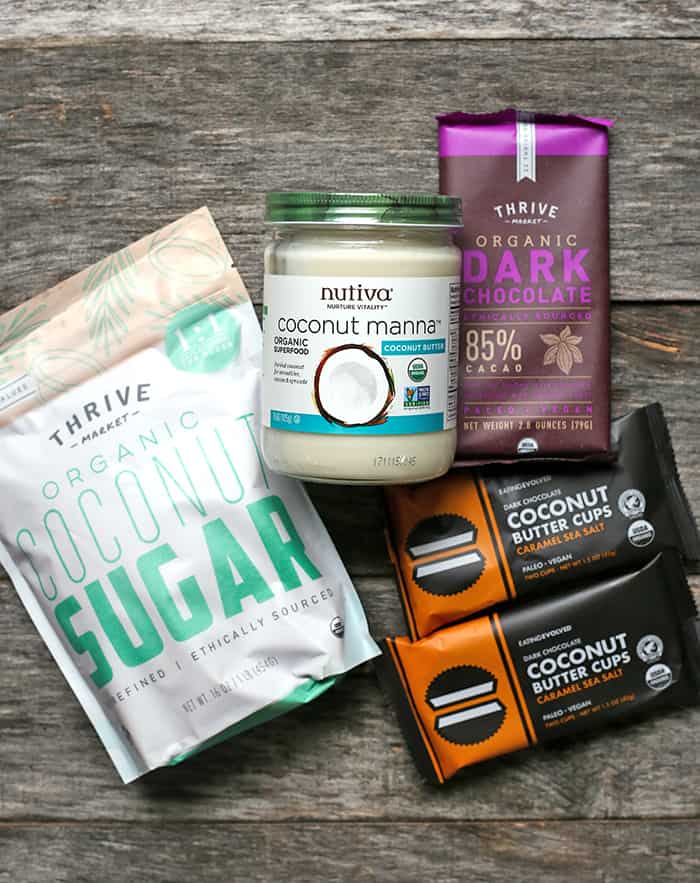 These are some of my favorite baking ingredients and treats. They are a huge selection of paleo baking flours like almond flour, coconut flour, cassava flour and also coconut sugar. I use it all the time if my sweet treats. Coconut butter is my favorite for making glazes or frostings. Eating Evolved is my favorite chocolate company and I love getting it at a great price. I was happy to see Thrive Market brand of chocolate with just 2 ingredients-  organic cacao and organic coconut sugar. They also have the Enjoy Life Mini Chocolate Chips that I use all the time for baking.
Whether you're stocking up for baking and cooking this holiday season or maybe prepping for a January Whole30- they have got you covered! Leave any questions below and I'd be happy to answer them for you.
CLICK HERE for 25% off your first order and a 30 day free trial to see if you like it, see if it's worth it for you. I think you'll love it.