This Paleo Peach Cobbler Coffee Cake is a tender cake, a layer of juicy peaches and topped with an incredible sweet crumb layer. Finished with a simple drizzle, this cake makes the best breakfast or dessert. Gluten free, dairy free, and naturally sweetened.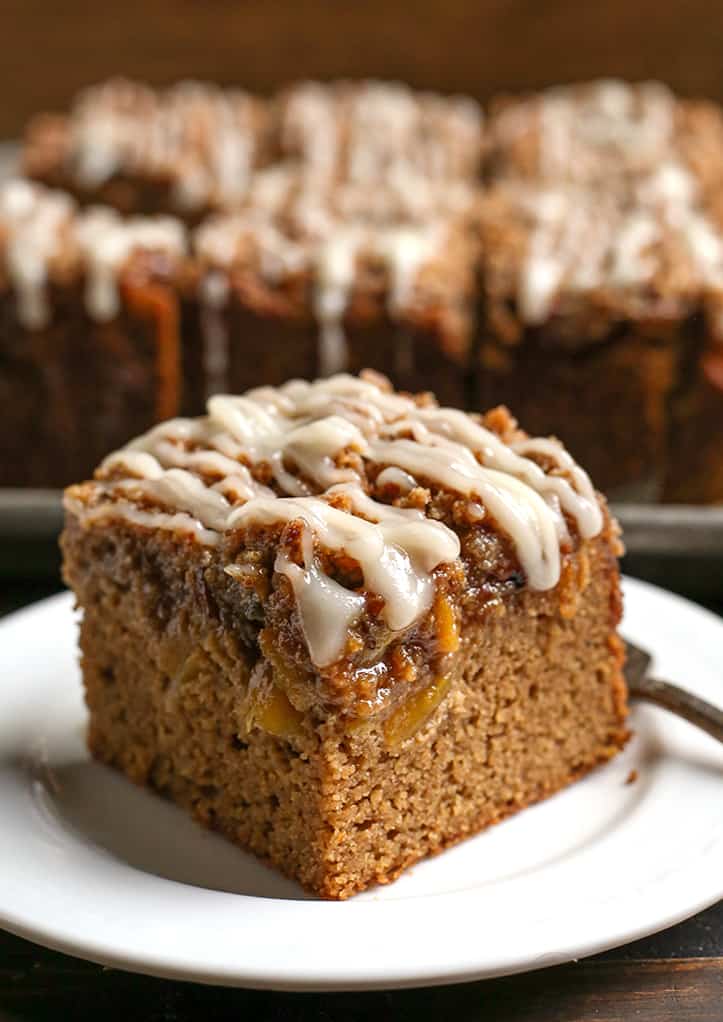 Coffee cake is one of my favorite desserts to make. I have lots of flavors already on my site, but I'm always thinking of new ones. This peach one I brought camping with friends and we enjoyed it for breakfast on the beach. It was nice because I made it ahead and we didn't have to worry about making anything that morning. It gets more moist every day so it wasn't dry at all and everyone LOVED it.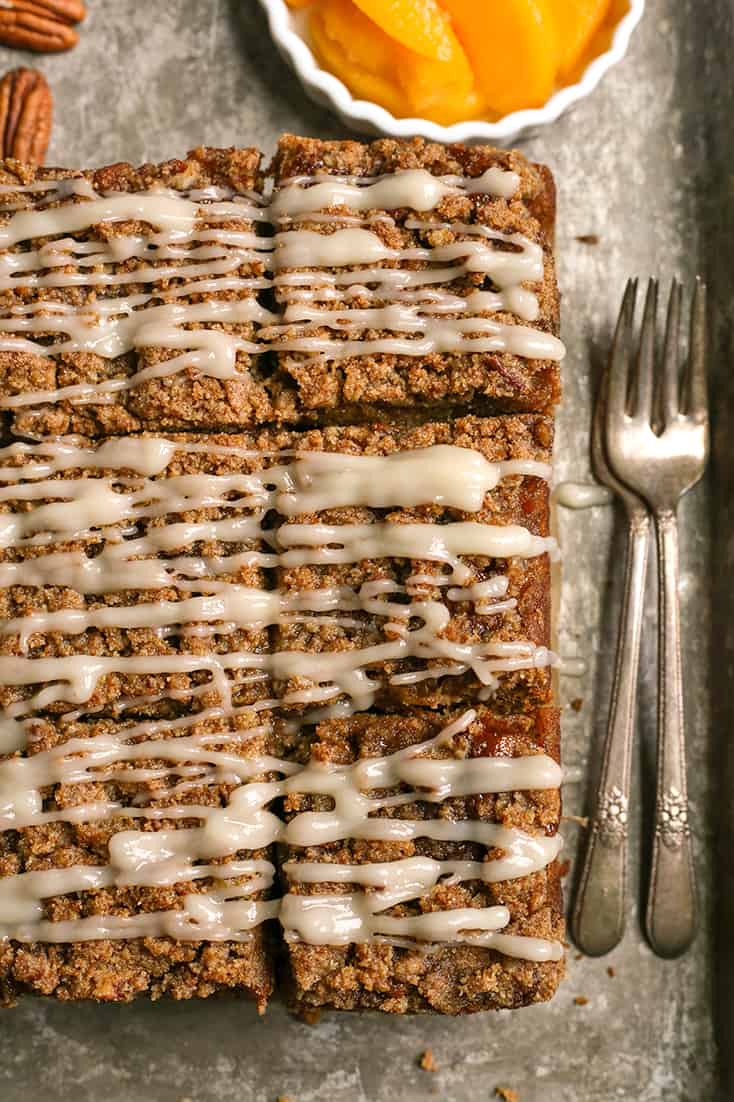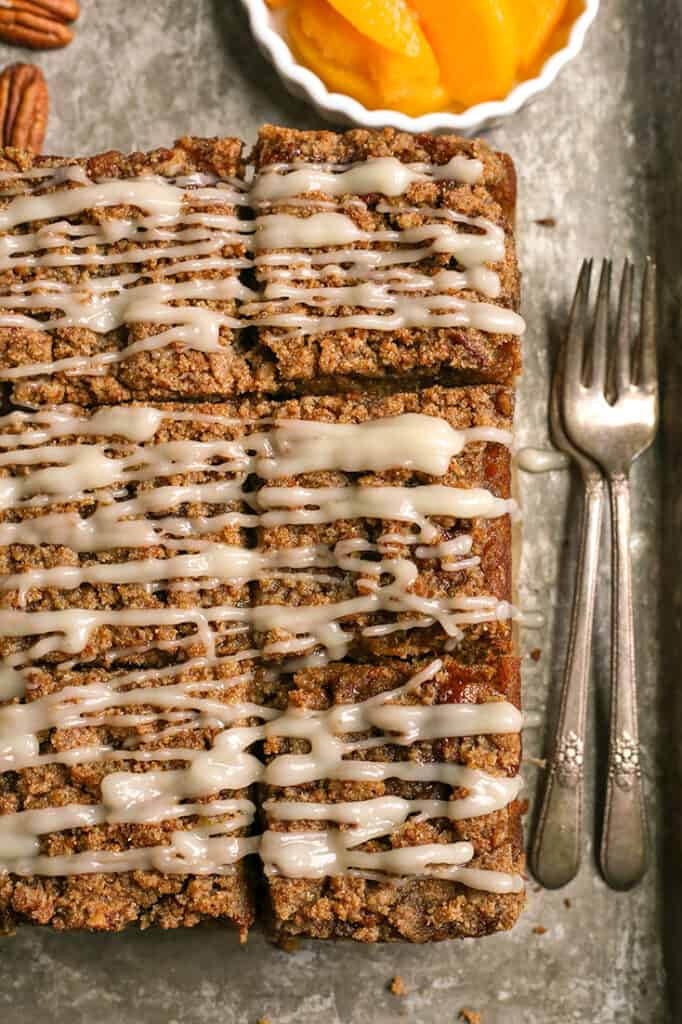 Paleo Coffee Cake
The cake is super simple to whip up. Just mix it by hand and spread it into a square pan. A combination of almond and coconut flour give the best texture. It's sweetened with coconut sugar so it's a treat, but not overly sweet. Some sautéed peaches are added to the top and then the crumb topping of course can't be missed. Arguable the best part!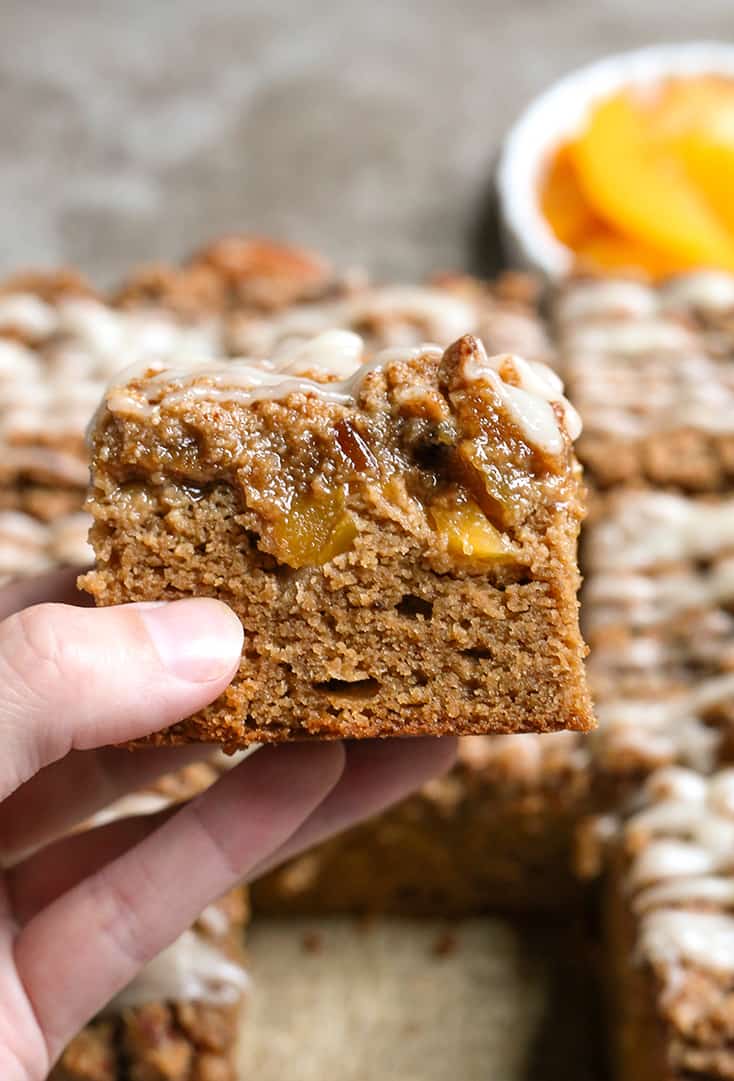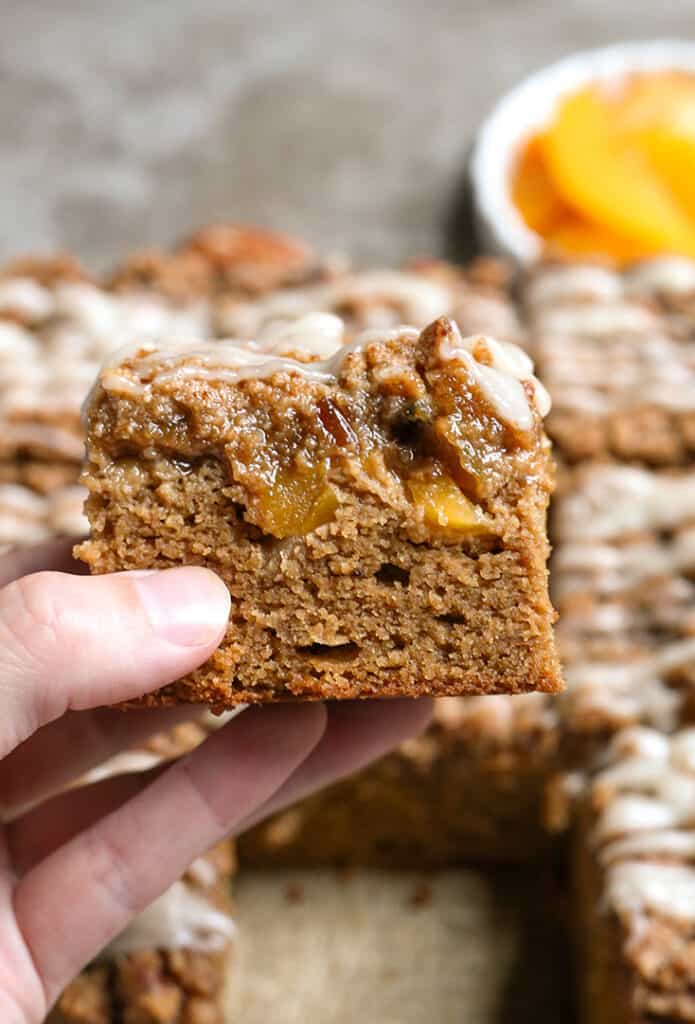 Paleo Glaze
The glaze is a simple mixture of coconut butter (not coconut oil!), maple syrup and water. It adds a touch more sweetness and makes it look so pretty. It also helps hold the crumb topping on when eating it with your hands 😉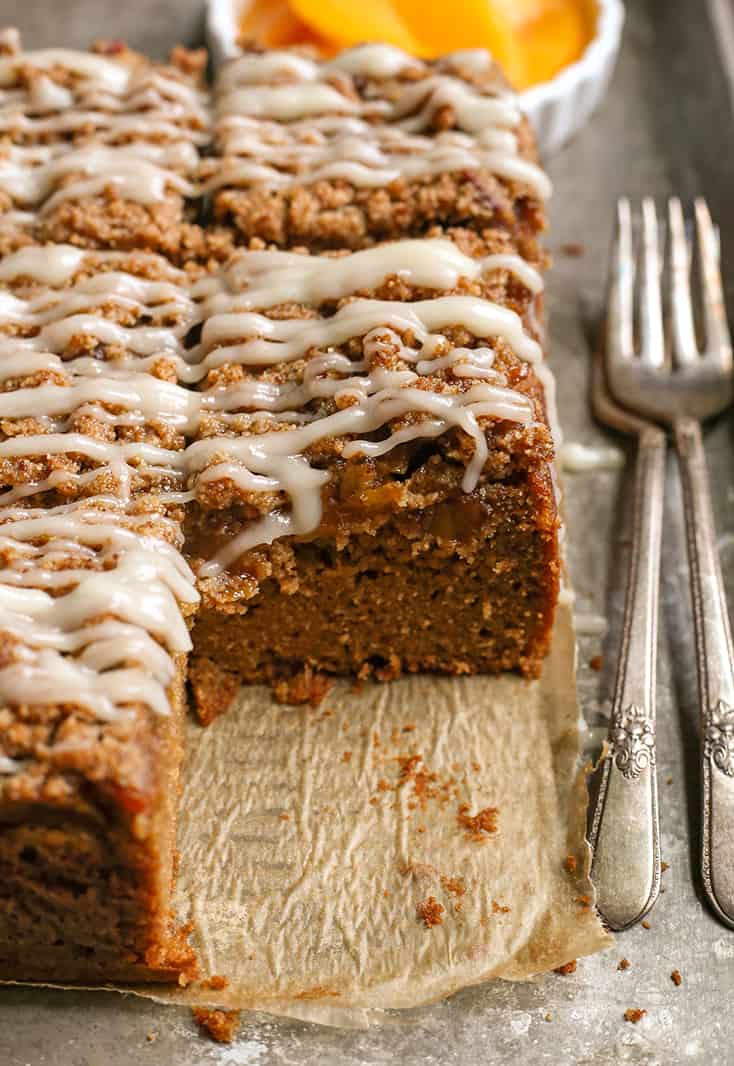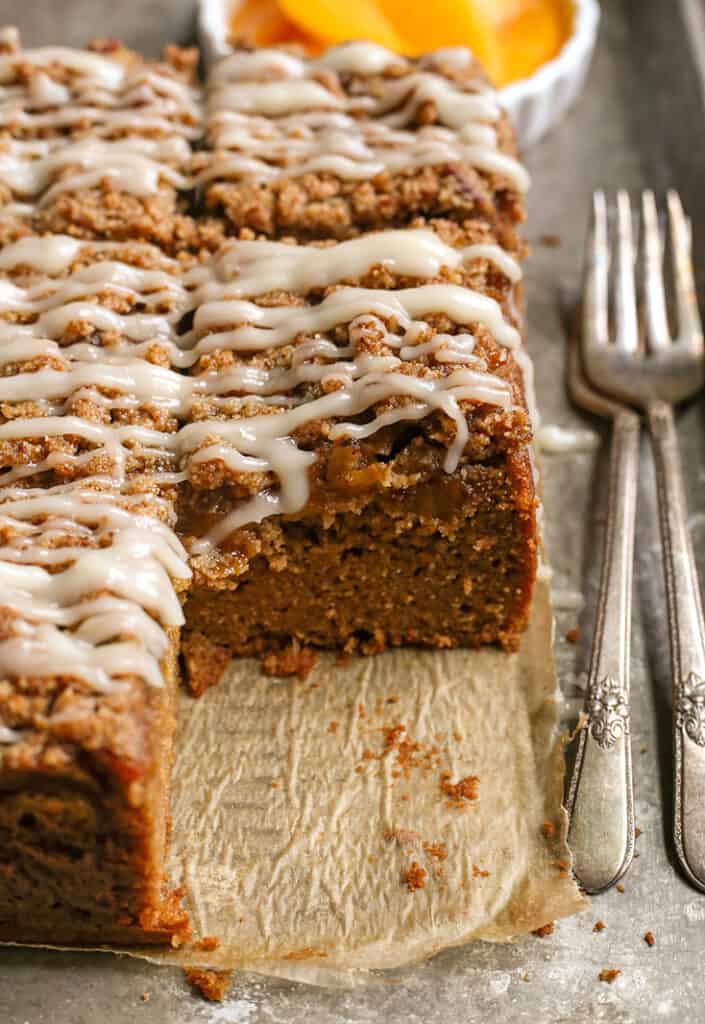 Peach Layer
The peach layer is chopped peaches cooked with a little maple syrup, cinnamon and arrowroot powder (or starch). It makes them tender, sweet and the cinnamon adds nice warmth. The arrowroot will thicken the mixture. I used frozen peaches, but fresh can definitely be used. Just know this doesn't only have to be made in the summer- it can be enjoyed all year! The peaches will be added on top of the cake and then the crumb topping goes on top of them. They bake into the cake while still holding their texture, but becoming soft and more sweet. Really the peach/crumb part is my favorite!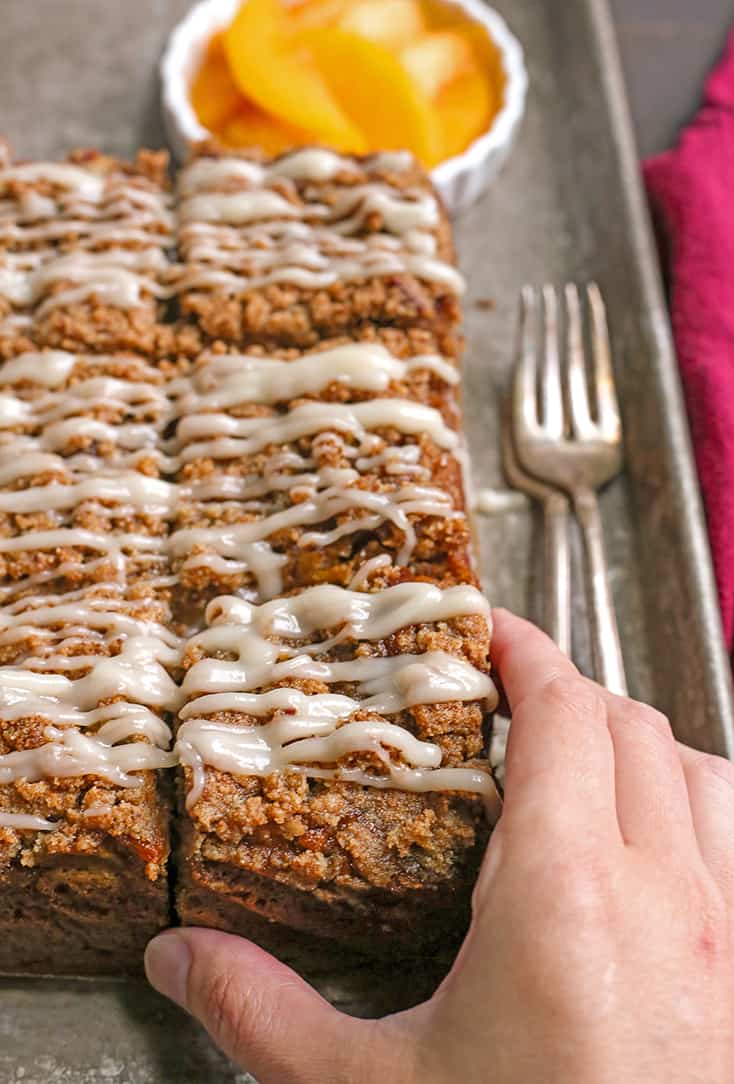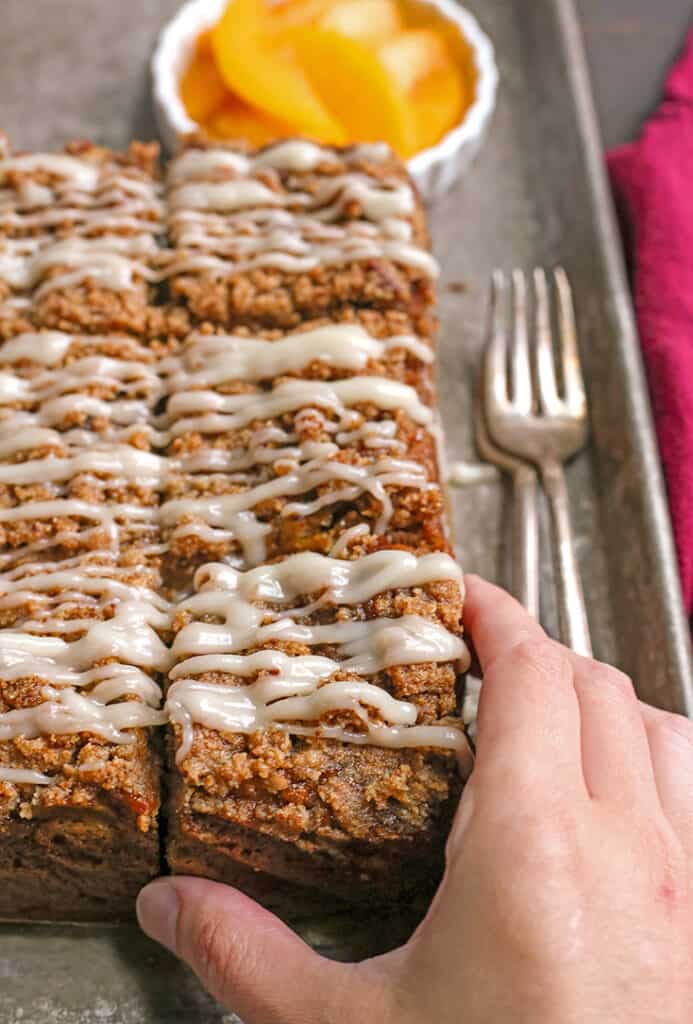 Don't be intimidated by what looks like a long ingredient list. A lot of it is repeated for the cake and crumb layer. It's not as many ingredients as it seems. And so so worth it!!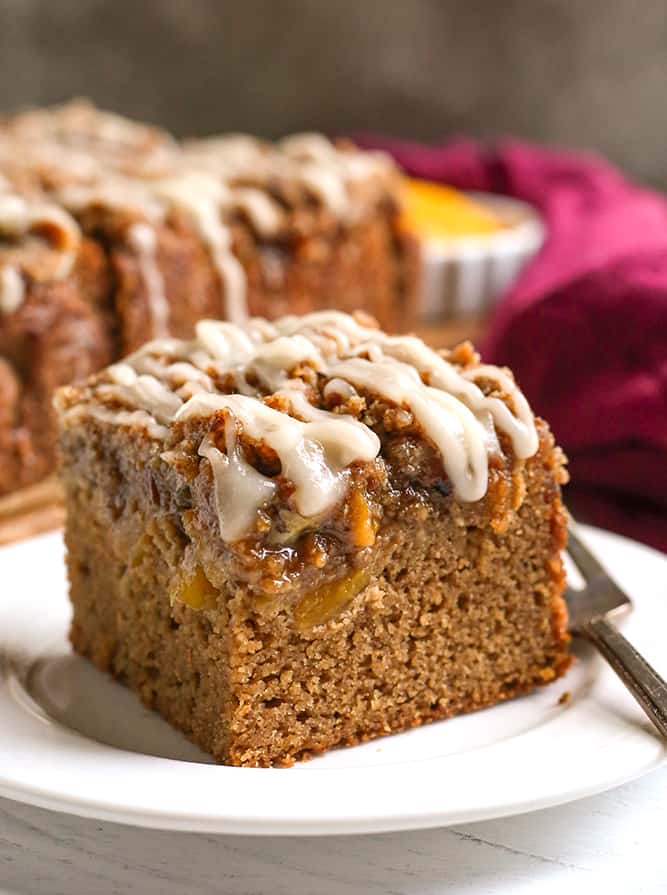 Storing Paleo Coffee Cake
Like all paleo baked goods, this is best stored covered in the fridge. It is good cold or can be rewarmed if desired. When I took it camping I stored it in the fridge before I left and then kept it in the cooler until the morning. It was perfect and didn't go bad. It also freezes great.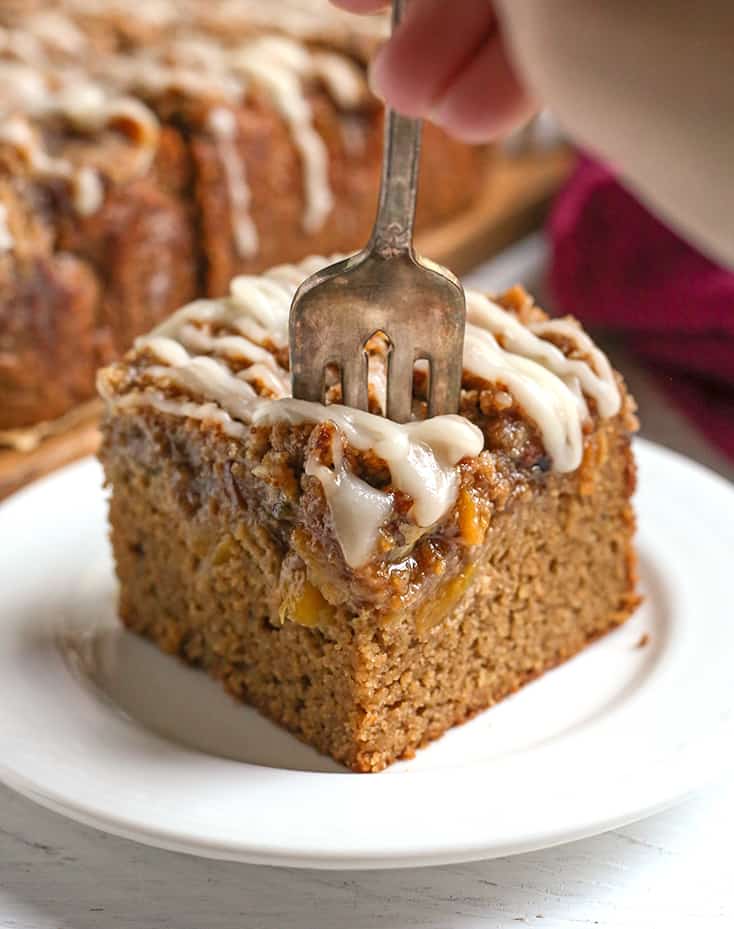 Just a note about coffee cake, since I always get this comment, there is no coffee in the actual cake. It's meant to be served WITH coffee. So I didn't leave an ingredient out and you are reading it correctly.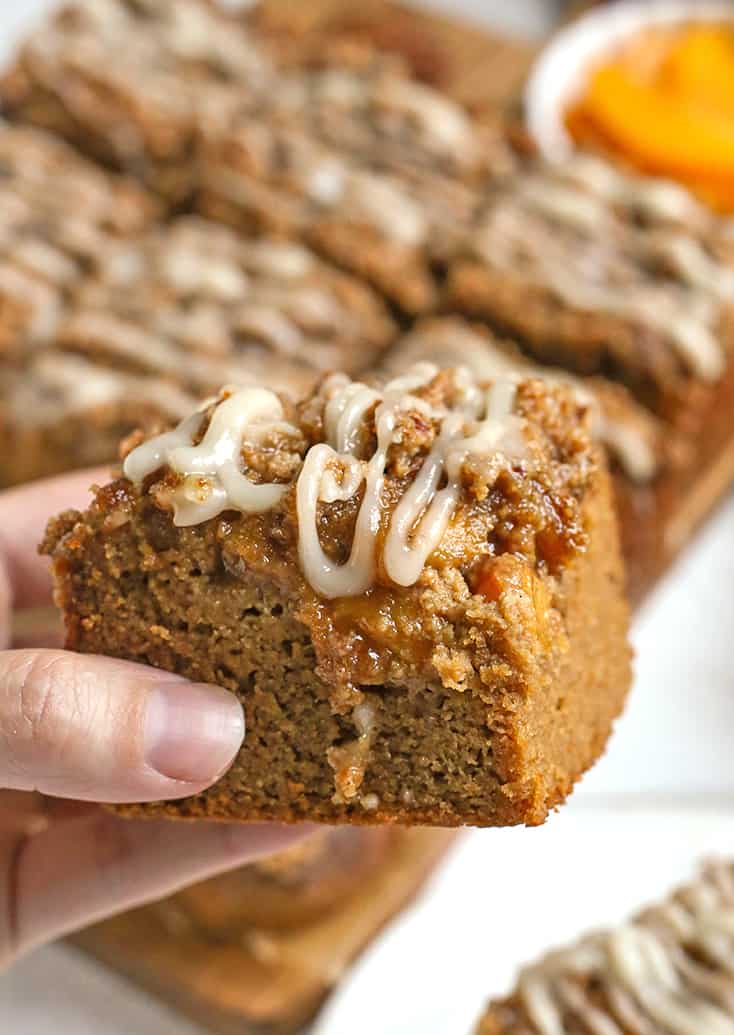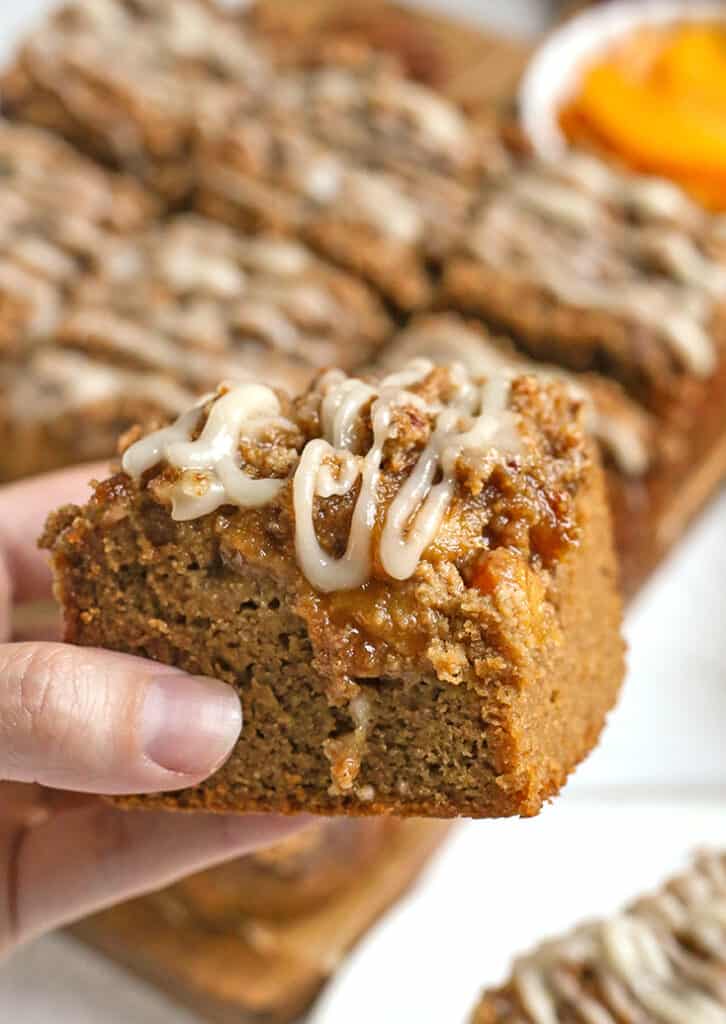 I know you will love this paleo peach cobbler coffee cake because it's sweet, has the best crumb topping and makes a great dessert or breakfast. Here are some more coffee cake recipes to try:
Hungry for more? Subscribe to my newsletter and follow along on Facebook, Pinterest and Instagram for all of the latest updates.
Paleo Peach Cobbler Coffee Cake
Ingredients
Instructions
Make the crumb topping. In a small bowl, combine the almond flour, coconut sugar, pecans salt, cinnamon and coconut oil. Mix until combined and crumbly. Set mixture aside until needed. 

Make the peach layer. Add the peaches, maple syrup, salt, cinnamon and arrowroot powder to a medium pan. Turn the heat to medium and cook, stirring regularly, for about 3-4 minutes or until the mixture is thick. Set aside until ready to use. 

Preheat oven to 325° and line a 8×8 or 9×9 square pan with parchment paper. Set aside. 

Make the cake. In a large bowl, combine almond flour, coconut flour, coconut sugar, salt, and baking soda. Mix well and break up any large chunks. In a small bowl, stir together the cashew butter and water, mixing as best as possible. Add that to the dry mixture along with the eggs and vanilla. Stir until everything is well combined and no dry spots remain. Scoop mixture into the pan and spread evenly.

Top evenly with peach mixture and then crumb mixture on top of the peaches. Place in the oven and bake 45-50 minutes. Let cool before glazing.

Make the glaze. Make sure the coconut butter is soft first. You may need to microwave it for 30 seconds and stir first. In a small bowl, combine the coconut butter, maple syrup, vanilla and water. Add the water as needed until smooth. Drizzle over coffee cake. 

Store cake covered in the fridge to keep fresh. 
Nutrition Information
Calories: 521kcal (26%)Carbohydrates: 31g (10%)Protein: 16g (32%)Fat: 41g (63%)Saturated Fat: 6g (38%)Polyunsaturated Fat: 1gMonounsaturated Fat: 5gTrans Fat: 0.003gCholesterol: 41mg (14%)Sodium: 236mg (10%)Potassium: 97mg (3%)Fiber: 8g (33%)Sugar: 14g (16%)Vitamin A: 104IU (2%)Vitamin C: 1mg (1%)Calcium: 143mg (14%)Iron: 3mg (17%)