These Paleo Strawberry Marshmallows are soft, fluffy, and simple to make. They have a delicious strawberry flavor and are gluten free, dairy free, and sweetened with maple syrup.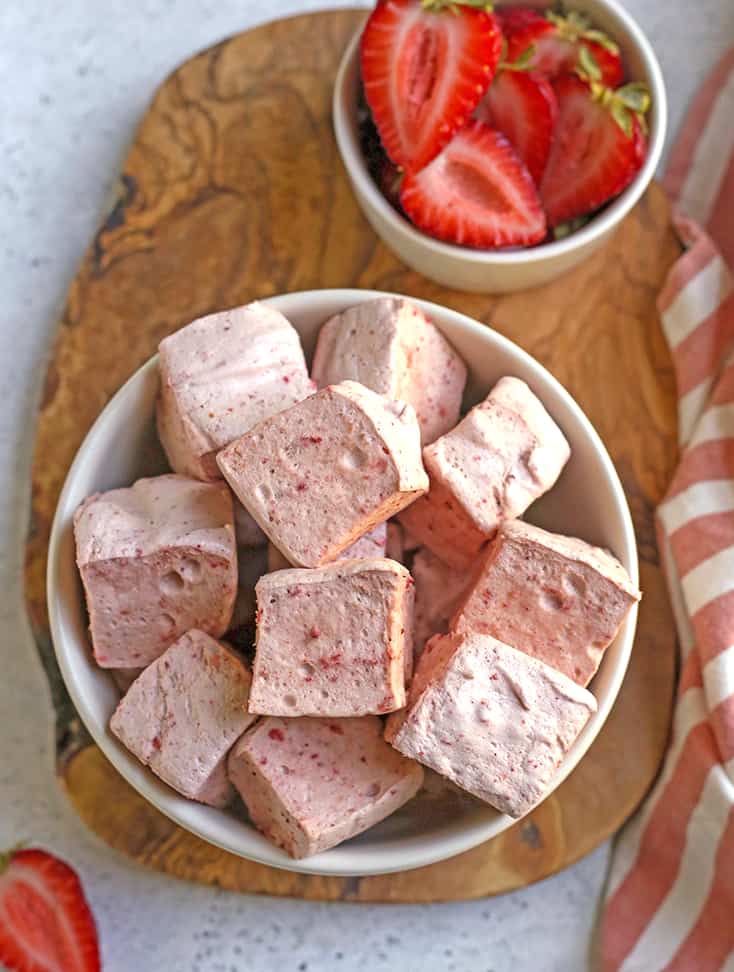 Marshmallows may seem a little intimidating to make with the sugar mixture coming to temperature, but it's actually super easy. I bought a long thermometer after reading bad reviews for candy thermometers. It works great and is affordable. They are actually one of the easiest desserts to make!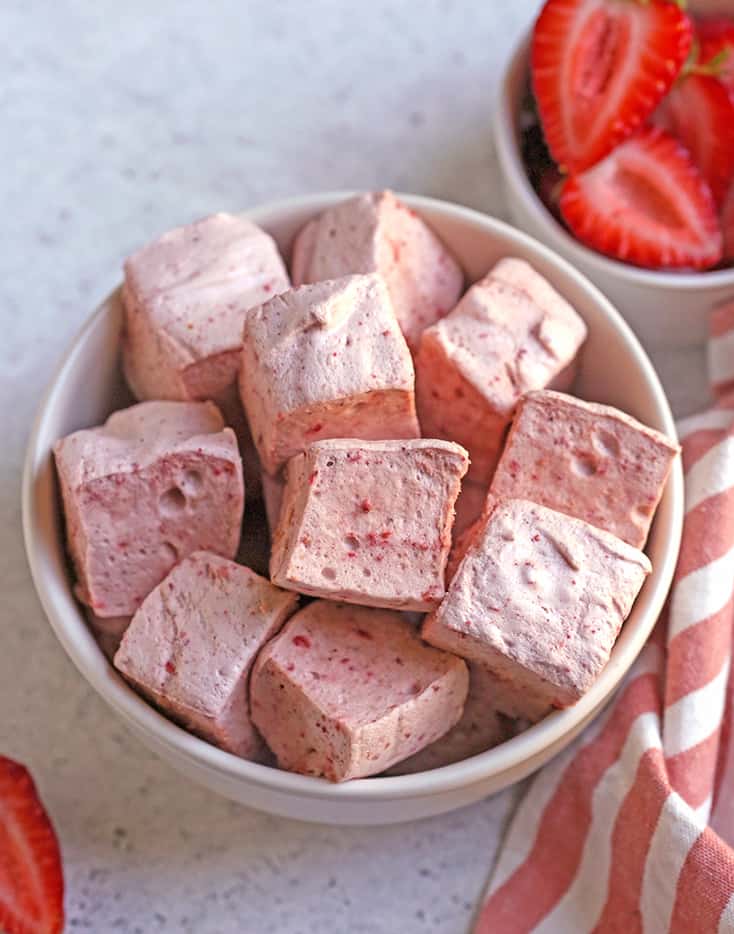 Quality Gelatin
This is the key ingredient for the marshmallows to give them their bounce and texture. I highly recommend using high quality gelatin that you trust, not those Knox packets in the baking aisle that come from a questionable source. I always use Perfect Supplements (use code JAY10 for 10% off) and buy a few at a time to make them super affordable. It's 100% grass-fed and very high quality. You can get it on Amazon as well, it's just a little more expensive.
Strawberry Mallows
To make these strawberry flavored, I bought freeze dried strawberries and blended them into a powder. This worked wonderfully and didn't impact the marshmallows fluffiness at all like fresh berries could. They are added in while the mixture is getting whipped. They have a wonderful strawberry flavor and are a nice change to plain mallows.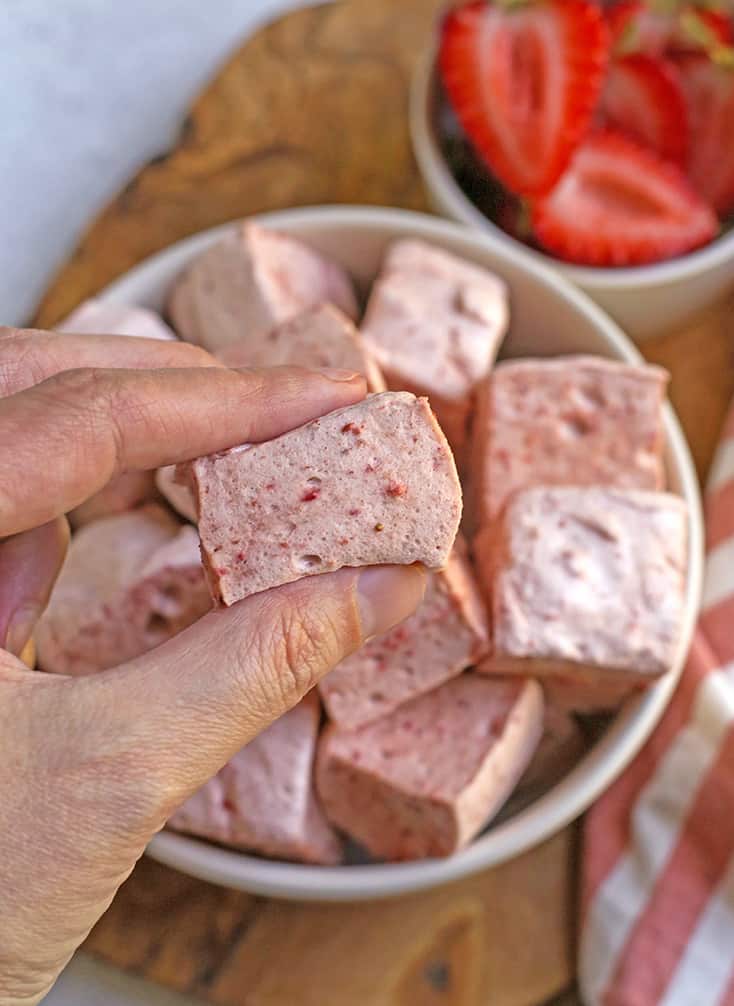 Marshmallow Tips
If you're feeling intimidated like I was, here are some tips:
Get a good thermometer to measure the heat. HERE is the one I bought. It's recommended to get the mixture to 242°, but I couldn't get mine past 220° even after 10 minutes of boiling. It still set great, but try to get it to 242° if possible.
Another tool you'll need is a stand mixer. Beating the gelatin and sugar mixture together until it's fluffy and perfect.
Pan size- I used a 10.5×7.5 pan, but you can use what size you want. The smaller the pan, the thicker the marshmallows. Using a 9×9 will give you about the same thickness. Use a 13×9 for thin marshmallows that you can cut into minis.
Roasting Fresh Marshmallows
I have successfully roasted fresh marshmallows for some amazing s'mores, but you have to think ahead a little. They need to be made at least a day in advance, set and cut into squares. Then let the squares sit out, uncovered to get a crust on the outside. That is what will toast over the fire, otherwise they will just melt off the stick.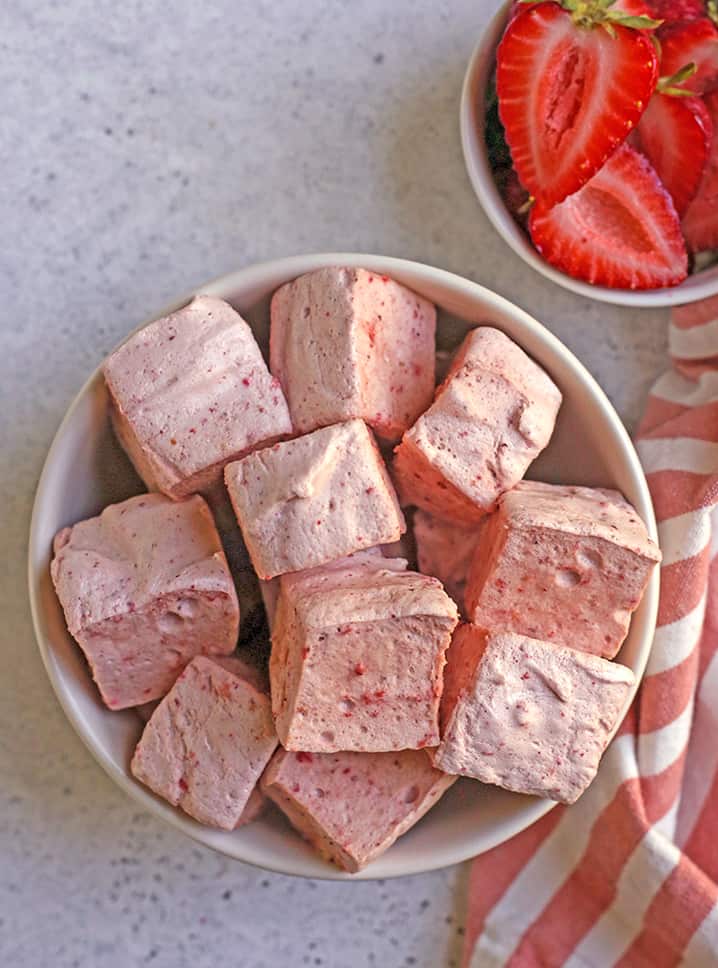 I know you will love these paleo strawberry marshmallows and here are a few more marshmallow recipes to enjoy:
Hungry for more? Subscribe to my newsletter and follow along on Facebook, Pinterest and Instagram for all of the latest updates.
Paleo Strawberry Marshmallows
Instructions
Place ½ cup water in a bowl of the stand mixer. Sprinkle the gelatin on top and let it bloom while you make the syrup. 

Add the other ½ cup water to a small sauce pan and add in the maple syrup. Turn to medium heat and bring to a boil. Boil until mixture gets to 242°. I boiled mine for 10 minutes and it wouldn't go above 220° but it still set okay. But try to get to 242° if possible.

Turn off the heat and let the bubbles stop. Turn the stand mixture on low to let the gelatin mix with the water. Slowly pour the hot mixture in and then turn the speed up to high. Add in the dried straberries and salt. Beat until it triples in size and is light and fluffy- about 6 to 8 minutes. You don't want to beat longer than that or the marshmallow will get cool and hard to spread.

While that is mixing, prepare a pan. Grease the bottom of a small pan (9x9 or smaller) with coconut oil and then line it with parchment paper. This will help them not stick to it. Once mixture is done beating, scoop into prepared pan and smooth on top. Let sit to cool and then cut into squares. Mine was set within 30 minutes, but it may take longer. 

Store covered at room temperature.
Nutrition Information
Calories: 45kcal (2%)Carbohydrates: 10g (3%)Protein: 1g (2%)Fat: 0.001gSodium: 28mg (1%)Potassium: 49mg (1%)Fiber: 0.2g (1%)Sugar: 9g (10%)Vitamin C: 17mg (21%)Calcium: 16mg (2%)Iron: 0.3mg (2%)