This Paleo Pumpkin Roll is a grain free version of the classic dessert. Tender cake and a creamy filling that is gluten free, dairy free, and naturally sweetened.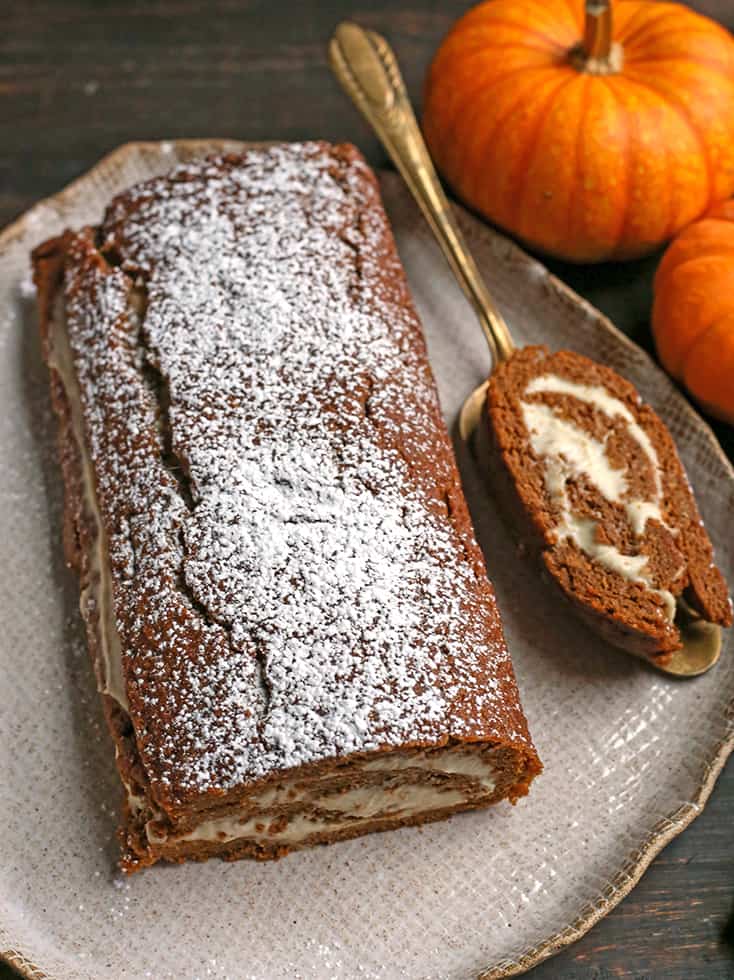 Pumpkin Roll is definitely a fall classic and I've been wanting to make a paleo version for a while. It's actually very simple, just a little time involved since there is waiting for the cake to cool before filling it. It's definitely worth making!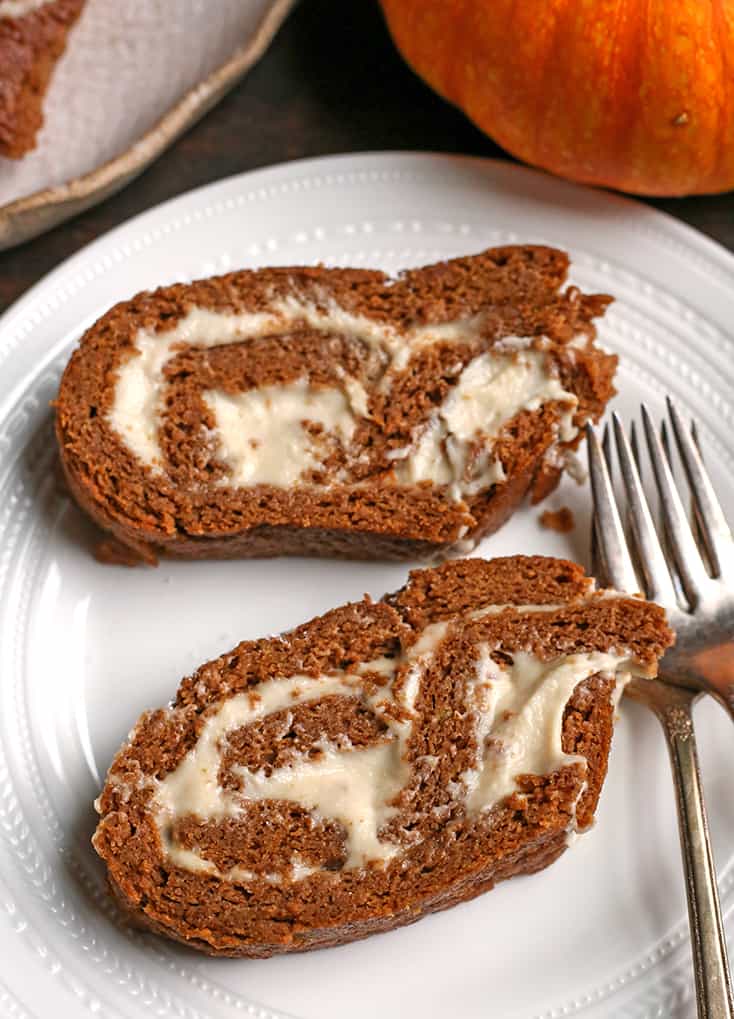 Paleo Cake
Since this cake doesn't have gluten it can easily crack. Using grass-fed gelatin in the cake helps make the cake more pliable and easy to roll. It's still not perfect and mine cracked a little, but the gelatin definitely helps.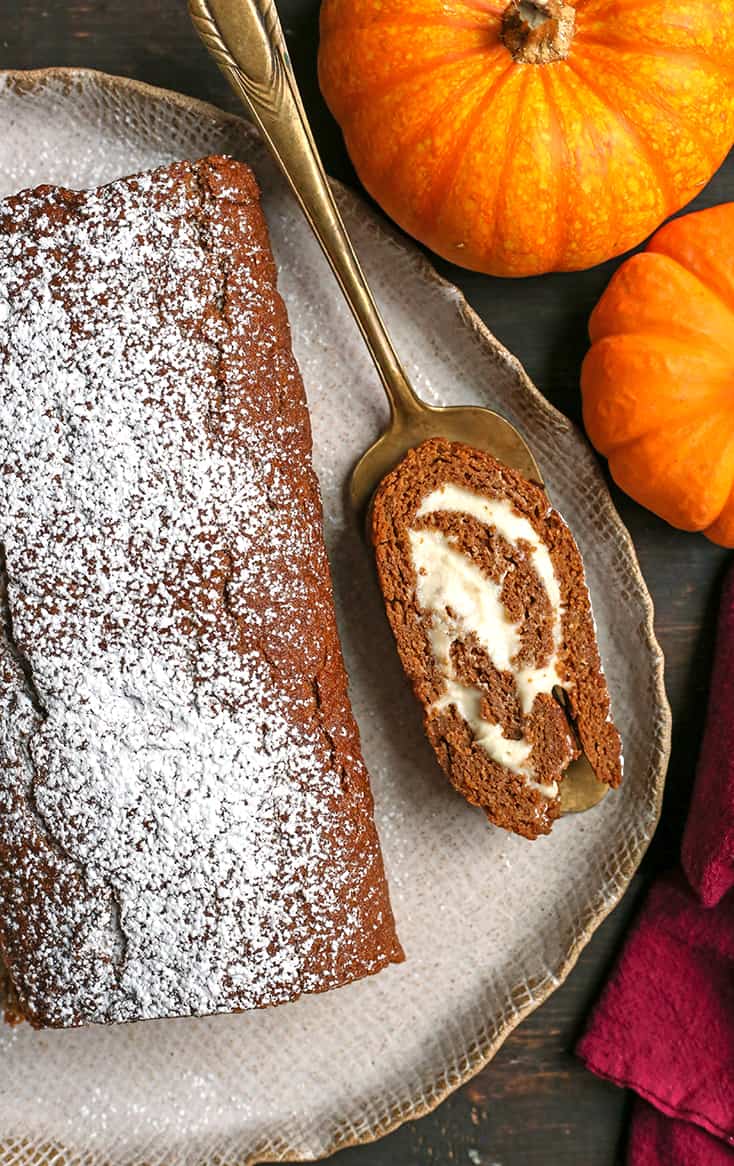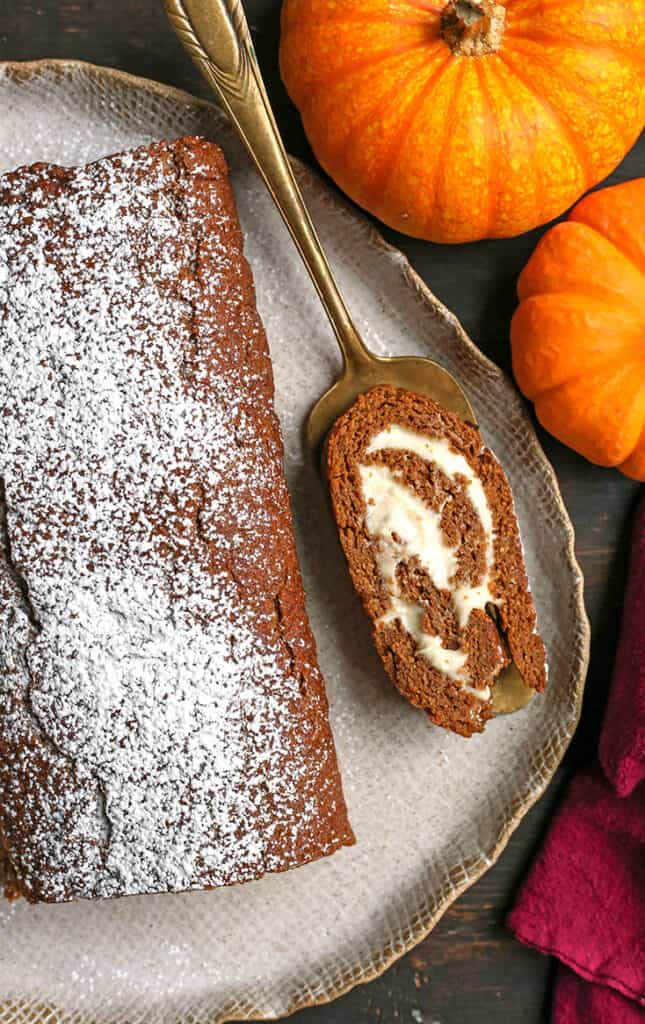 Cream Cheese Filling
Of course no dairy is used so this is a cashew-based cream cheese filling that is so delicious. This was maybe my favorite part of the cake. It tastes like cheesecake, is so creamy and rich and pairs perfectly with the pumpkin cake. It gets made in a high powdered blender or food processor and chilled in the fridge until needed.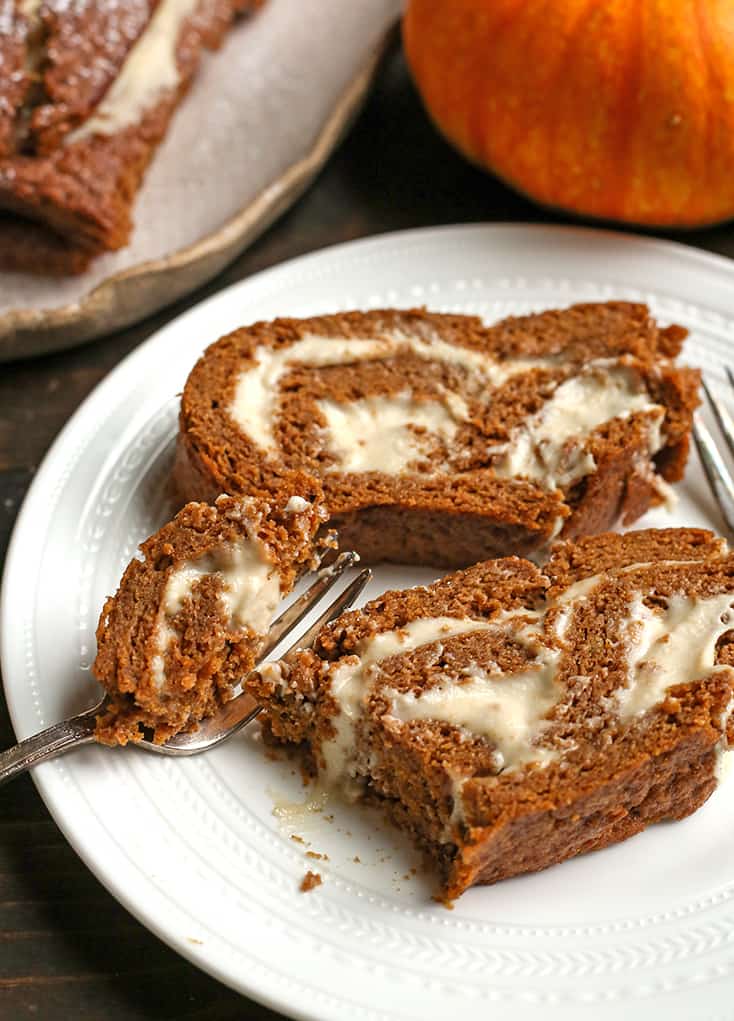 Assembling the cake
A quick run down of this process- it's really not hard. Make the cake and bake it on a sheet tray. Let it cool for 10 minutes then flip it on a teas towel lined with parchment paper. Carefully roll it from the short end and let cool for about 45 minutes- it shouldn't be cold, but not too warm where the filling melts. Unroll, spread filling on and roll back up. Wrap tight with the parchment paper and place in the fridge to set. Slice and serve!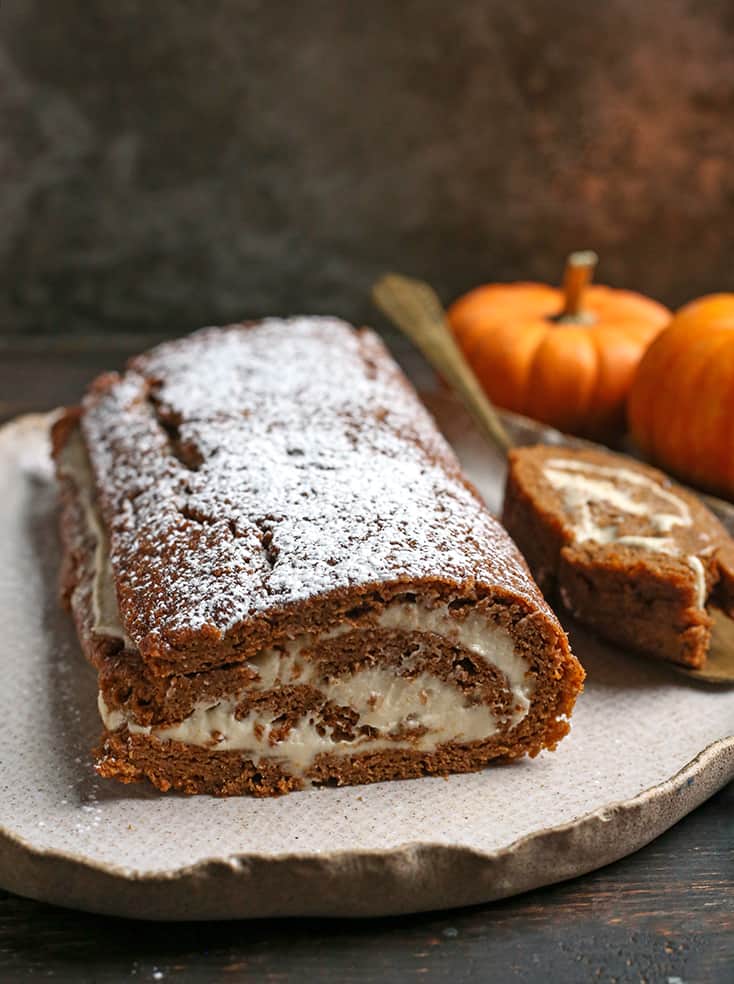 I am admittedly not the biggest pumpkin fan and I loved this cake! I think it's the combination of tender cake and creamy filling. It is so good and if you're a pumpkin fan you'll love it even more!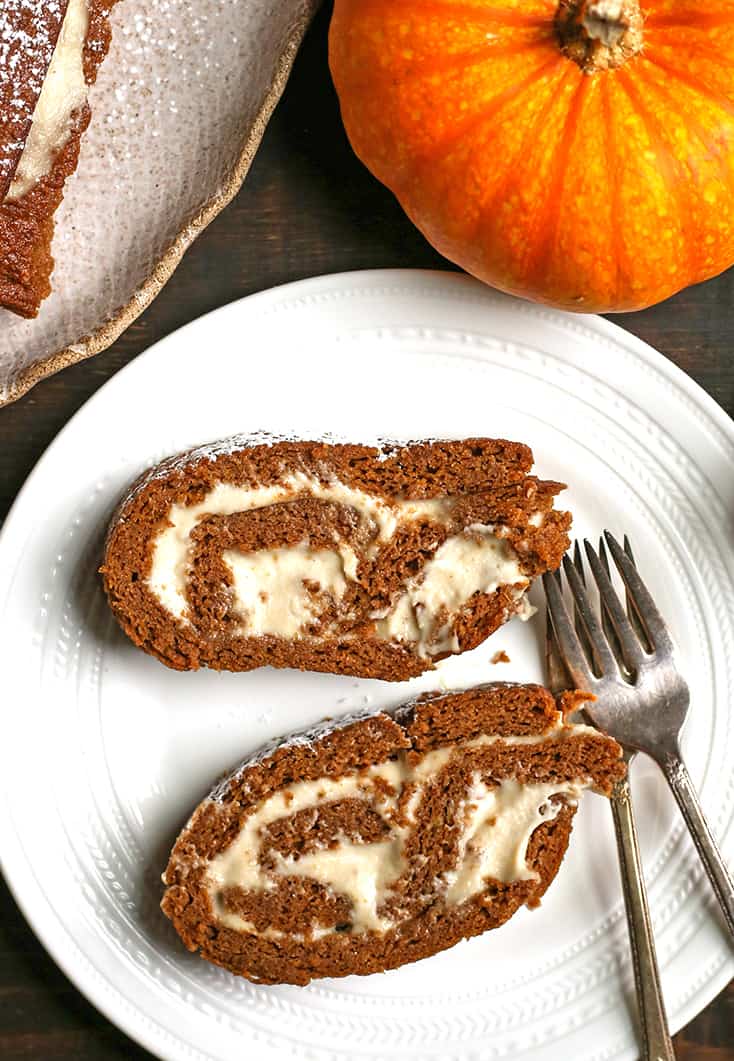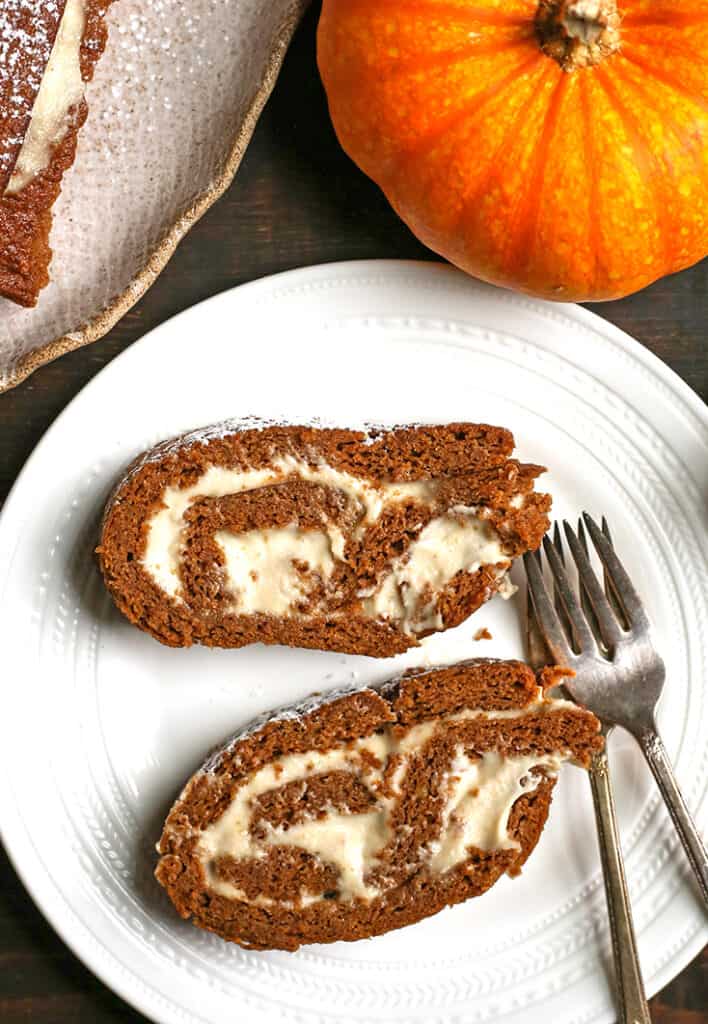 I know you will love this dessert because it's sweet, has an incredible filling and is so fun. Here are some more pumpkin recipes to try:
Hungry for more? Subscribe to my newsletter and follow along on Facebook, Pinterest and Instagram for all of the latest updates.
Paleo Pumpkin Roll
Ingredients
Cream Cheese Filling
1 ½ cups raw cashews, soaked for 8 hours
⅓ cup melted refined coconut oil
¼ cup maple syrup
2 tablespoons lemon juice
¼ teaspoon salt
Instructions
Preheat the oven to 350° and line a 10x15 sheet tray with parchment paper. Use coconut oil to grease the parchment paper well.

In a large bowl, combine the almond flour, coconut flour, coconut sugar, baking soda, salt, cinnamon, pumpkin pie spice and gelatin. Stir to mix. In a medium bowl, combine eggs and pumpkin and stir until smooth. Add it into the dry mixture and stir until fully combined and no dry spots remain. Spread on to prepared sheet tray, spreading as evenly as possible. Bake for 15 minutes and then let cool for 10 minutes.

While the cake bakes, make the filling. Drain the cashews and add them to a high powdered blender. Add in the coconut oil, maple syrup, salt, and lemon juice. Blend on high until creamy and no lumps remain. Scoop into a bowl and place in the fridge until ready to be used.

Lay a tea towel and then fresh piece of parchment paper on a large cutting board. Carefully flip the cake onto the cutting board and gently peel off the parchment paper that the cake was baked on. Roll the cake from the shorter end, going slow. Let cool for about 45 minutes, until it's not hot but not cold.

Carefully unroll the cake and remove the towel. Spread the cream cheese filling within 1 inch of the edges. Roll back up, wrap in the parchment paper to hold together and place it in the fridge.

Slice and serve. Store covered in the fridge up to a week.
Nutrition Information
Calories: 408kcal (20%)Carbohydrates: 30g (10%)Protein: 12g (24%)Fat: 29g (45%)Saturated Fat: 9g (56%)Polyunsaturated Fat: 2gMonounsaturated Fat: 6gTrans Fat: 0.01gCholesterol: 65mg (22%)Sodium: 255mg (11%)Potassium: 214mg (6%)Fiber: 5g (21%)Sugar: 16g (18%)Vitamin A: 2956IU (59%)Vitamin C: 2mg (2%)Calcium: 84mg (8%)Iron: 3mg (17%)