These Paleo Vegan Cadbury Creme Eggs are a fun no-bake treat that taste just like the classic candy. They are nut free, dairy free and naturally sweetened. These will become a favorite for sure!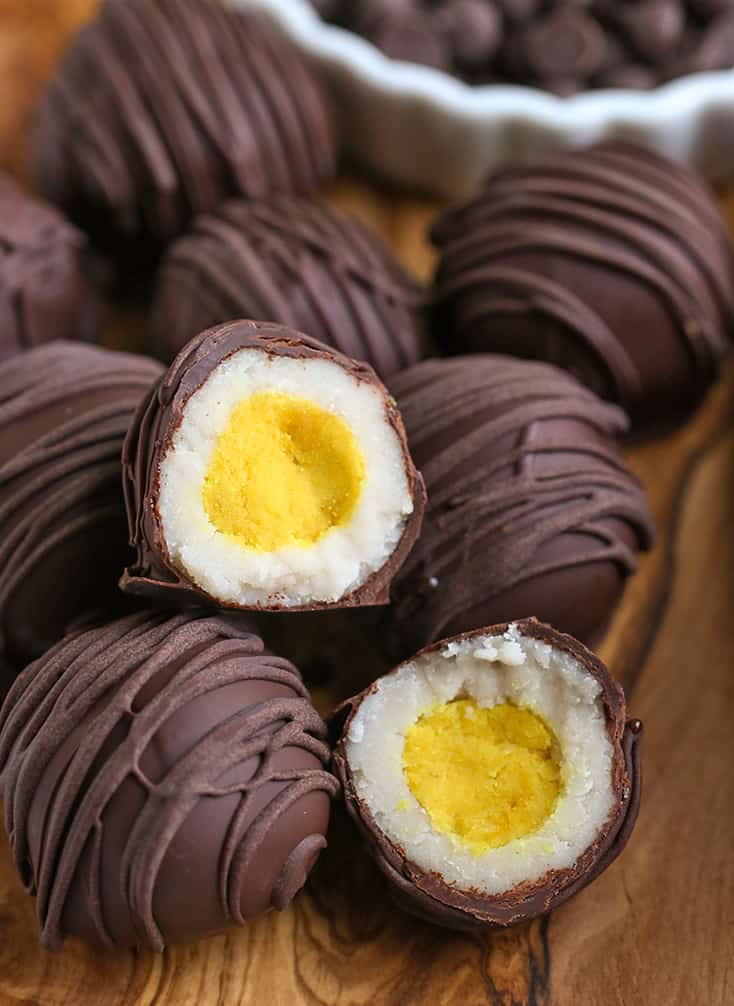 Cadbury Creme Eggs were by far my favorite Easter candy. They always were special and I would save them for last to enjoy. The smooth chocolate and creamy center just made them so delicious. Remaking them isn't hard at all.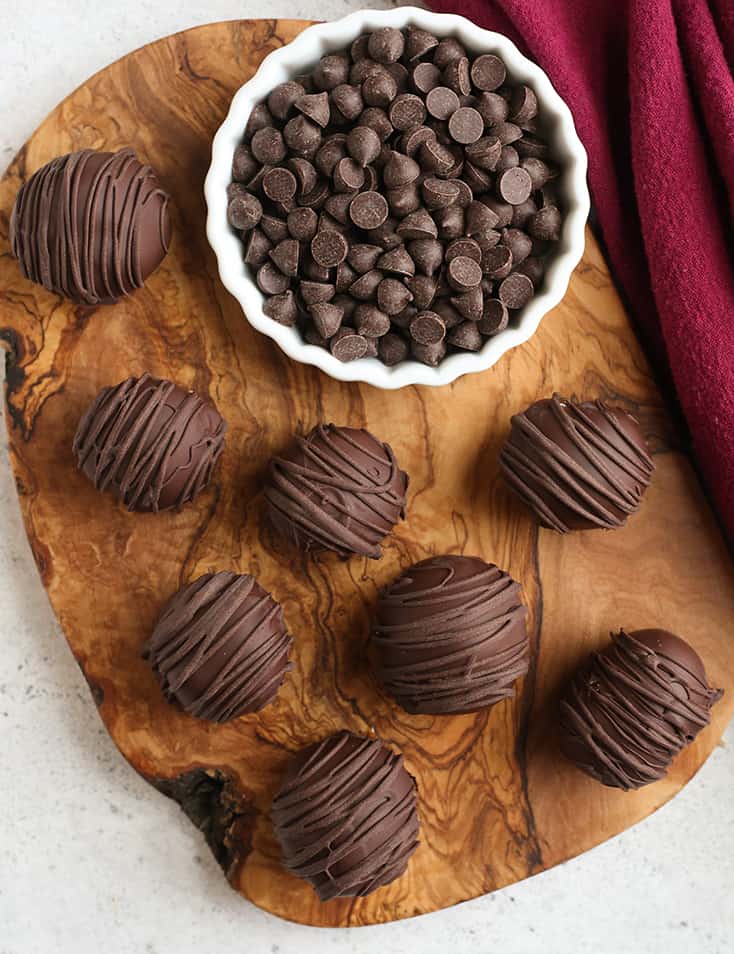 Paleo Vegan Creme Eggs
I knew I wanted to use coconut butter (manna) for the filling. It's creamy and rich and has the best consistency. They're sweetened just with maple syrup and the yellow yolk is made by adding some turmeric powder to part of the mixture. They are dipped in dairy free chocolate, you can use your favorite, but I like darker chocolate personally.
Whenever I use coconut butter I get questions about substitutions and there really isn't one. It's not like butter so you can't use that and it's not like almond butter, so you can't use that. It is shredded coconut blended until smooth and it makes the best glazes because it's thick and creamy. I've found Amazon to have the best price, but it's found in the nut butter section of the store if you're looking there.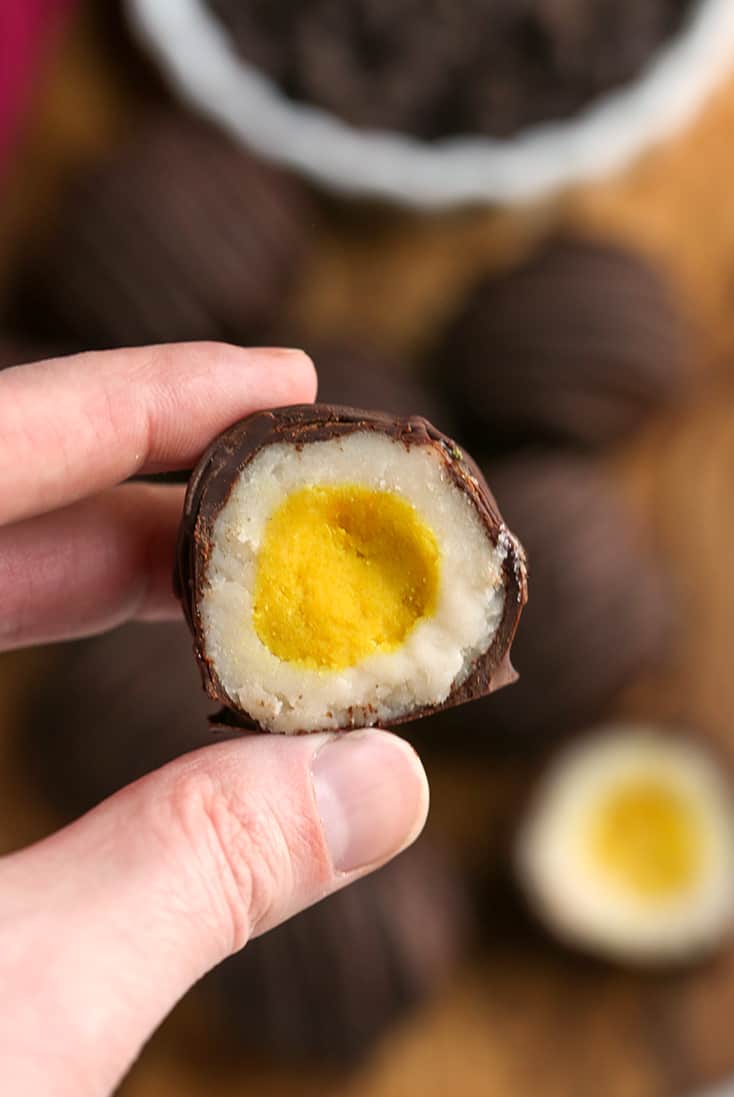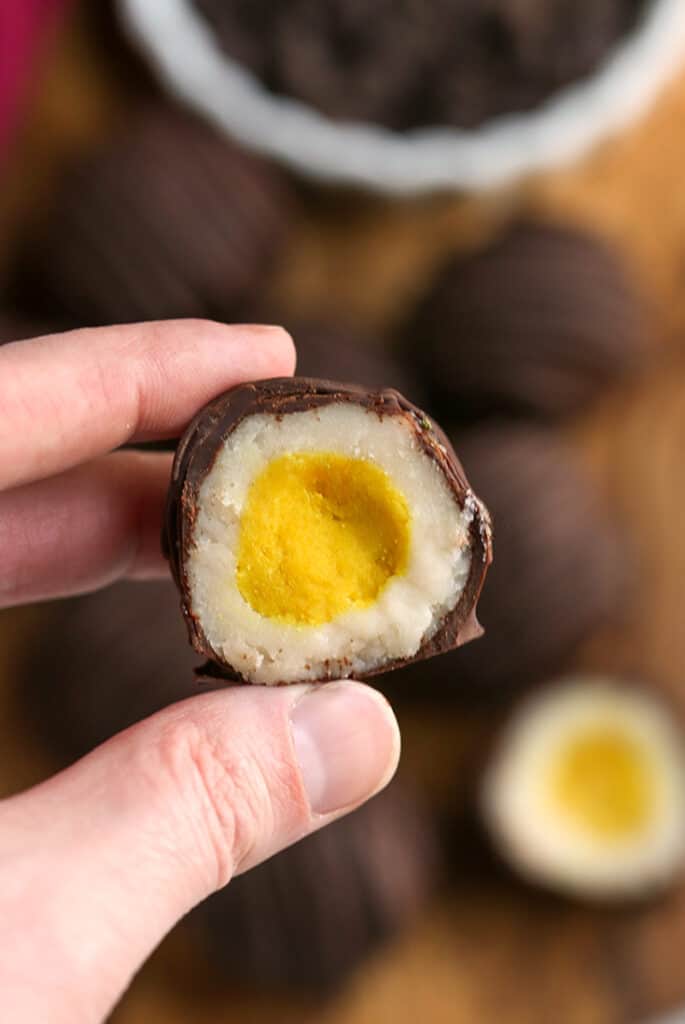 A close friend described these as an adult cadbury creme egg because the chocolate is darker, they aren't as sweet, and they aren't as messy. But they are still so delicious and will satisfy that craving. If you do want them a little gooier, cut one in half and microwave for 5-7 seconds. This makes the center soft and the chocolate isn't too melty.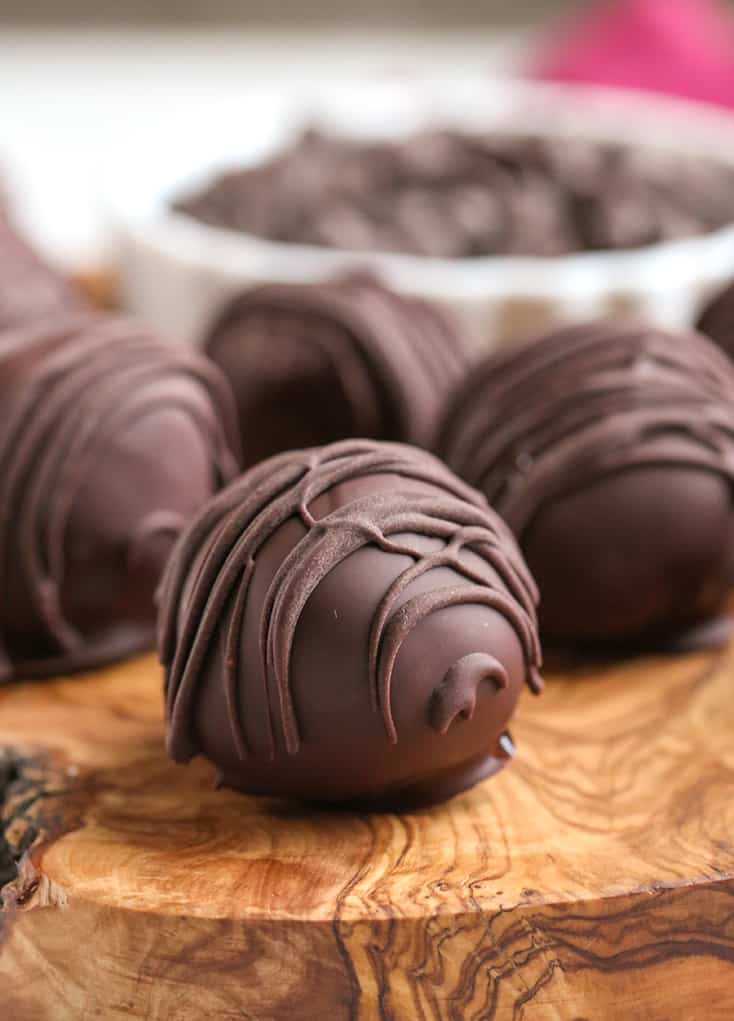 Storing Creme Eggs
These don't need to be refrigerated. A lot of paleo treats do need to be, but these are good stored at room temperature. I placed them in the fridge to let the chocolate set, them transferred them to a glass container and kept them on the counter.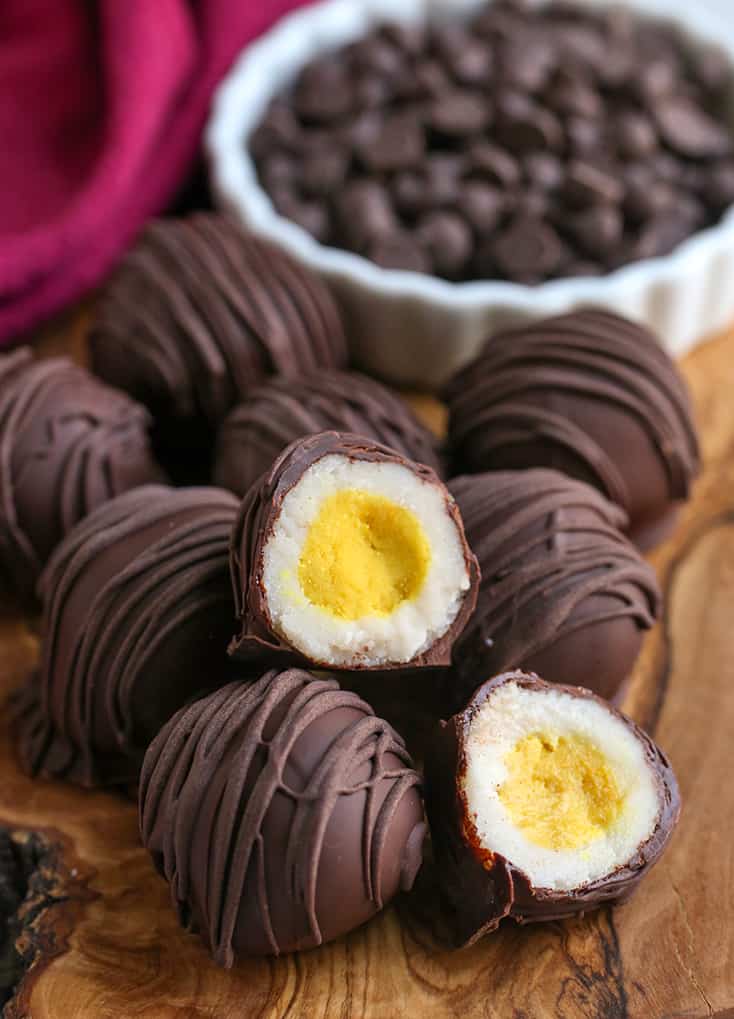 These are a no-bake treat and just take a little time rolling and chilling. Read the instructions carefully to ensure good results, but they're really not difficult at all! Once they're chilled they get dipped in chocolate and they're done. So easy!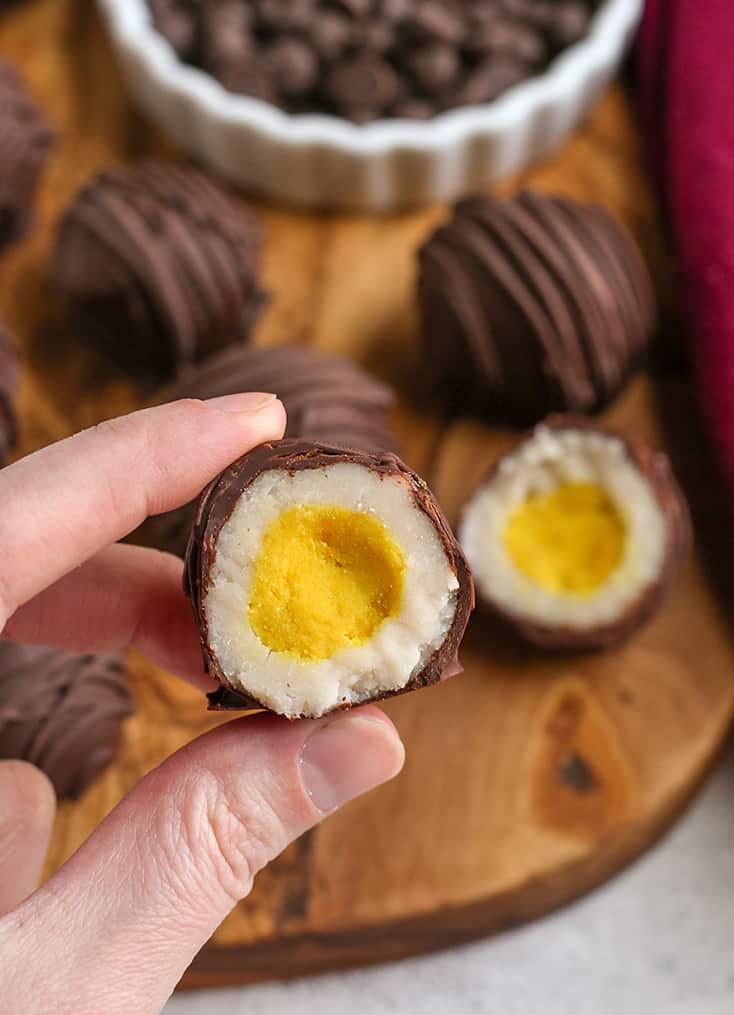 I know you will love these paleo vegan cadbury creme eggs because they are sweet, easy to make, and is definitely reminiscent of the classic treat. Here are some more Easter treats:
Hungry for more? Subscribe to my newsletter and follow along on Facebook, Pinterest and Instagram for all of the latest updates.
Paleo Vegan Cadbury Creme Eggs
Instructions
Make sure the coconut butter is smooth. Place in the microwave for 30 seconds and stir well if needed. In a small bowl, combine coconut butter, maple syrup, almond milk, salt and vanilla.

Remove 2 ½ tablespoons of the coconut mixture to a small bowl and stir in the turmeric powder. Place both bowls in the fridge. After 10 minutes, remove the yellow bowl and scoop mixture into ½ teaspoon balls, making a total of 8. Place on a small plate lined with wax paper. Place back in the fridge. Remove the bowl with the white mixture and scoop into 8 mounds, about 1 tablespoon each onto a large plate lined with wax paper. It will be too runny to roll into balls at this point. Place in the fridge to chill for 15 minutes. Remove from the fridge and roll each one into a ball, press flat and place a yellow ball in the center. Wrap the white mixture around the yellow center, gently squeezing it to make firm. Roll between palms to make smooth and place back on the wax paper. Repeat with the remaining balls. Dampen hands with water if needed, if the mixture starts sticking when trying to form the eggs. Place back in the fridge for at least 1 hour.

Melt the chocolate chips in a microwave safe bowl. This should take about 1 ½ minutes, stirring every 30 seconds. Remove the eggs from the fridge and dip each one in the chocolate mixture. Place back on the wax paper and when all are finished, place back in the fridge to set. Once set, these can be stored covered at room temperature.
Notes:
*Use coconut milk to make these nut free
Nutrition Information
Calories: 166kcal (8%)Carbohydrates: 18g (6%)Protein: 2g (4%)Fat: 11g (17%)Saturated Fat: 5g (31%)Polyunsaturated Fat: 0.1gMonounsaturated Fat: 0.1gSodium: 50mg (2%)Potassium: 21mg (1%)Fiber: 3g (13%)Sugar: 13g (14%)Vitamin C: 0.2mgCalcium: 43mg (4%)Iron: 2mg (11%)