This Paleo Whole30 Chicken Alfredo Casserole is easy to make and pure comfort food. Tender chicken and potatoes covered in a creamy sauce. Gluten free, dairy free, and low FODMAP.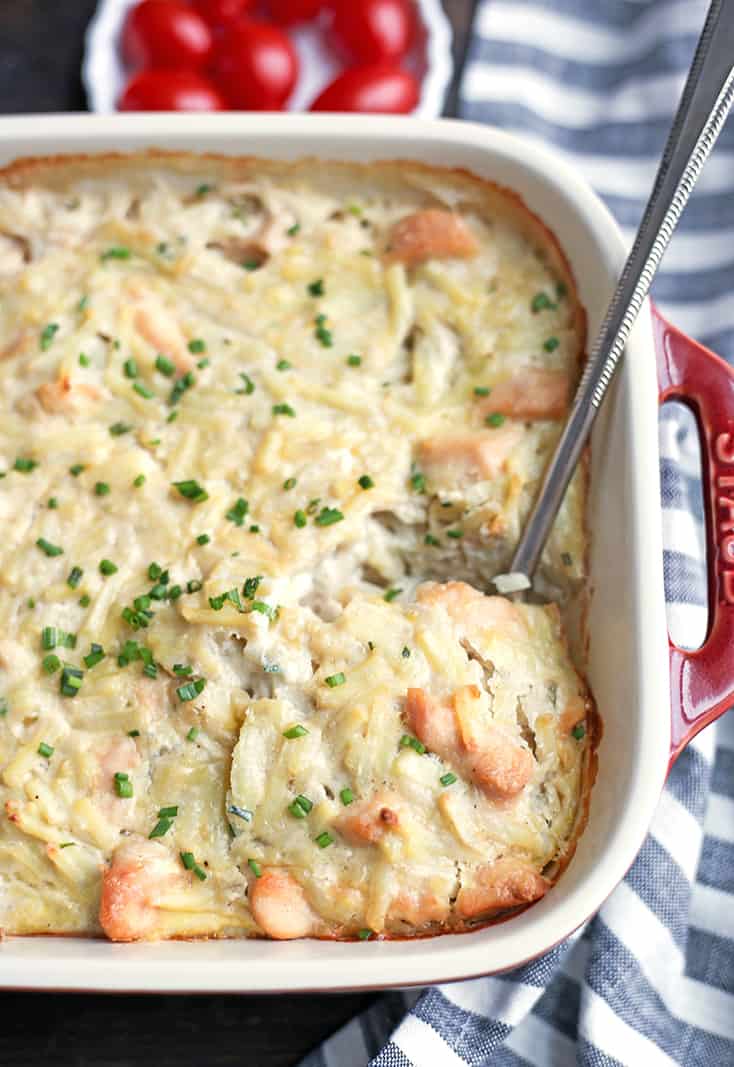 Chicken Alfredo used to be one of my favorite foods. It's definitely a classic comfort food that most people love and is kid friendly. I finally made a healthier version that I think you will love. All the flavor and creaminess of the dish you remember, but dairy free, gluten free, and low FODMAP. It's super easy to make and is great reheated as leftovers (if you have any).
Why not nutritional yeast?
A lot of paleo/dairy free sauces contain nutritional yeast, but this one does not and here's why. First, to keep this low FODMAP I had to leave it out since it's unknown if it's low FODMAP or not. Second, I have heard conflicting things about nutritional yeast and I'm not convinced it's healthy. And it really doesn't need it. The garlic oil gives it the traditional flavor and the almond milk gives it the creaminess. I don't think you'll be disappointed.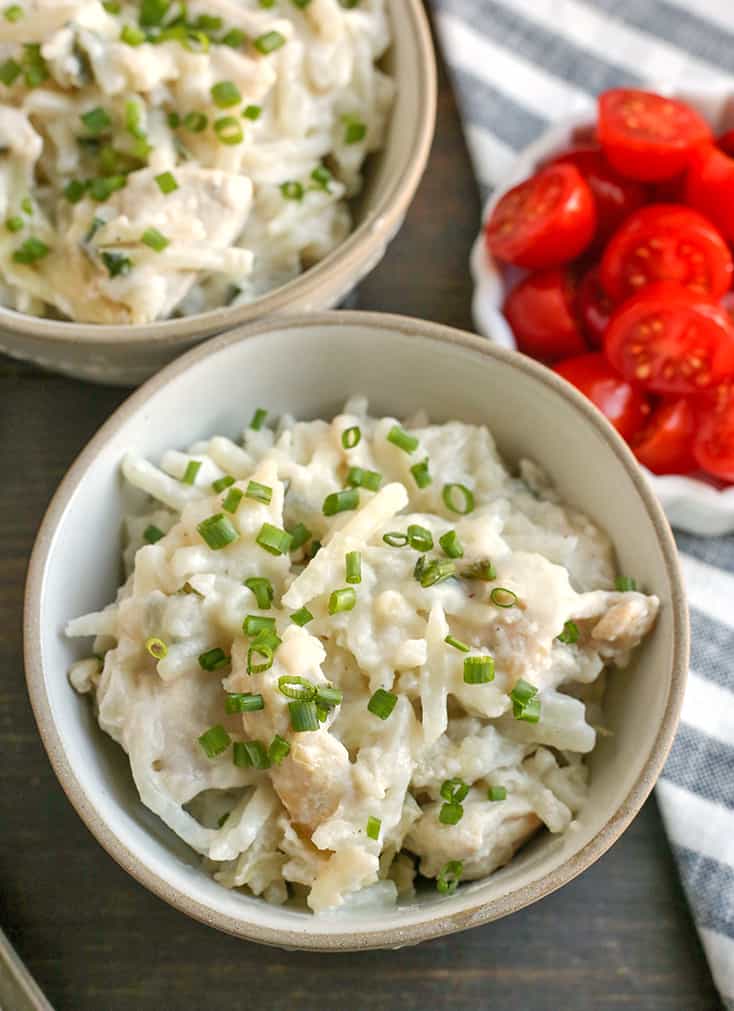 Frozen Hash Browns
This is made with frozen shredded potatoes. Make sure to check ingredients to make sure it's just potatoes. A lot of brands have fillers and other unwanted ingredients. I used Cascadian Farm which I found at my local health food store (this is not sponsored, just want to tell you what brand to look for). Spouts has some in their brand if you live by one of their stores. Organic is also important since potatoes are in the dirty dozen. You technically could shred some potatoes yourself, but I like to keep it as easy as possible.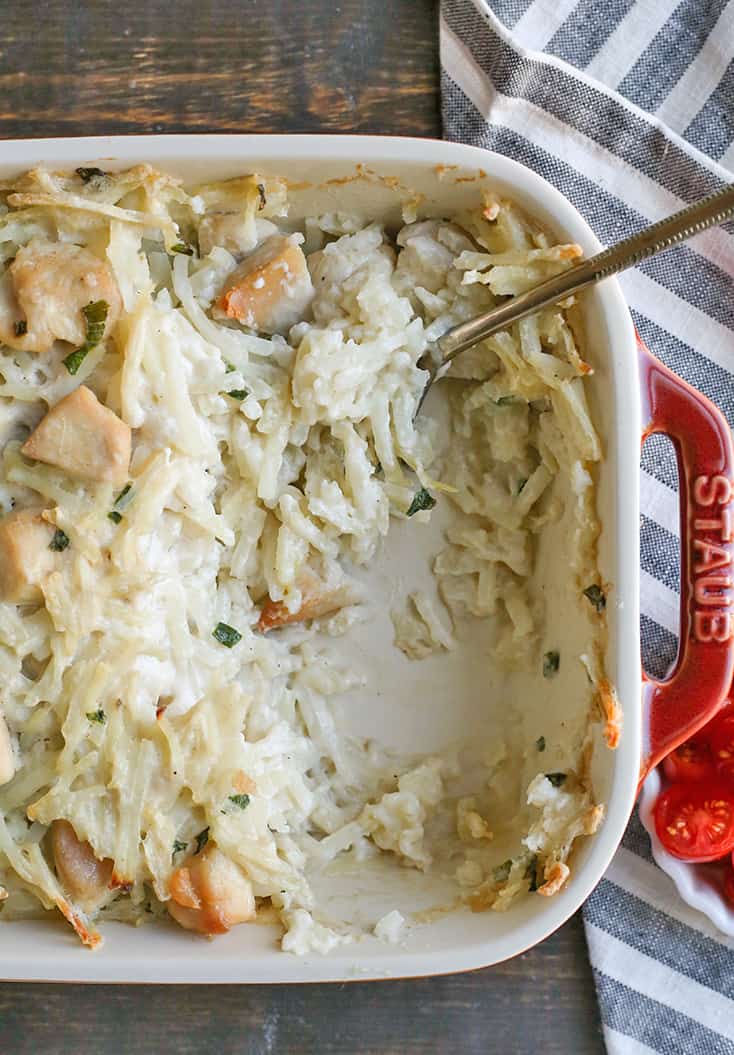 I made this 4 times to get it just right which usually isn't necessary. I used eggs the first time thinking it would need a binder, but it didn't and it made it less creamy. So yay for no eggs and one less ingredient! I also tried it with a mixture of potatoes and shredded carrots and it worked great. Just an option if you want to try it.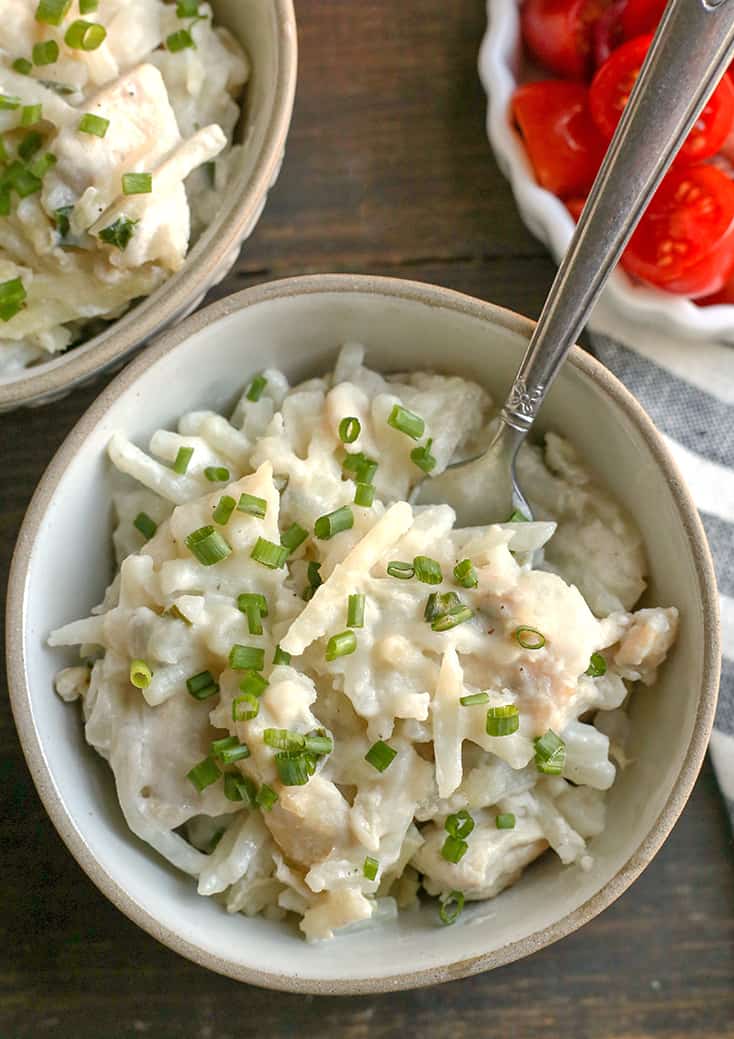 Other veggies could easily be added if desired. Broccoli (not low FODMAP), spinach, mushrooms (not low FODMAP), or whatever else you think may work. Just make sure to partially cook tough veggies like broccoli first.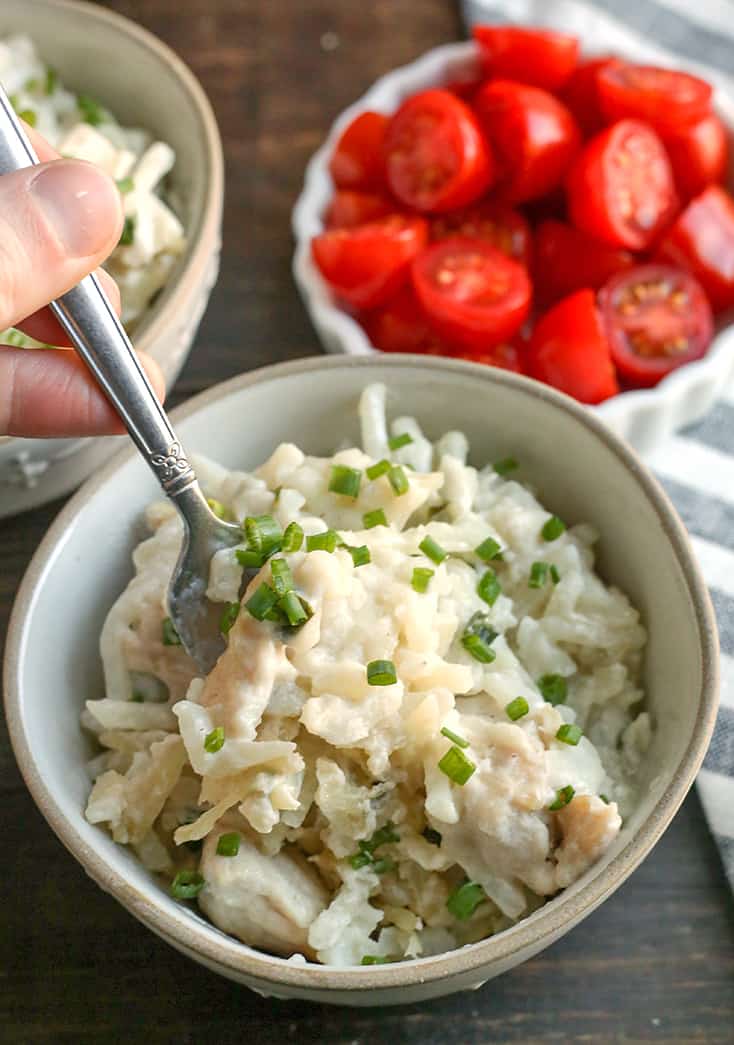 I will say I struggled with these pictures and I just had to realize it's not the prettiest dish, but it is dang tasty! I think you will love it!
Here are some more casseroles you will enjoy: Paleo Whole30 Shepherds Pie, Paleo Whole30 BBQ Chicken Casserole, and Paleo Whole30 Sausage Breakfast Casserole.
Hungry for more? Subscribe to my newsletter and follow along on Facebook, Pinterest and Instagram for all of the latest updates.
Paleo Whole30 Chicken Alfredo Casserole
Ingredients
Alfredo Sauce
2 tablespoons garlic oil
2 tablespoons grass-fed ghee
1 heaping tablespoon arrowroot flour or cassava flour (not tapioca)
2 ½ cups almond milk (or coconut for nut free)
½ teaspoon salt
¼ teaspoon pepper
2 tablespoons chopped chives
Casserole
2 16oz bag shredded potatoes*
1.5 pounds boneless skinless chicken, cut into bite size pieces
1 teaspoon salt
1-2 tablespoons ghee for cooking
Instructions
Preheat the oven to 350° and line a 8x11 or 13x9 pan with parchment paper. Set aside.

Make the Alfredo sauce: in a large sauce pan, melt the garlic oil and ghee over medium heat. Whisk in the arrowroot flour until fully combined. Add in the almond milk and whisk until the mixture is smooth thickens- about 4 minutes. Add in the salt, pepper, and chives. Leave in the pan until needed or pour into a bowl if you need the pan for the chicken.

Cook the chicken. Add the ghee to a large skillet and heat over medium heat. Add the chicken and salt and cook until cooked through- about 5-7 minutes. Remove from the pan and place in the large bowl with the hash browns. Pour the alfredo sauce over the chicken and potatoes are stir well.

Bake for 40-50 minutes, until golden brown around the edges. Baking time will depend on what size pan you use. The larger pan will cook quicker.
Notes:
*Also called hash browns. Double check that the ingredients are only potatoes (no added preservatives or sugar). I use Cascadian Farm brand. 
Nutrition Information
Calories: 252kcal (13%)Carbohydrates: 1gProtein: 25g (50%)Fat: 16g (25%)Saturated Fat: 6g (38%)Polyunsaturated Fat: 2gMonounsaturated Fat: 7gTrans Fat: 0.01gCholesterol: 92mg (31%)Sodium: 849mg (37%)Potassium: 425mg (12%)Fiber: 0.4g (2%)Sugar: 0.1gVitamin A: 78IU (2%)Vitamin C: 2mg (2%)Calcium: 132mg (13%)Iron: 0.5mg (3%)