This Paleo Whole30 Instant Pot Chicken Curry is so fast and flavorful! It is so easy to make and only has 7 ingredients. Using the Instant Pot saves time and the result is moist chicken, creamy sauce, and rich flavor. You will love it! Gluten free, dairy free, and low fodmap.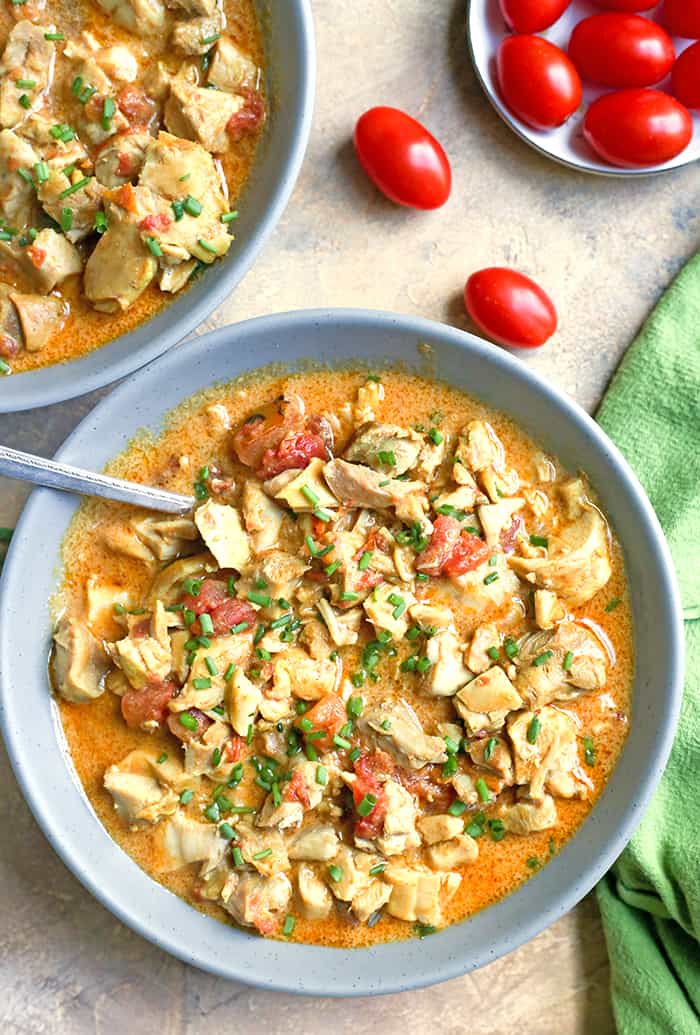 My brother went to Nepal a few years ago and came back requesting curry. I had never made curry so I researched it a little and made a super easy version. He loved it! I have since made it for him and also my husband more times than I can count. The thing is, if I'm not cooking for the blog, I don't measure. So I had to actually measure, and time, and pay attention and it came out great. And hey, I can remake it again exactly the same now. My brother will usually tell me THIS IS THE BEST EVER and I'm like, great, I have no idea what I did 😉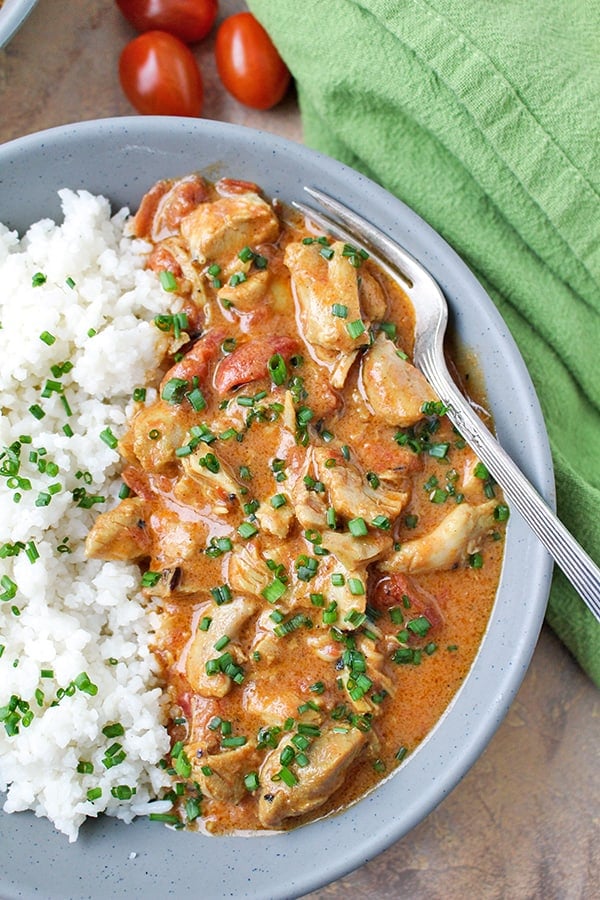 Yes, there is rice in some of the pictures. If you are doing a Whole30 (like I am), use cauliflower rice or fried potatoes, or whatever works for you. Don't get hung up by the rice in the picture. (Updated September 2018 to add some pictures without rice. It's still just as delicious!)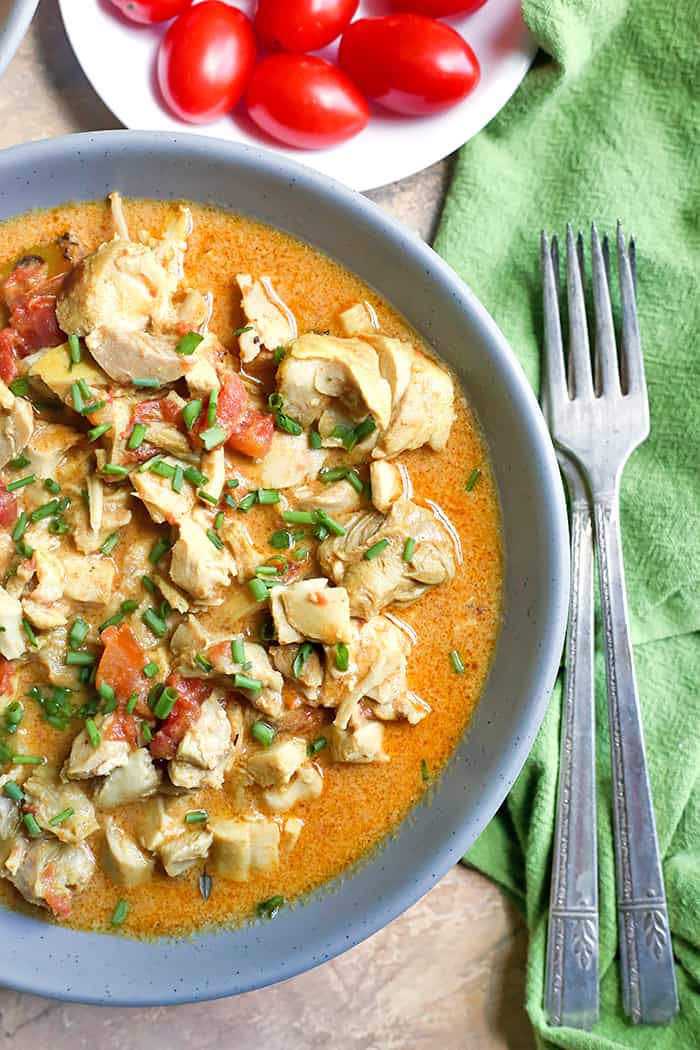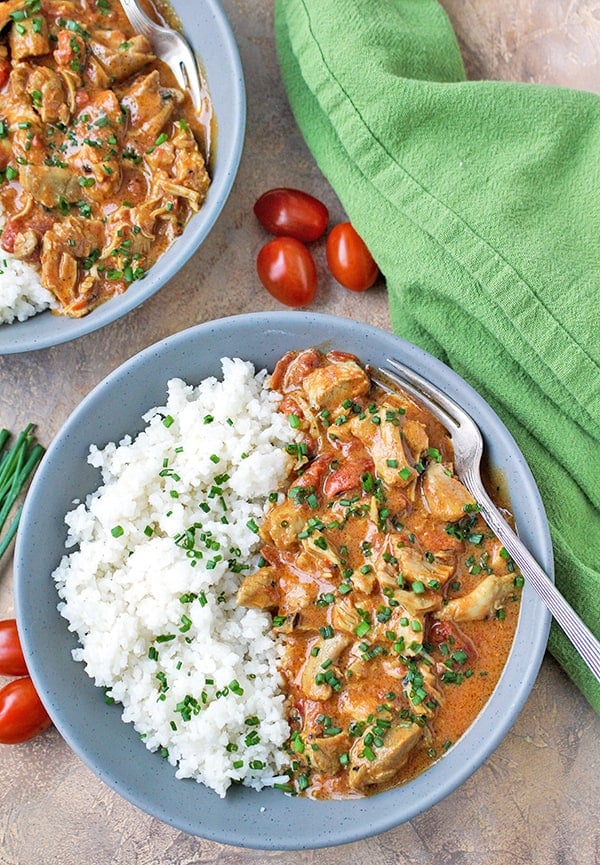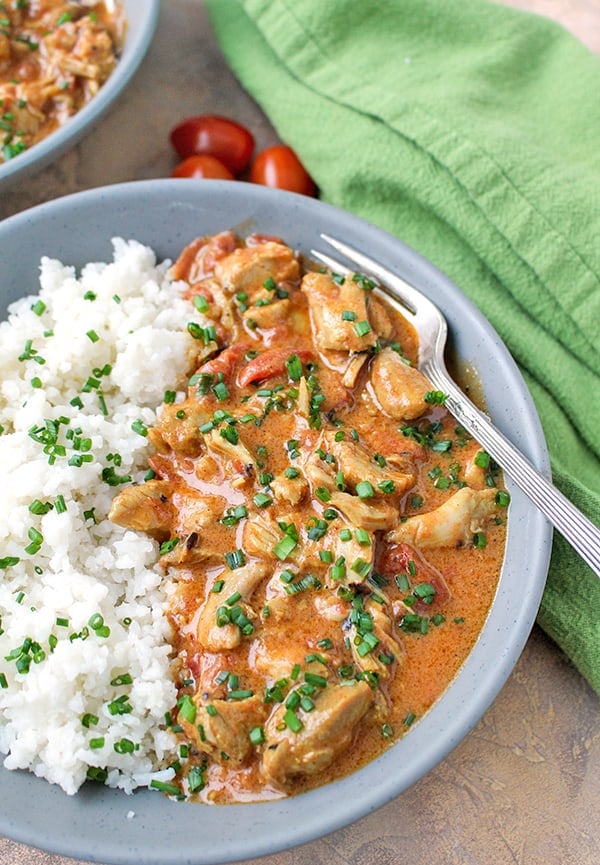 I made this twice in one day to make sure I had it perfect. One important thing to do is not add the coconut cream before cooking. It makes the final product not as smooth and the taste wasn't as good. If you take the can of full fat milk, make a tiny hole in the thick top part and let all the coconut water dump into the pot with the chicken. Then save the thick cream for after the pressure is released.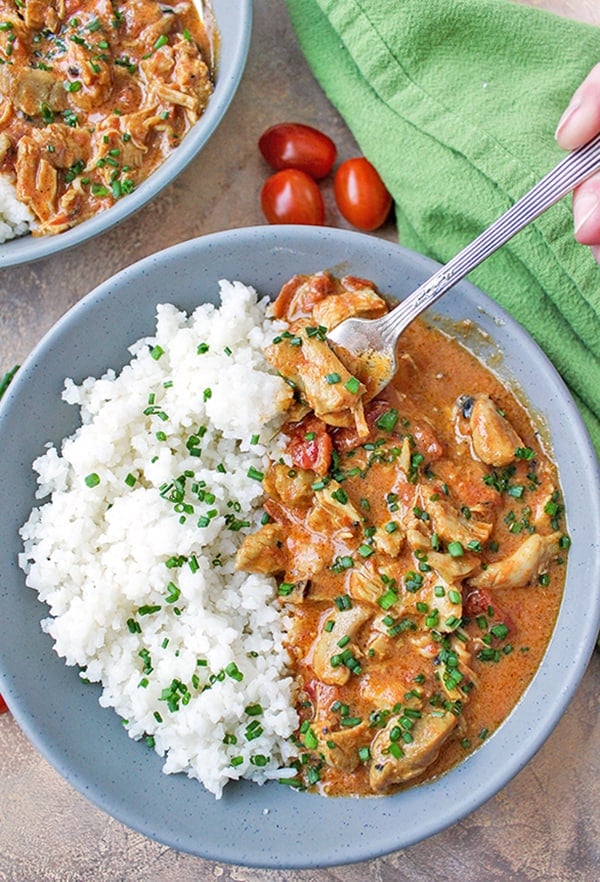 Next time I make it, which will be soon, I know I'll make a double batch because even my 2 year old loved it.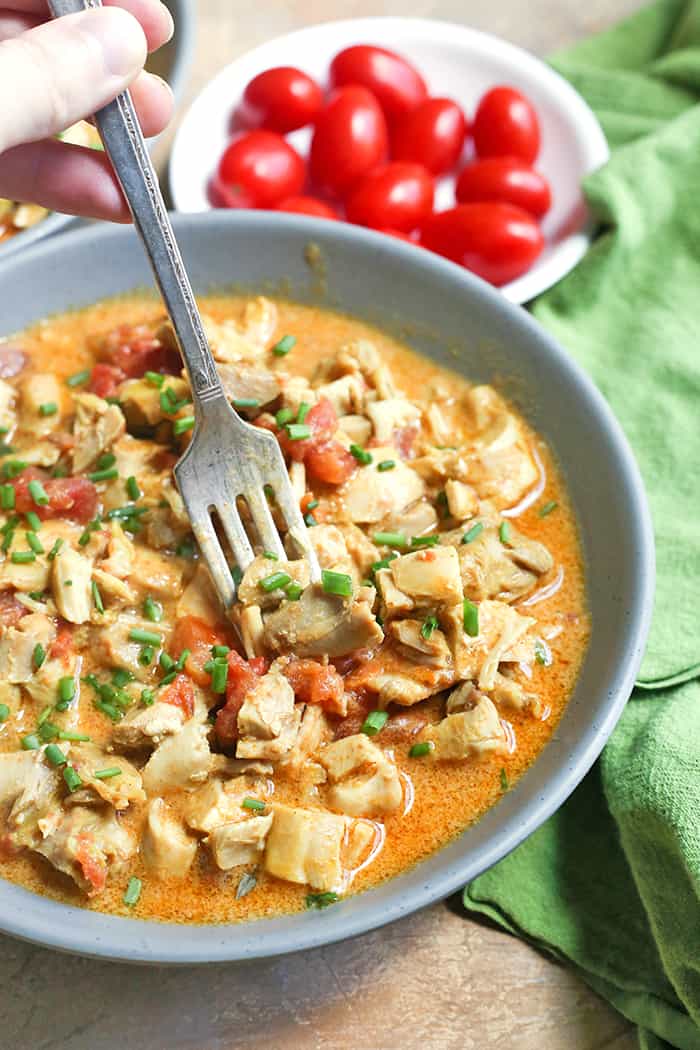 Here are more Instant Pot recipe to try that you will love: Paleo Whole30 Beef Barbacoa (Chipotle Copycat), Paleo Whole30 Instant Pot Pot Roast, Paleo Whole30 Stuffed Pepper Soup.
Hungry for more? Subscribe to my newsletter and follow along on Facebook, Pinterest and Instagram for all of the latest updates.
Paleo Whole30 Instant Pot Chicken Curry
Instructions
Place the chicken in the Instant Pot and add in the curry powder, ginger, tomatoes, salt, and milk from the coconut milk. The cream will be at the top, make a small hole and let all the thin milk pour into the pot and save the cream for after the cooking.

Stir together and place the lid on. Hit "manual" and reduce the time to 8 minutes.

Once done cooking, quick release by hitting "cancel" and releasing the pressure valve. Once the pin drops, open the lid. Remove the chicken to a cutting board and add in the coconut cream that was saved and the garlic oil.

Hit "saute" and cook for 10 minutes to reduce and thicken. While that is cooking, chop up the chicken into bite size pieces.

Add the chicken back in and stir to fully coat. Hit the "cancel" button and serve.
Notes:
*Check for ingredients if needing to be low fodmap, I have seen some with onion and garlic in them. Trader Joes and Simply Organic are two good ones.  *My brother likes a spicy curry powder that I buy in bulk at a health food store. So go for that if you like spice!  *To make a double batch, double the chicken, curry powder, ginger, add ½ teaspoon more salt, and more garlic. Use the same amount of tomatoes and coconut milk. The cooking time stays the same!  *For stove-top. Place tomatoes, entire can of coconut milk, garlic oil, salt, curry powder, and ginger in a sauce pan. Put the chicken thighs in making sure they are fully covered. Place over medium heat and bring to a simmer- about 5 minutes. Reduce heat to medium-low, cover and cook 13 minutes stirring regularly. Remove chicken to a cutting board and leave the sauce to keep cooking. Chop chicken and place it back in the pan. Remove from heat and serve. 
Nutrition Information
Calories: 539kcal (27%)Carbohydrates: 4g (1%)Protein: 43g (86%)Fat: 35g (54%)Saturated Fat: 1g (6%)Polyunsaturated Fat: 0.4gMonounsaturated Fat: 3gCholesterol: 1mgSodium: 584mg (25%)Potassium: 34mg (1%)Fiber: 1g (4%)Sugar: 0.1gVitamin A: 16IUVitamin C: 0.2mgCalcium: 8mg (1%)Iron: 1mg (6%)