These Ultimate Fudgy Brownies have 4 different types of chocolate to satisfy all your chocolate needs. Fudgy, rich, decadent, and perfect with a glass of milk.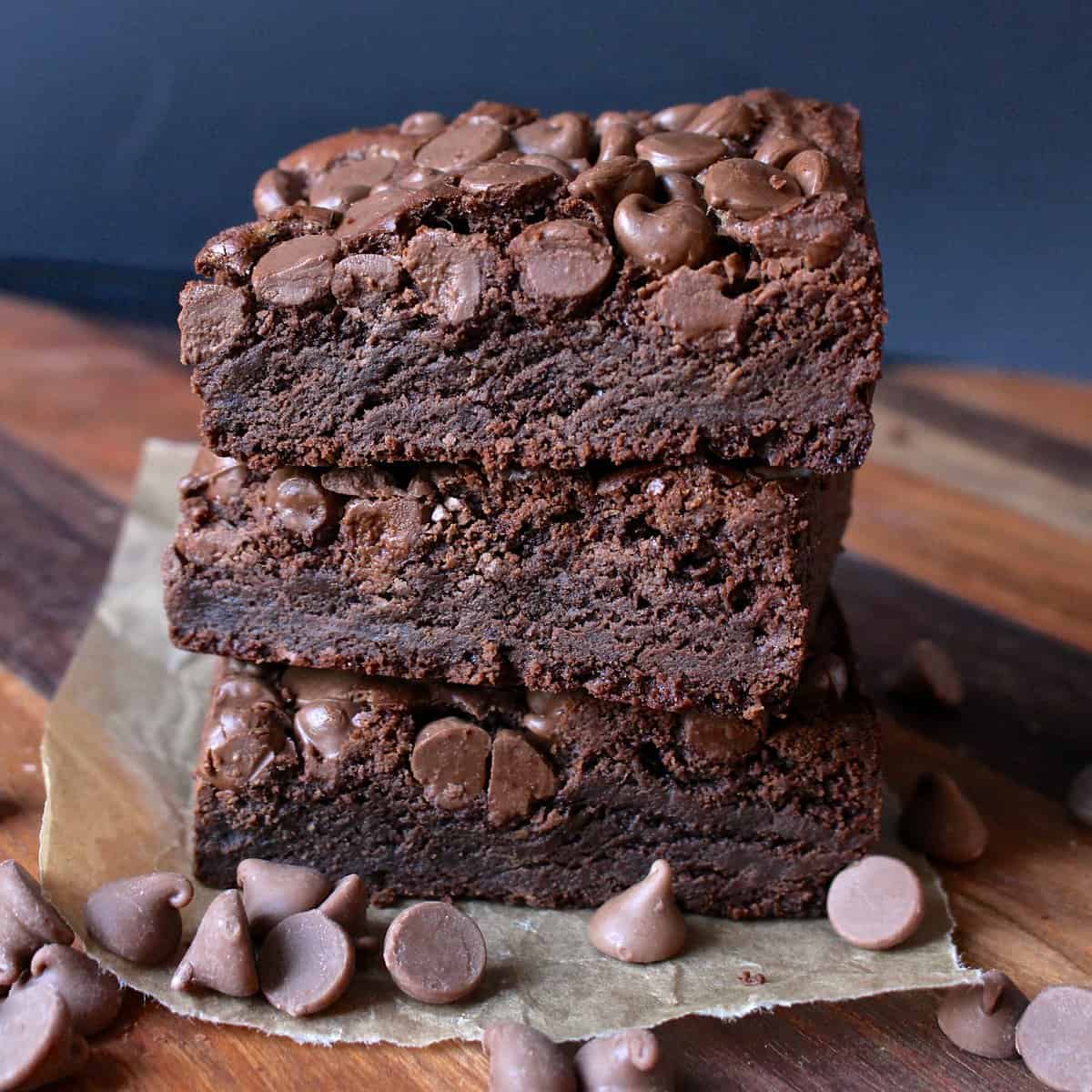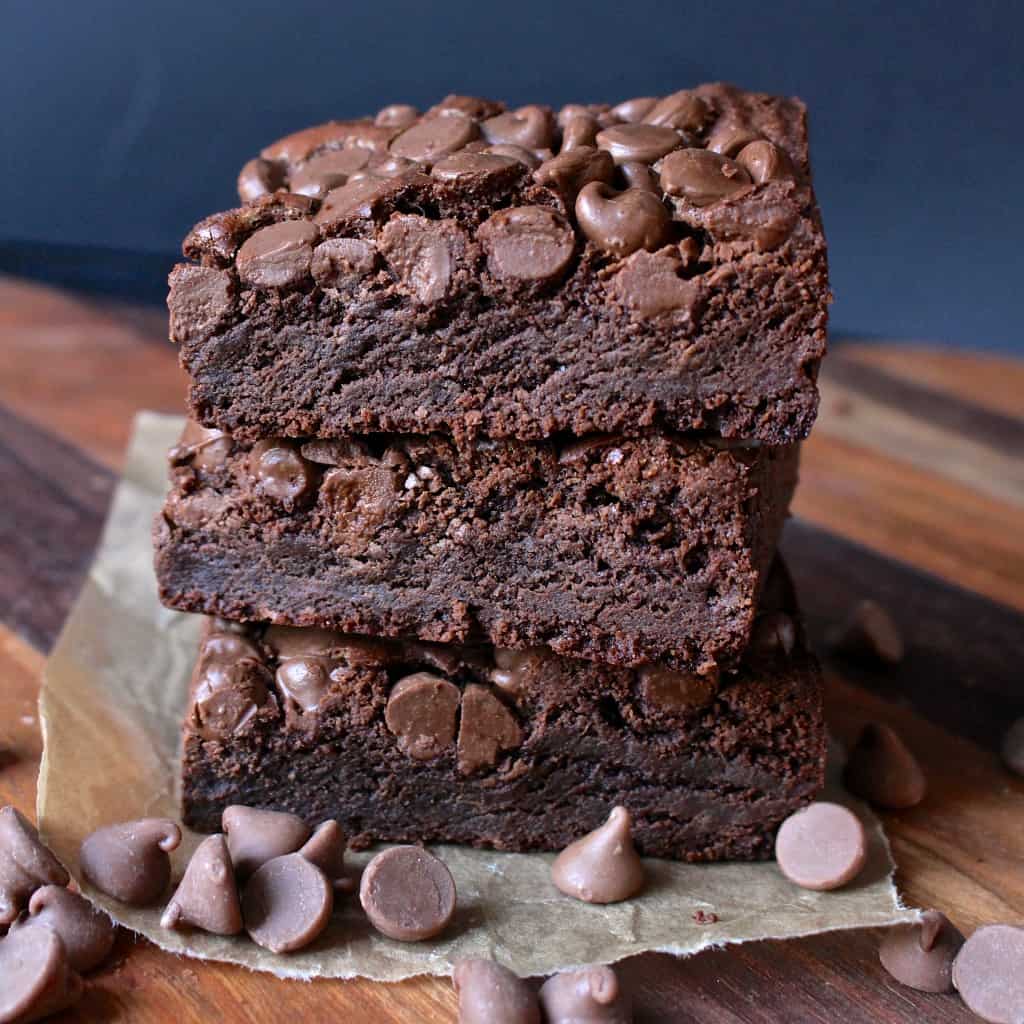 These brownies were a complete accident. A very good accident. I was attempting to make Buns In My Oven's Nutella Brownies and when I went to get my cocoa I saw I didn't have enough. I was trying to think quick and grabbed the chocolate pudding mix and subbed that in. It turned out amazing. I also wasn't using Nutella, but I knew that going in. I had some Herhsey's chocolate spread and it worked in the same way. I've also used the Reese's spread (delicious) and Skippy's chocolate peanut butter (super yum). So basically anything along those lines you could try. I'm thinking it would be amazing with some cookie butter. I'll try that next time.
So this is my third recipe in my search for the best fudgy brownie. Check out the first two if you haven't already. The Baked Brownie and Black Magic Brownies- both seriously delicious! These actually tied for first with the ones I'll be sharing next week. I had friends and family help me decide so it wouldn't only be my opinion.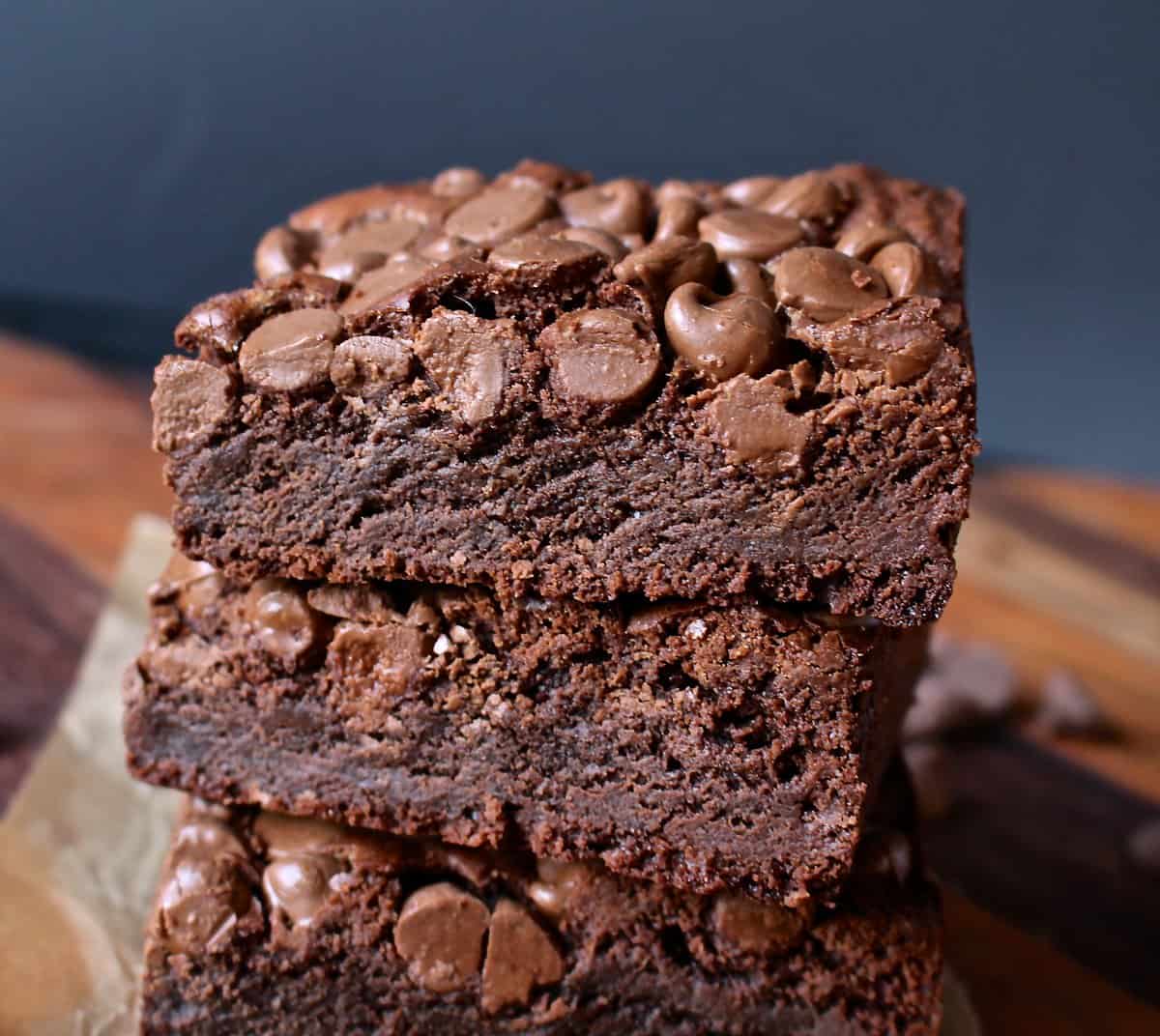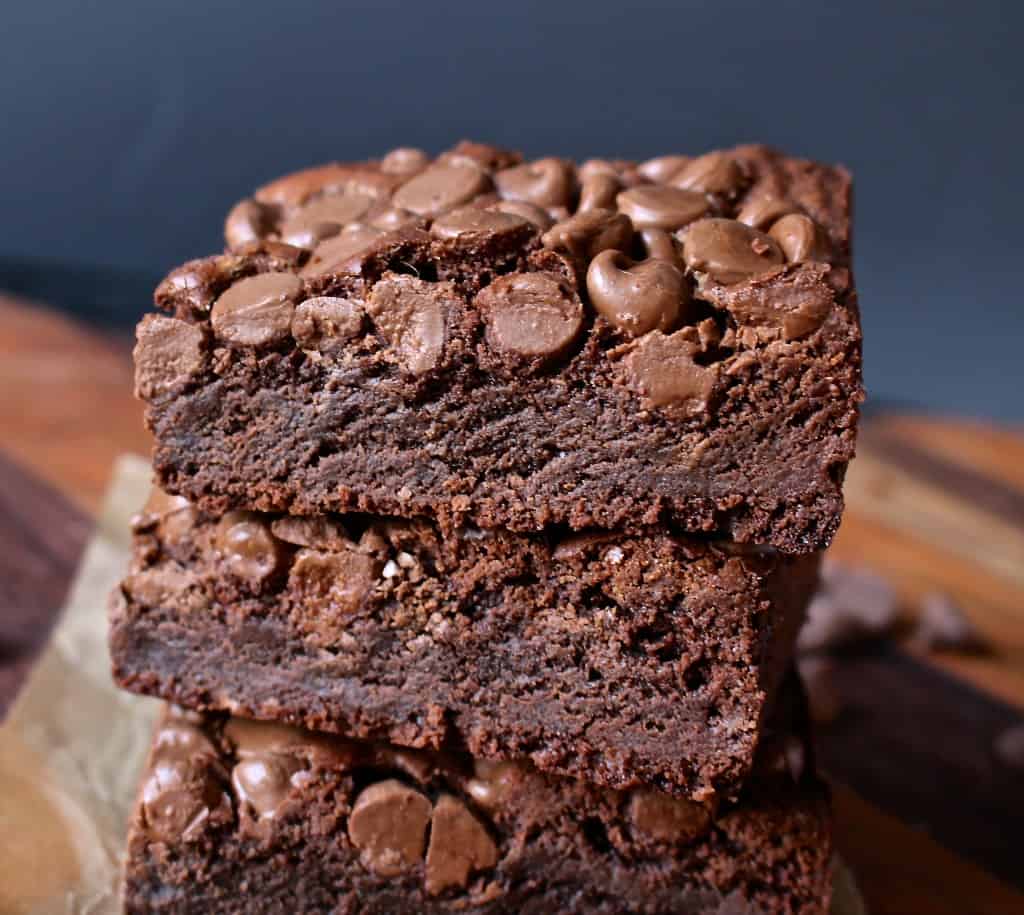 These are so decadent, so fudgy, chewy, and loaded with chocolate flavor- obviously!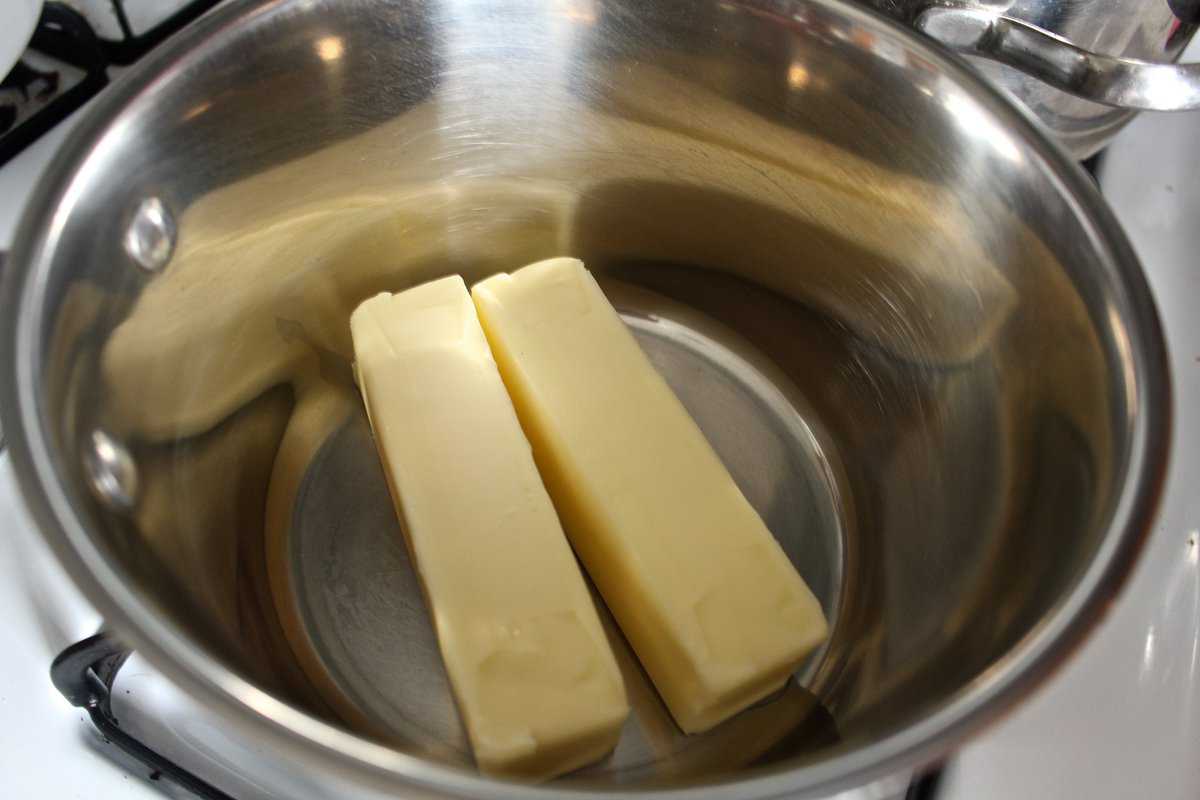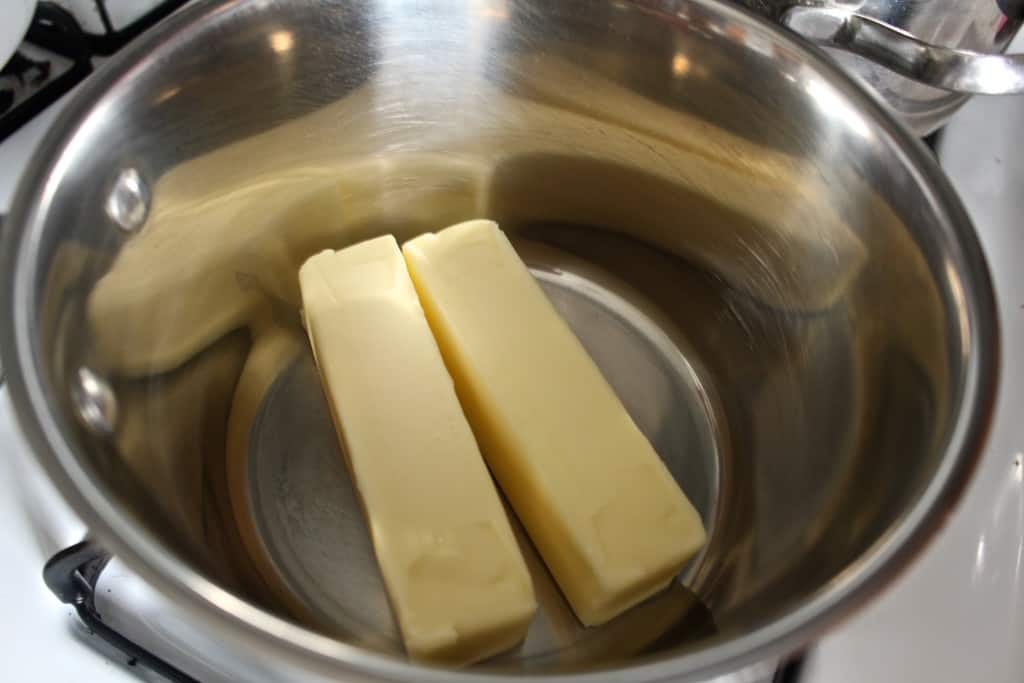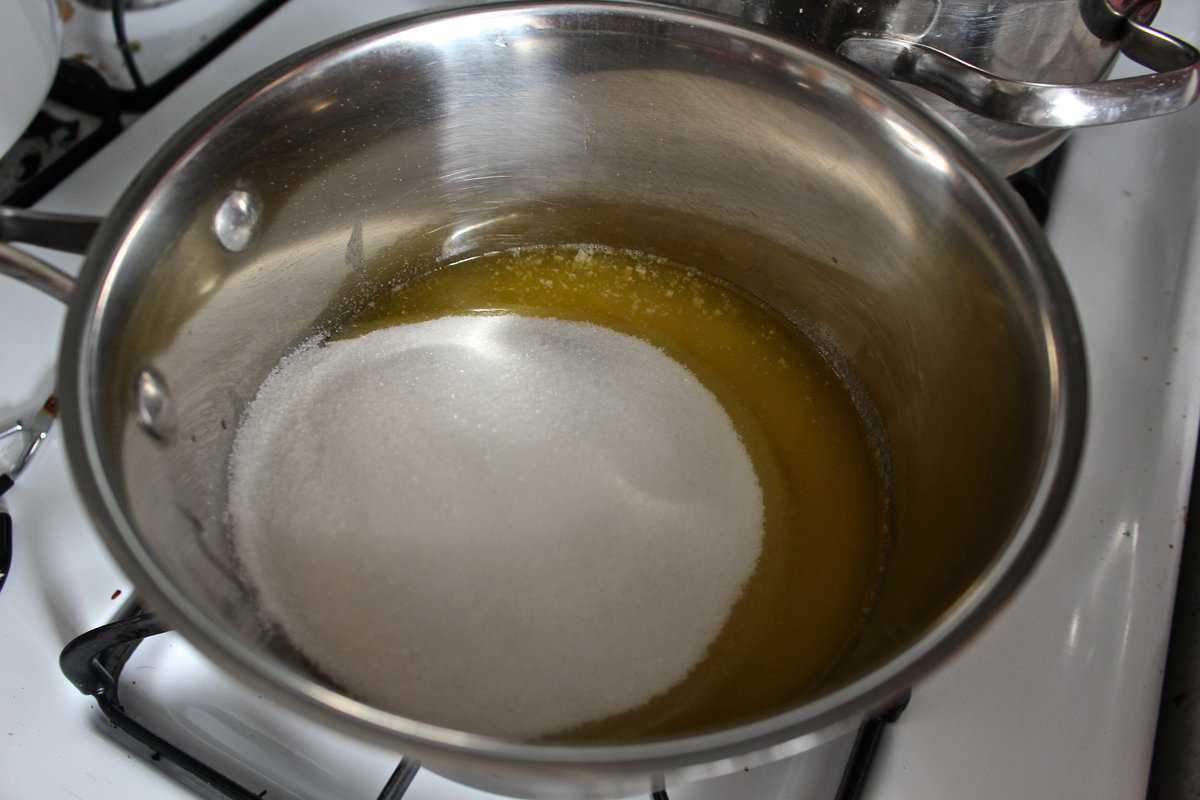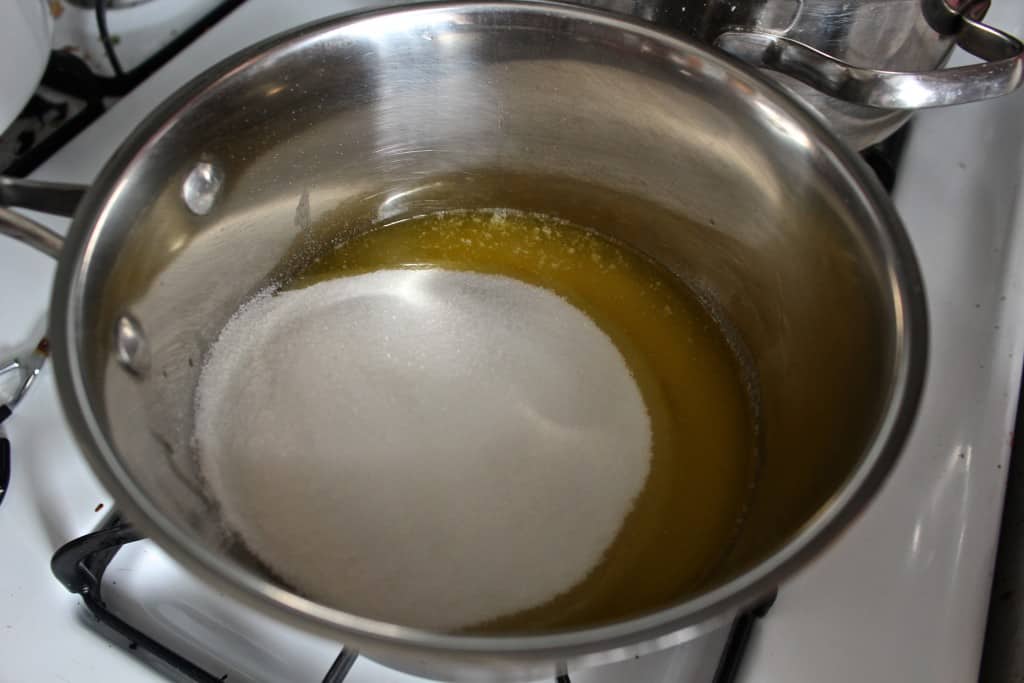 Add the butter to the pan, melt, and add the sugar. Cook for a couple minutes, stirring constantly.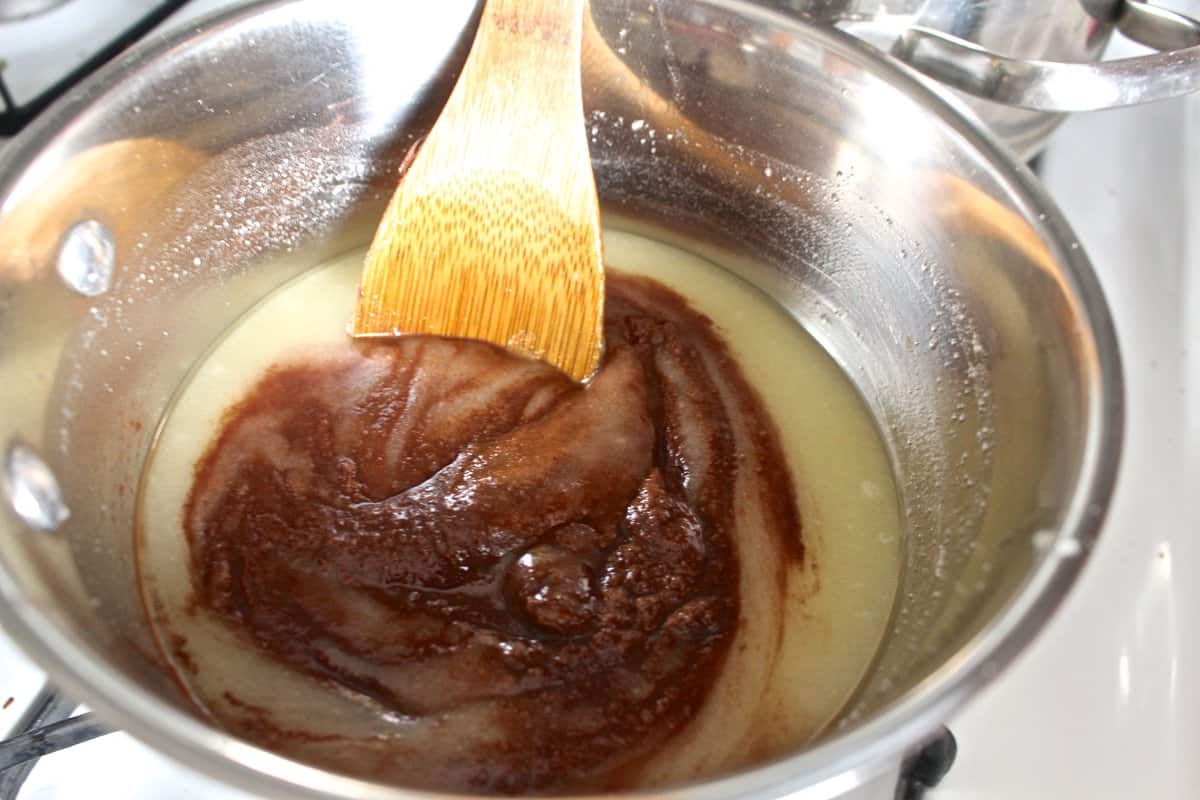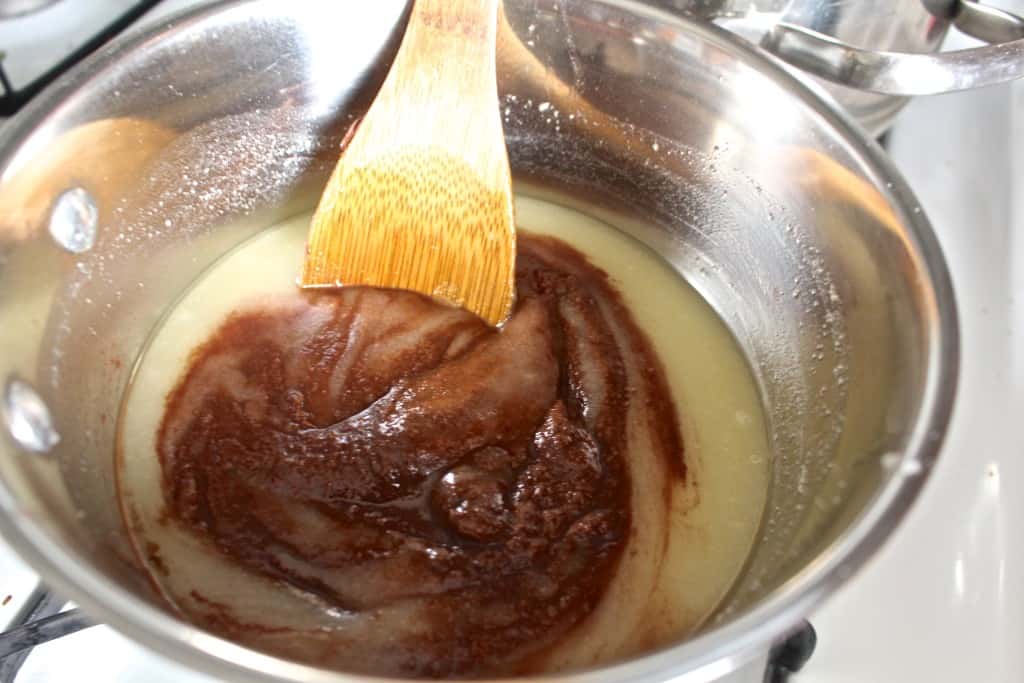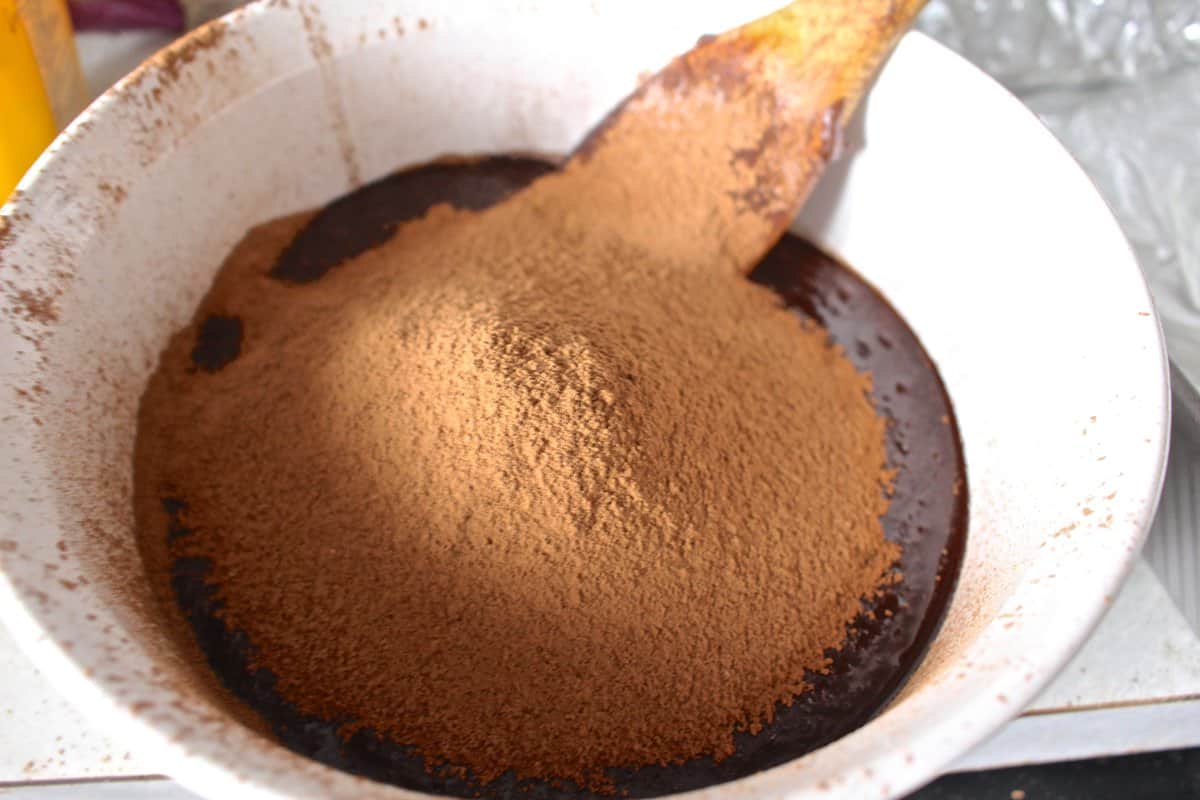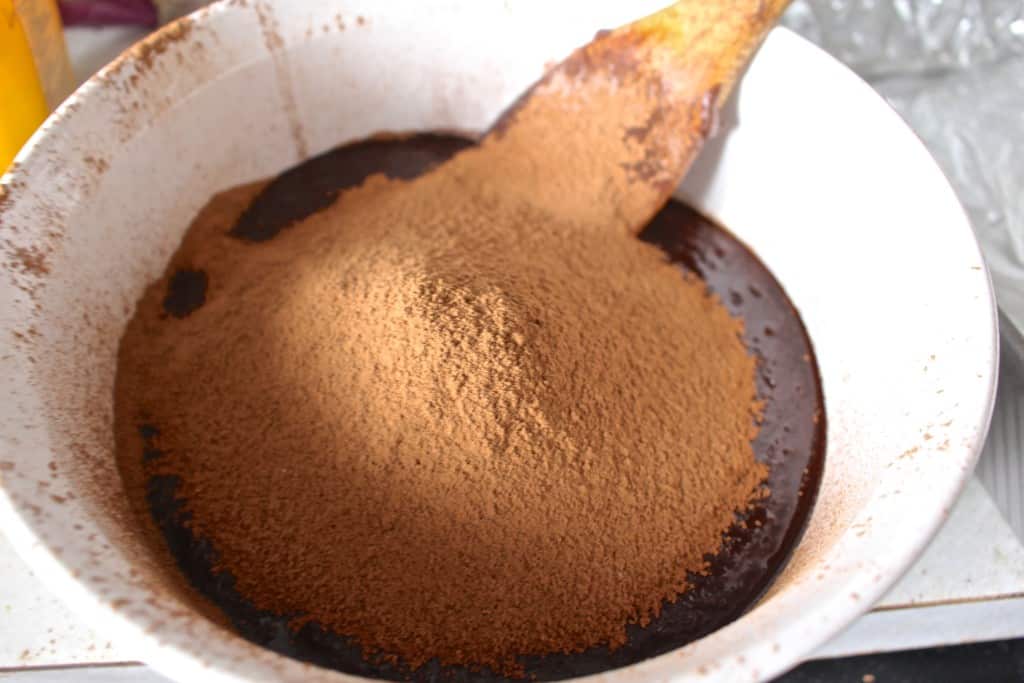 Take the pan off the heat and add the chocolate spread. Pour into a big bowl and sift in the cocoa powder and pudding mix. I know, sifting is kind of annoying, but it's necessary here. You don't want little dry pockets of cocoa in your brownies.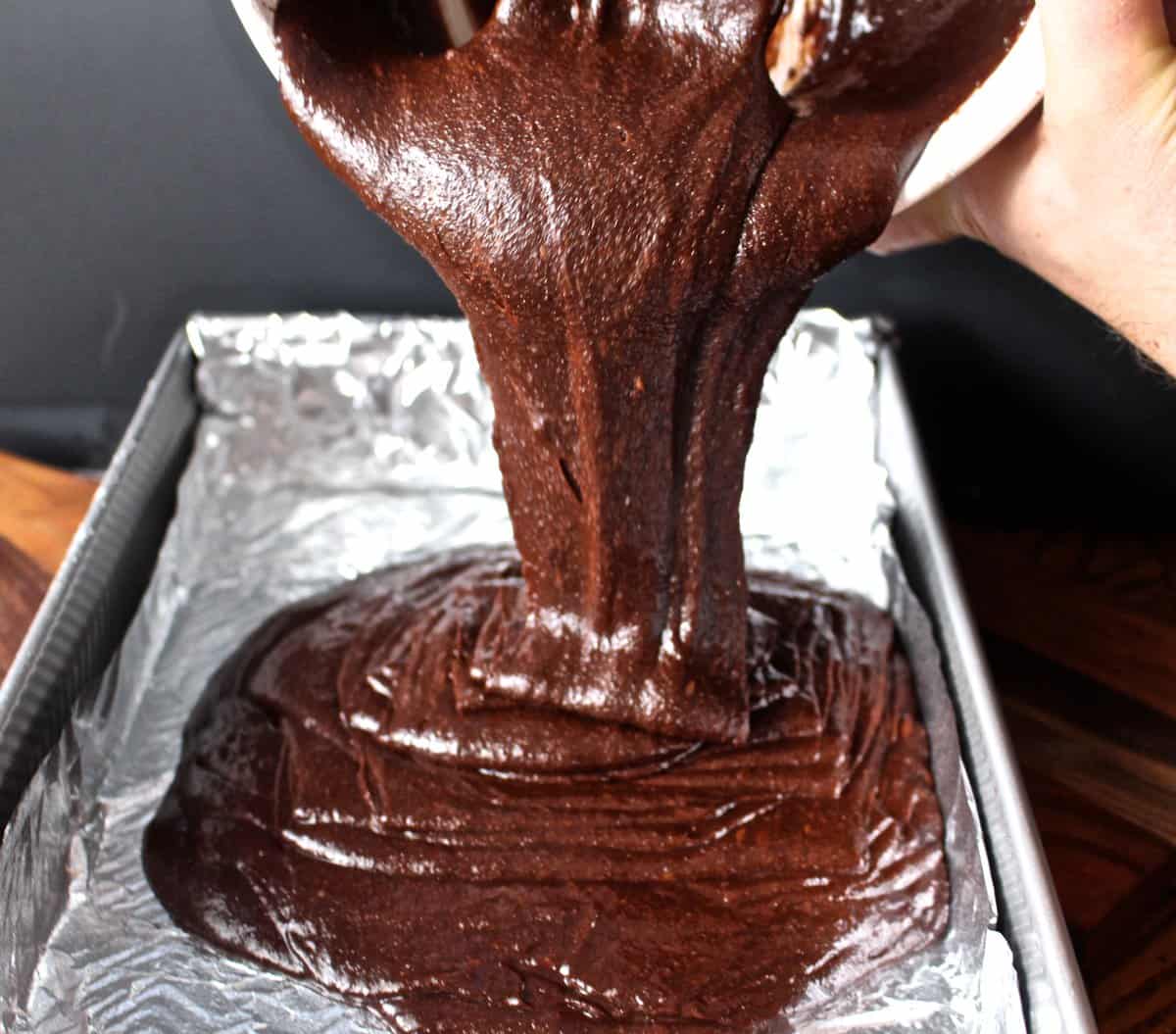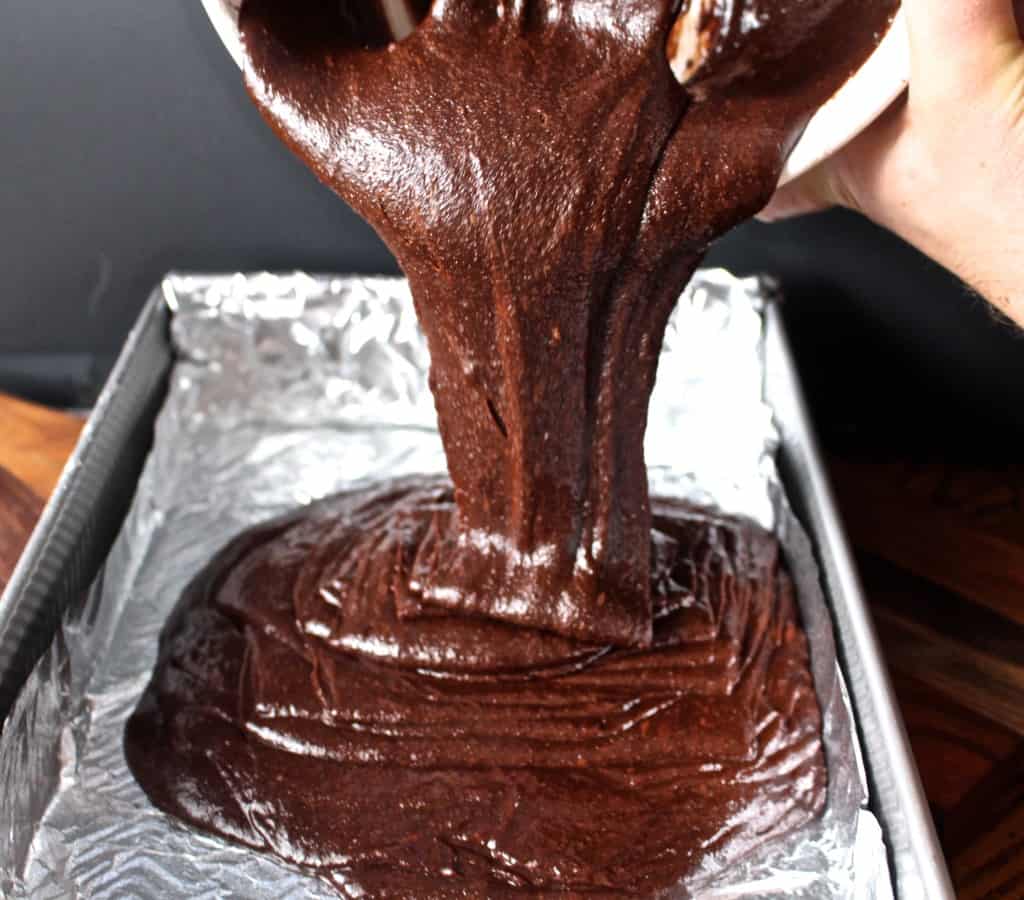 Pour into the pan, top with chocolate chips and bake for around 35 minutes.
I suppose I should mention a couple things that I always do to guarantee a presentable brownie. Line the pan with foil or parchment and spray it. Once cooked, let completely cool- over night if possible. Take the brownies out of the pan, remove the foil and place on a cutting board. Cut into desired size pieces. I find a bench cutter works best for this, but a large knife would also work. These things result in a nice clean cut. I do that with all my bars and cakes.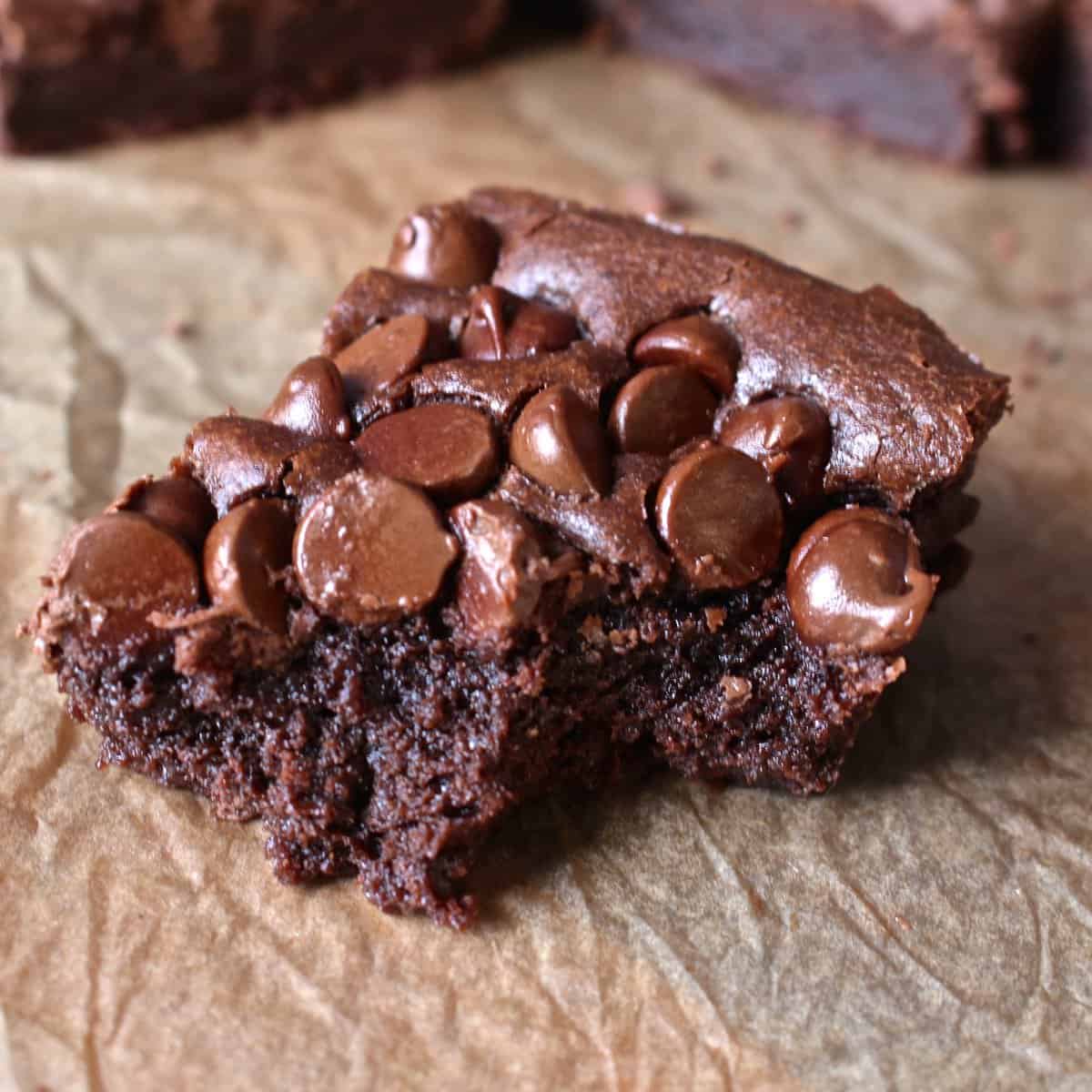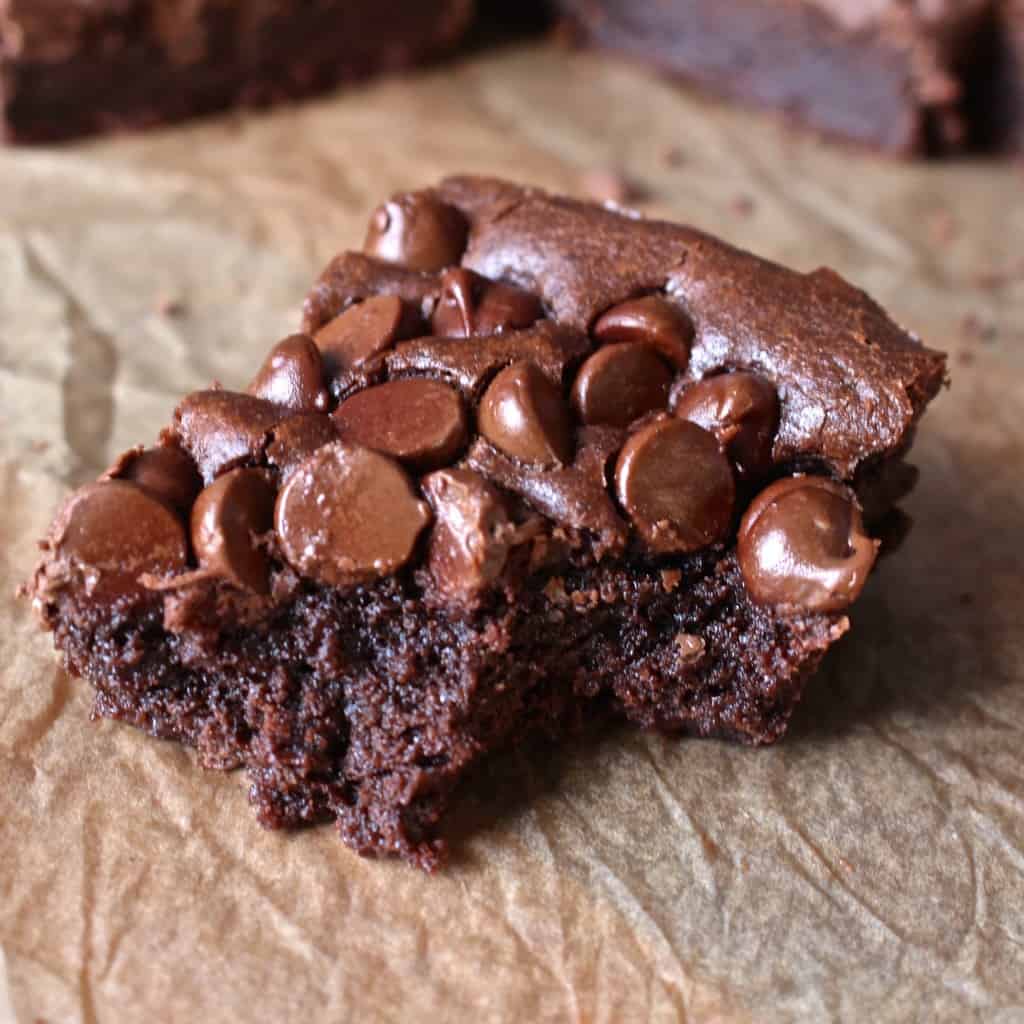 Look at that fudgy goodness!!
Let's do a quick review:
Pros
-They are ultra chocolatey
- They are adaptable. Replace the Hershey spread with Nutella, chocolate peanut butter, cookie butter, even regular peanut butter would be delicious.
-They come together really fast and are easy.
Cons
-They don't have that crackly top, but they do have chocolate chips on top 🙂
- They are pretty easy to over bake, if you're questioning whether they're done or not, lean on the side of less done.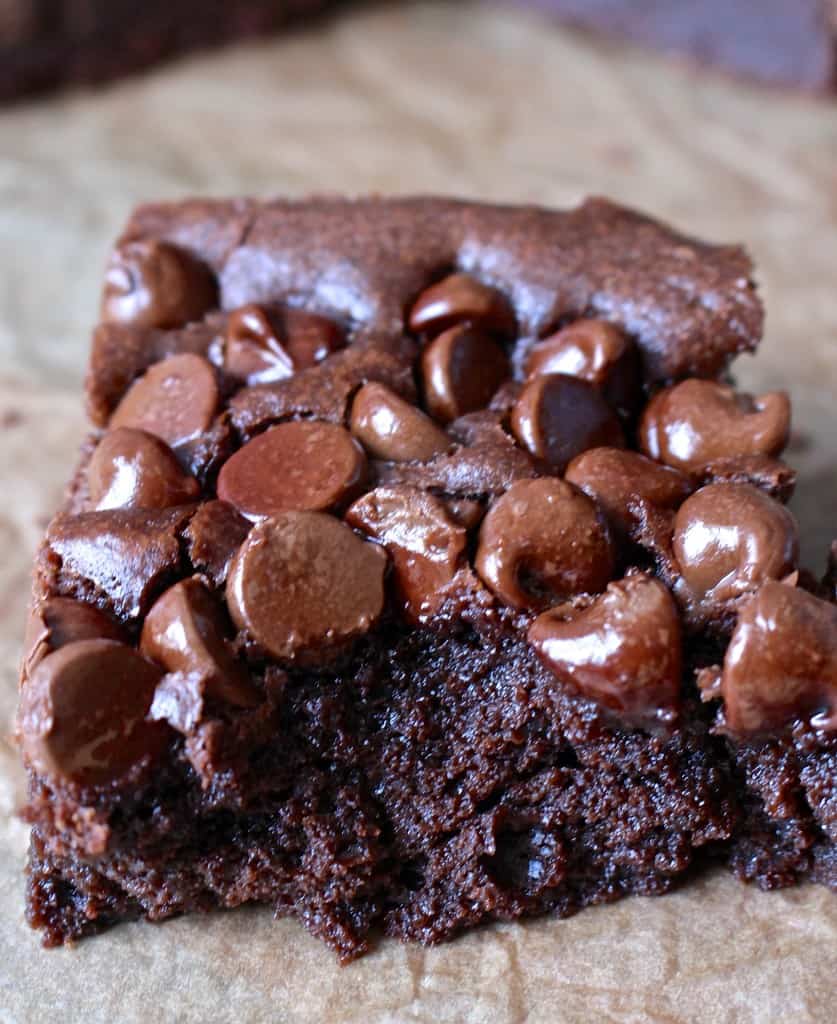 You definitely need to try these Ultimate Fudgy Brownies. I hope you love them as much as we do!
Love Brownies? Make sure to check out some more delicious ones!! Thick and Gooey Brownies, Black Magic Brownies, and The Baked Brownie.
Hungry for more? Subscribe to my newsletter and follow along on Facebook, Pinterest and Instagram for all of the latest updates.
Ultimate Fudgy Brownies
Ingredients
1 cup 2 sticks butter
2 ¼ cups granulated sugar
½ cup Hershey's chocolate spread or Nutella or chocolate pb
¾ cup cocoa powder
½ cup instant chocolate pudding mix
1 teaspoon salt
4 large eggs, room temperature
1 teaspoon instant coffee
1 tablespoon vanilla
1 ½ cups flour
2 cups milk chocolate chips
Instructions
Preheat the oven to 350° and line a 13x9 with parchment paper. Set aside.

In a small sauce pan over low heat, melt butter completely. Stir in sugar and cook 1-2 minutes, stirring constantly. Don't let the sugar come to a boil.

Remove from heat and stir in the chocolate spread. Mix until completely combined.

Pour mixture into a big bowl and sift in the cocoa and pudding mix. You must sift or you'll end up with dry pieces of cocoa in the batter that won't mix completely.

Mix in the salt, eggs, instant coffee, and vanilla. Stir in the flour and mix until just combined. Pour into prepared pan and top with chocolate chips. Slightly press the chips into the batter.

Bake for 30-40 minutes or until a toothpick inserted in the center comes out clean.

It's always better to under bake than to over bake.
Nutrition Information
Calories: 516kcal (26%)Carbohydrates: 69g (23%)Protein: 5g (10%)Fat: 26g (40%)Saturated Fat: 17g (106%)Polyunsaturated Fat: 1gMonounsaturated Fat: 4gTrans Fat: 1gCholesterol: 82mg (27%)Sodium: 289mg (13%)Potassium: 238mg (7%)Fiber: 2g (8%)Sugar: 54g (60%)Vitamin A: 450IU (9%)Calcium: 52mg (5%)Iron: 2mg (11%)
Inspired by Buns In My Oven