This Garlicky Shrimp is so easy to make and so delicious! 7 ingredients and less than 20 minutes until you will be eating these flavorful shrimp! Paleo, Whole30, gluten free, and dairy free.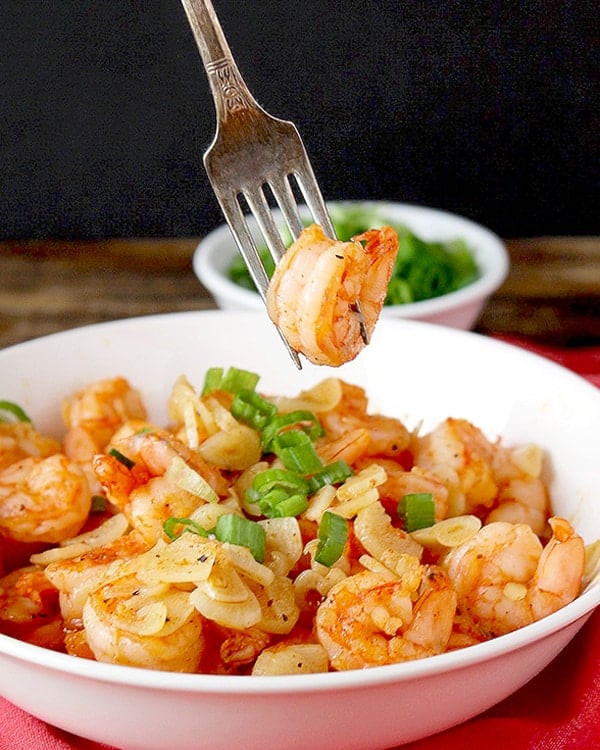 This shrimp is a mouthwatering and flavorful dish that combines succulent shrimp with the rich and aromatic taste of garlic. It great because it's so simple and it lets the natural flavors of the ingredients shine.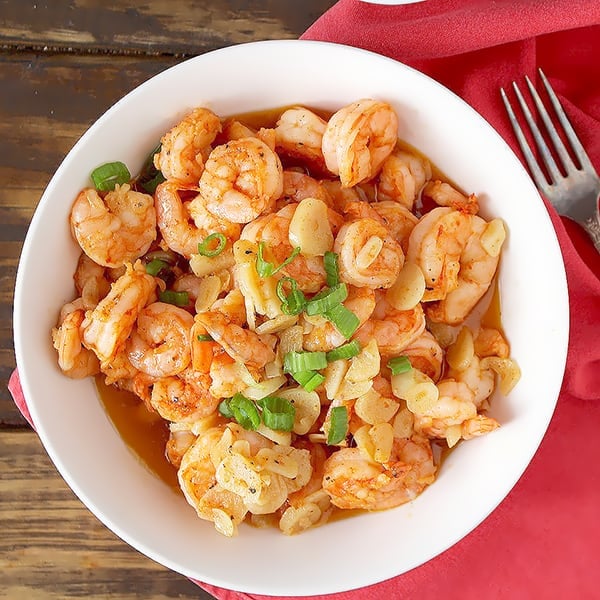 Jump To
Cooking Process
The cooking process is straightforward and quick, making garlic shrimp an excellent choice for a weeknight dinner or a special occasion. Here's a simple way to make it:
Prep the Shrimp: Ensure the shrimp are cleaned and pat them dry with a paper towel. I l like to buy peeled and deveined shrimp, but you can do this yourself.
Sauté the Garlic: Heat olive oil in a skillet over medium-high heat. Add the minced garlic and sauté for a minute or so, being careful not to let it brown too much and become bitter.
Cook the Shrimp: Add the seasoned shrimp to the skillet and cook for a few minutes on each side until they turn pink and opaque. Be cautious not to overcook them, as shrimp can become tough if left on the heat for too long.
Add Flavor: sprinkle on the salt, pepper, paprika, and cayenne.
Garnish: Before serving, sprinkle the dish with freshly chopped parsley or cilantro for a burst of color and freshness.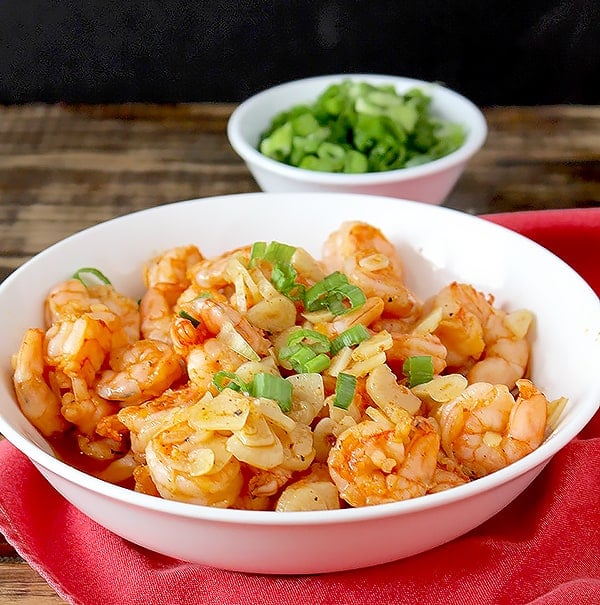 How to Serve Garlic Shrimp
Garlic shrimp can be enjoyed in various ways. It's delightful served over a bed of cooked pasta or rice, as part of a surf and turf meal with a juicy steak, or as an appetizer accompanied by crusty bread for dipping into the flavorful sauce.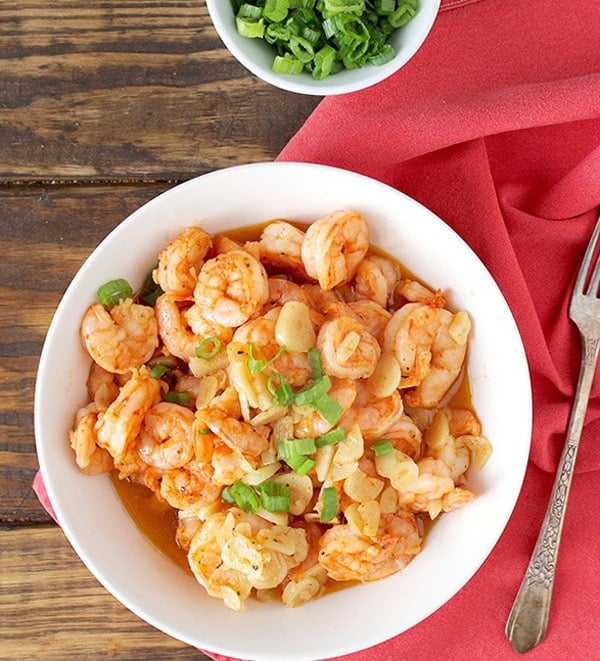 Garlicky is a great description of this dish- 10 cloves are used (!!!), but it pairs perfectly with the shrimp and is not overpowering. I wore gloves while cutting it all and I recommend you do the same. It's so much easier than washing your hands 20 times trying to get the smell off.
Garlicky shrimp is a dish that truly celebrates the essence of simplicity in cooking, relying on a handful of high-quality ingredients to create a satisfying and delicious meal. Whether you prepare it for a quick weeknight dinner or a special gathering, its savory, garlicky goodness is sure to please seafood lovers and garlic enthusiasts alike.
Here are some more seafood recipes to try:
Hungry for more? Subscribe to my newsletter and follow along on Facebook, Pinterest and Instagram for all of the latest updates.
Garlicky Shrimp (Paleo and Whole30)
Ingredients
¼ cup extra-virgin olive oil
10 cloves garlic thinly sliced
1 pound large or jumbo shrimp peeled and deveined, tails removed if desired
¾ teaspoon sea salt
¼ teaspoon freshly ground pepper
¼ teaspoon smoked paprika
1 Pinch of cayenne pepper
Instructions
Heat the olive oil in a large heavy skillet over medium-low heat. Add the garlic and cook, stirring frequently, until softened but not browned. About 5 minutes.

Add the shrimp in a single layer, raise the heat to medium-high, and sprinkle on the salt, pepper, paprika, and cayenne.

Cook until the shrimp turn pink on the bottom, 2-3 minutes.

Flip and cook until the shrimp are opaque throughout, another 2-3 minutes. Serve hot.
Nutrition Information
Calories: 423kcal (21%)Carbohydrates: 7g (2%)Protein: 32g (64%)Fat: 29g (45%)Saturated Fat: 4g (25%)Polyunsaturated Fat: 3gMonounsaturated Fat: 20gTrans Fat: 0.02gCholesterol: 286mg (95%)Sodium: 2159mg (94%)Potassium: 323mg (9%)Fiber: 0.4g (2%)Sugar: 0.2gVitamin A: 533IU (11%)Vitamin C: 5mg (6%)Calcium: 151mg (15%)Iron: 1mg (6%)