These Grain Free Baklava Bars are a tender shortbread crust and a nutty, honey topping. They are salty, sweet, irresistible as well as egg free and naturally sweetened.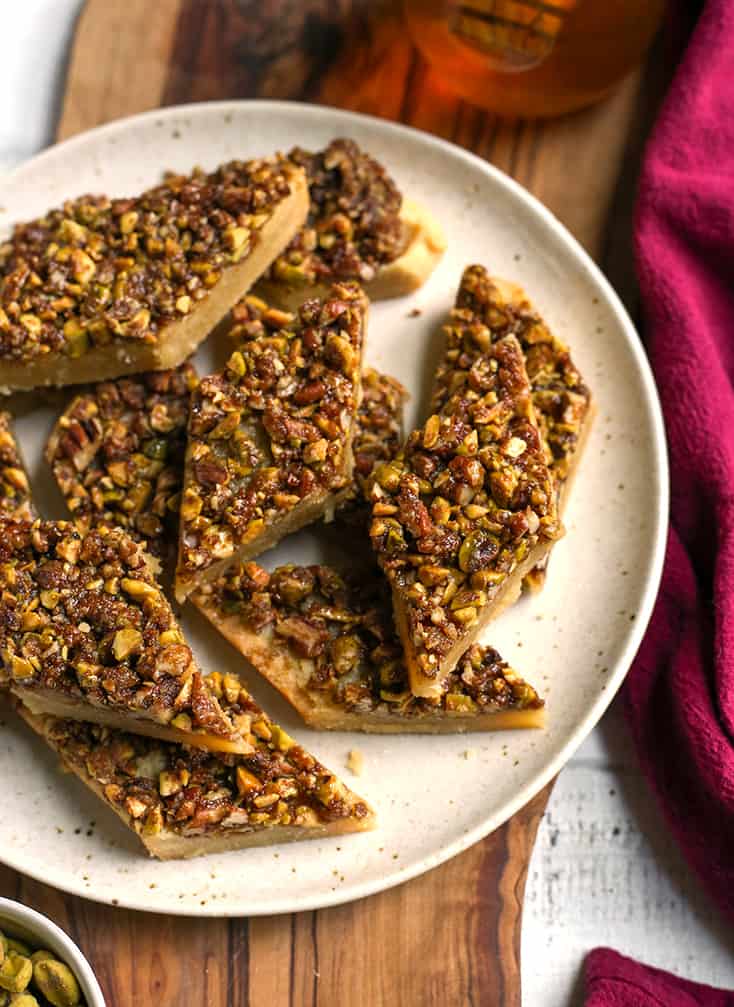 This post is sponsored on behalf of Danish Creamery. All opinions are 100% my own, of course! Thank you for supporting brands that help make Real Food with Jessica possible!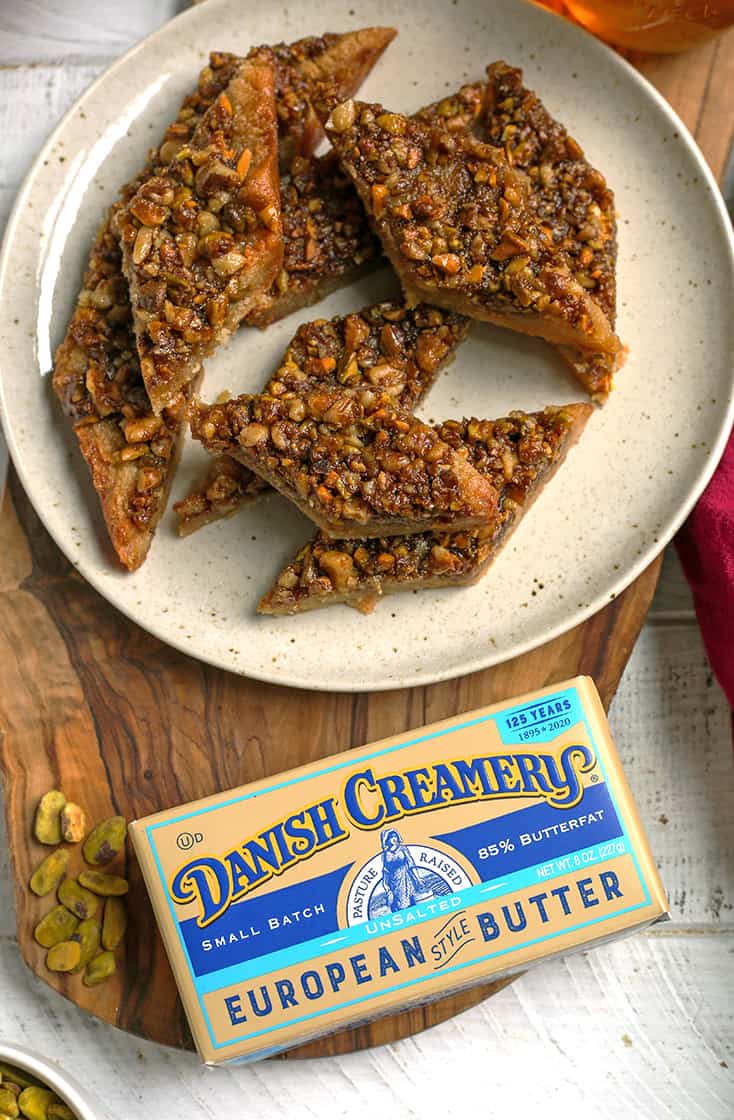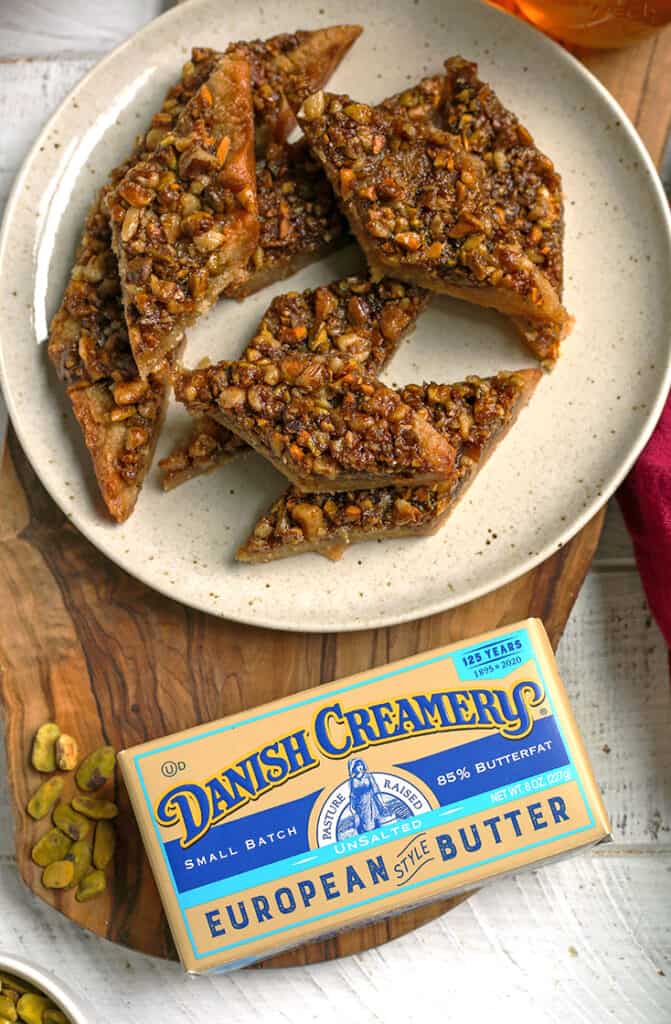 These bars are definitely inspired by traditional baklava. Of course there aren't the layers of phyllo dough, but the flavors are all there. The crunchy, salty nuts, the sweet honey and the butteriness. If you love traditional baklava, then you'll love these easy bars, no doubt!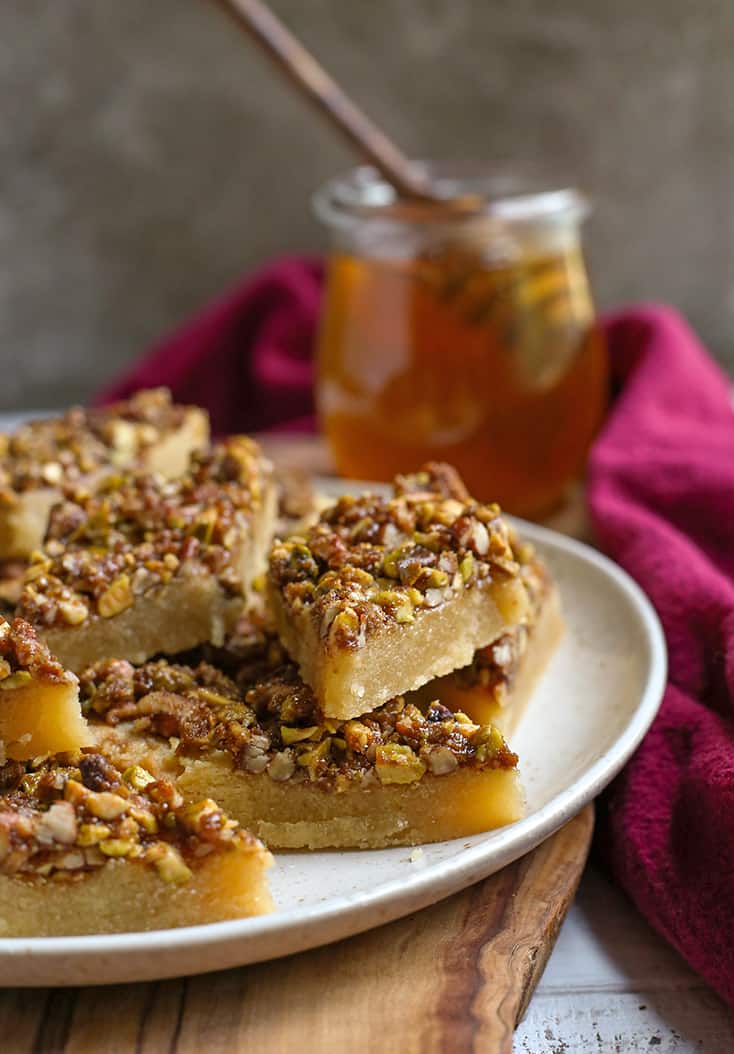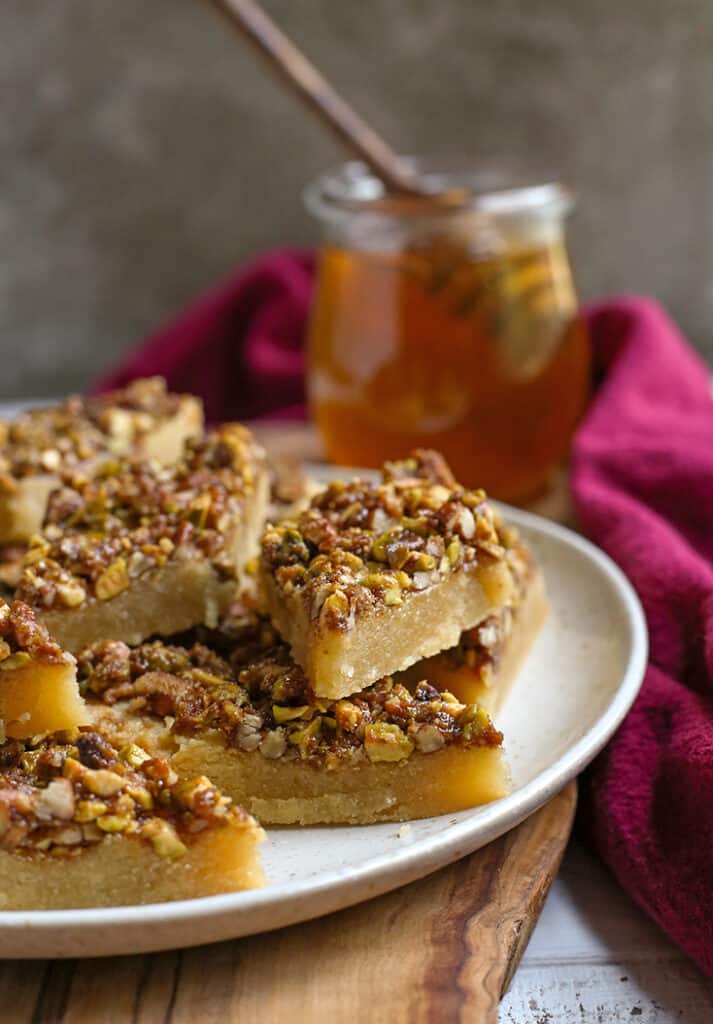 Why I Love Danish Creamery
The secret to Danish Creamery's velvety, rich butter lies in it's old-world slow churned process. Danish Creamery's gold-foil wrapped rBST-Free European Style Butter boasts an 85% butterfat (much higher than most other European Style butters which come in at 82-83%) making it a dream in baking applications.
It is definitely the key ingredient in these rich bars and is used in the shortbread and the nut topping. The richness definitely comes through and makes these bars taste indulgent.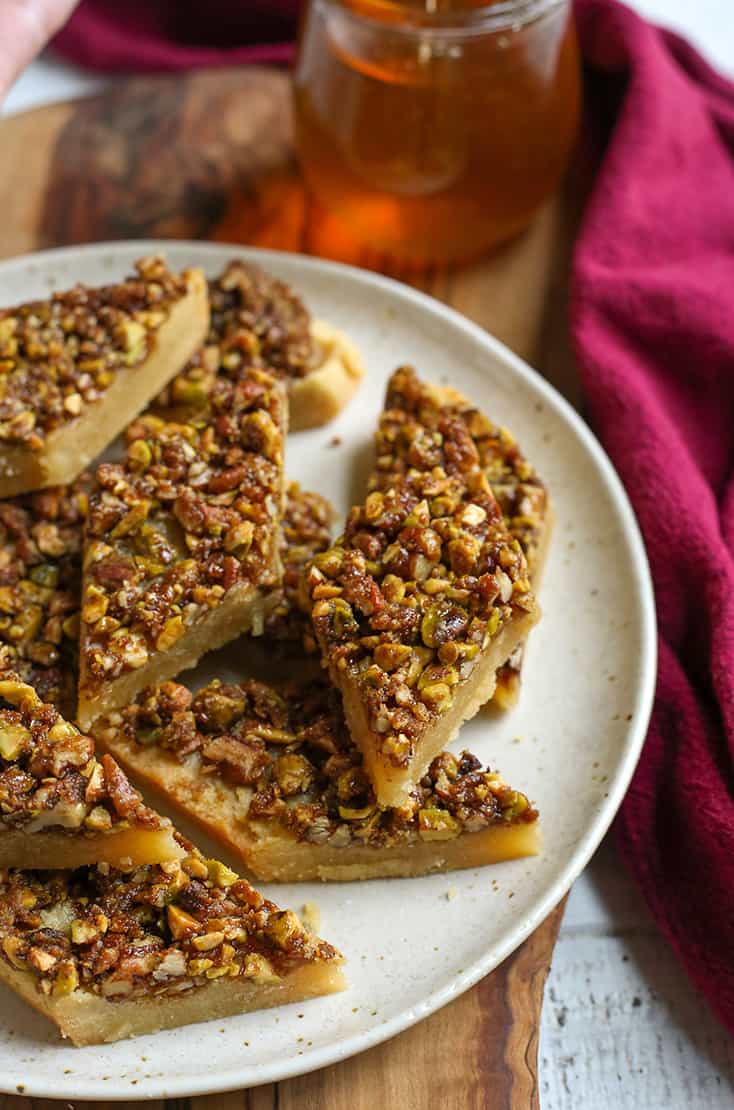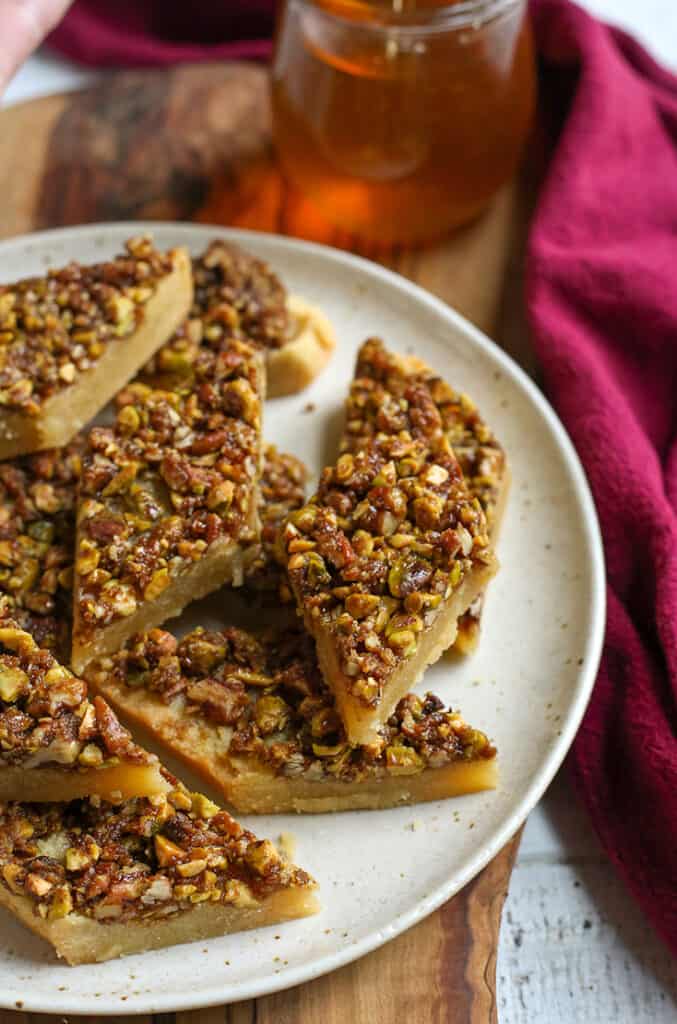 Layers of Baklava Bars
These bars start with a simple shortbread crust that is baked before topping. This provides a sturdy foundation to the nuts and honey and adds a gentle sweetness. The nut mixture is then added and the bars are baked again. I made these twice and used pistachios and walnuts one time and pistachios and pecans the other time, but any combination of these nuts would work. Do what you love and what feels familiar to you. Finally the bars are topped with a simple honey syrup that gives them that sticky, signature taste and texture.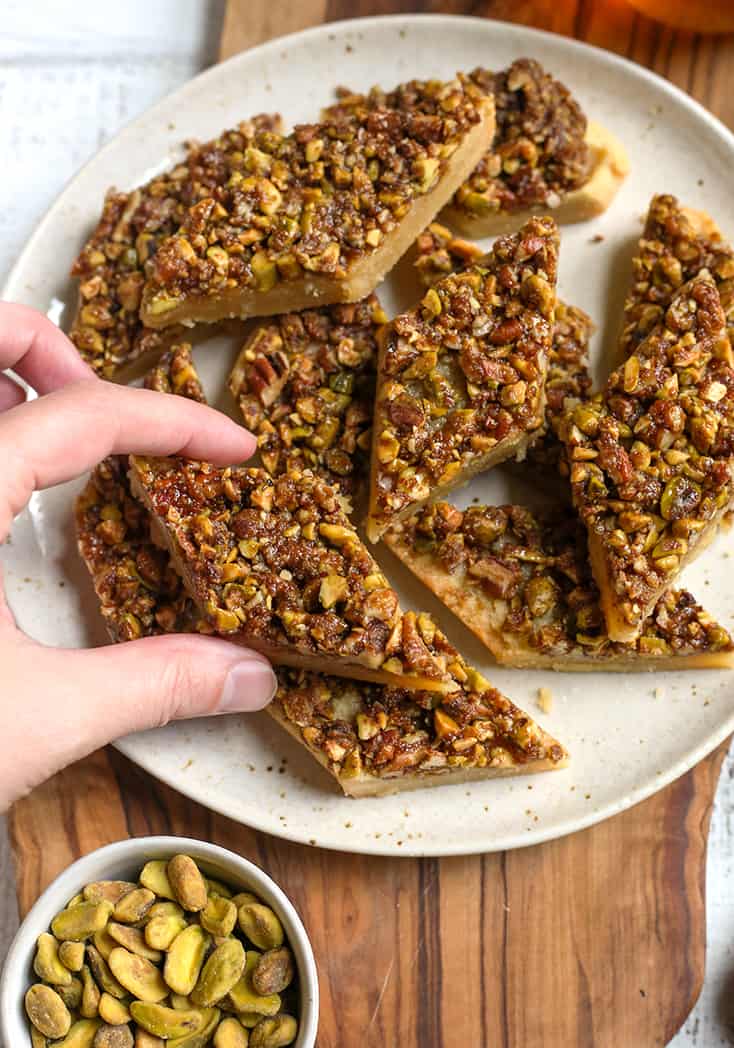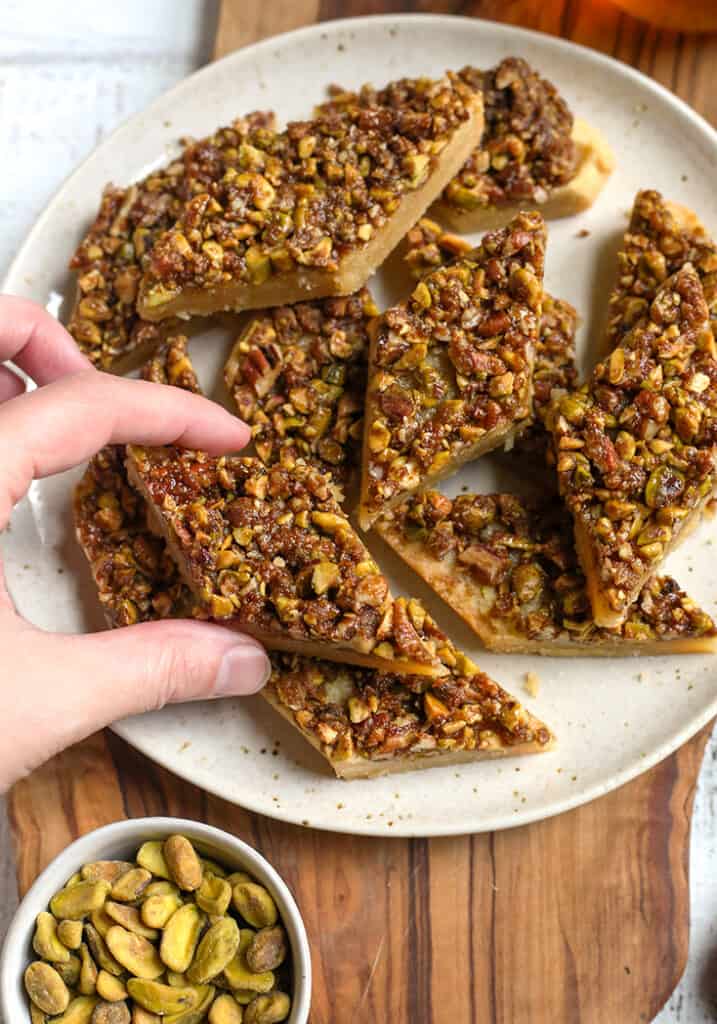 I used raw nuts for these so a little salt is added to that layer, but if you choose to use salted nuts then leave the added salt out.
Don't leave out the lemon juice from the honey syrup. It may seem small and not necessarily, but it makes all the difference in flavor because it adds the slightest tang to these rich bars and balances them perfectly.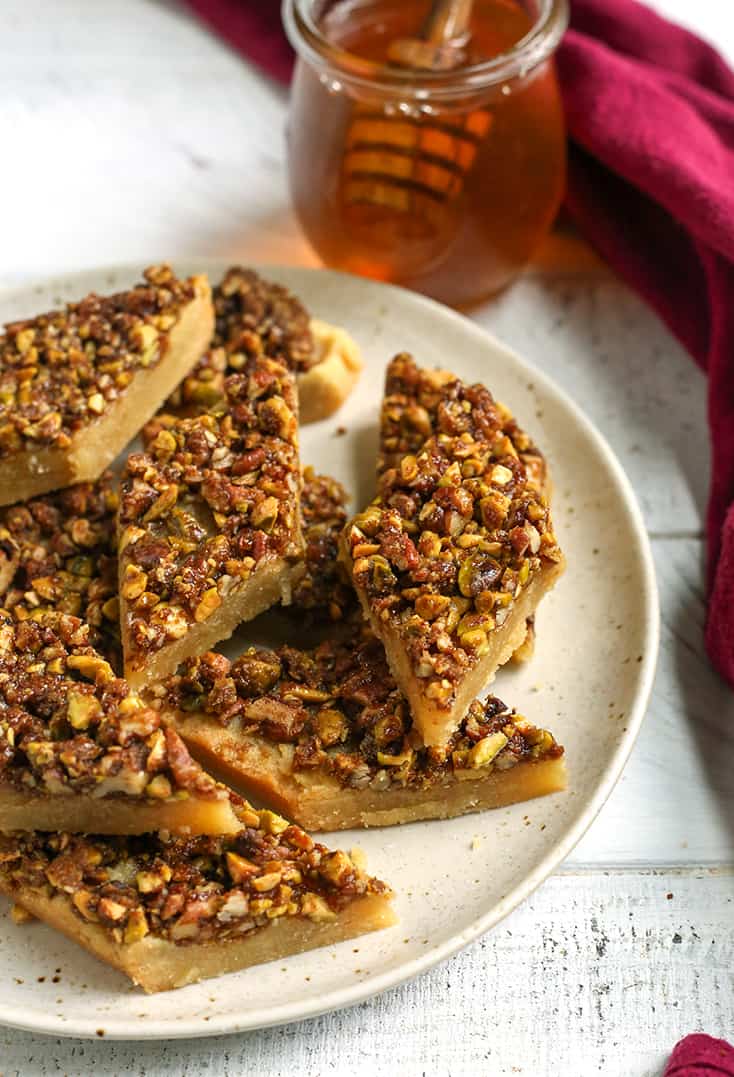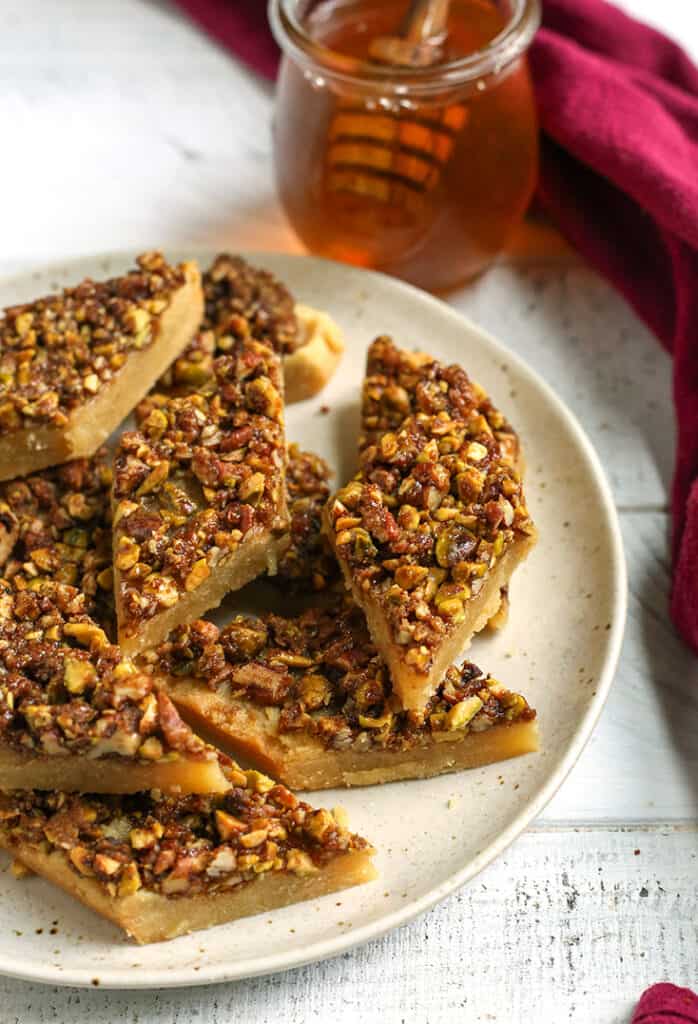 I know my mom would have loved these bars. Baklava was one of her favorite desserts and she would always buy it if we were at a bakery that carried it, savoring every little bite. Making these made me happy, thinking of her the whole time and remembering those sweet moments I shared with her.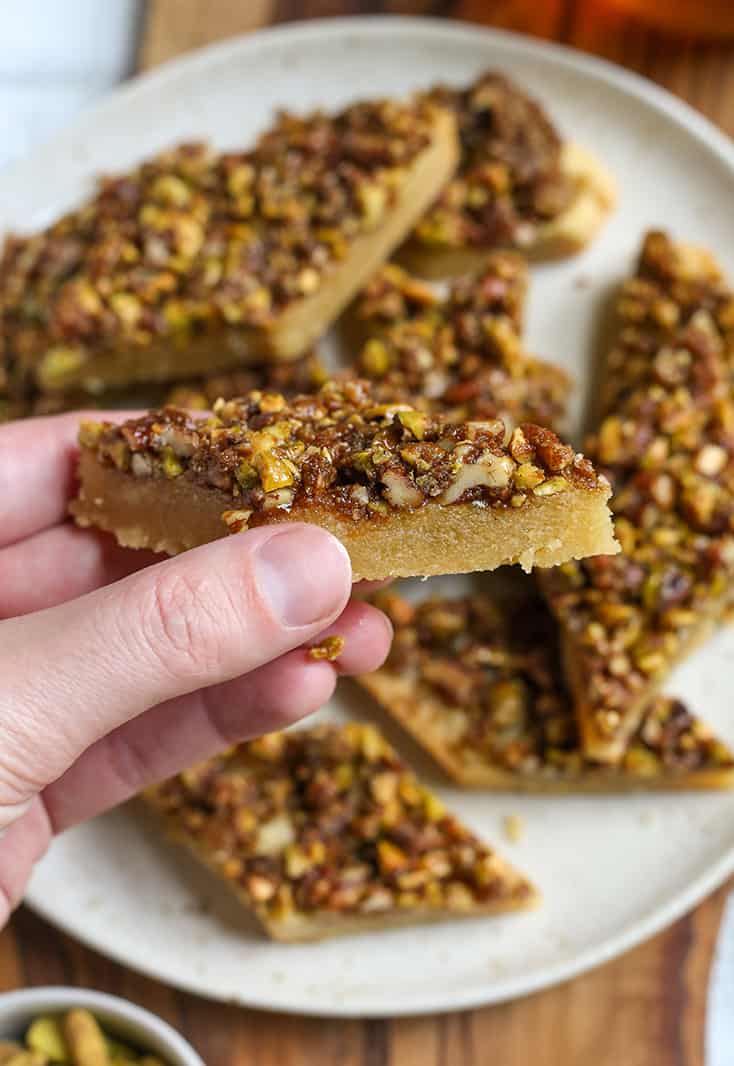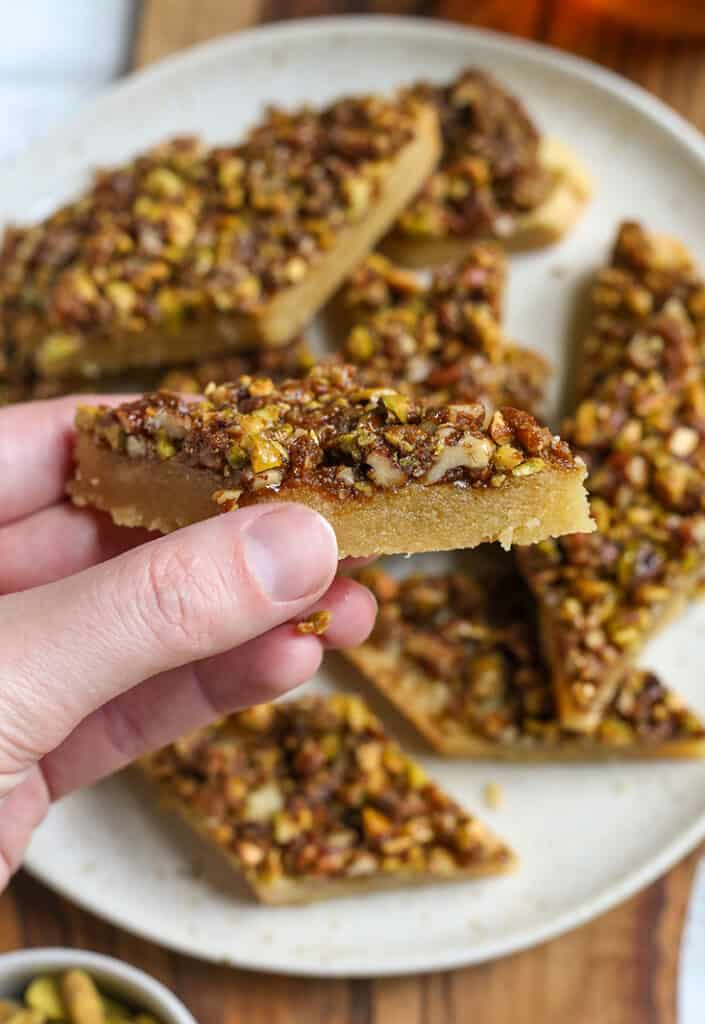 The flavor of these grain free baklava bars is truly incredible, one of the most interesting desserts I've made and I know you will just love them! They are sweet, crunchy, with a small hint of lemon and easy to make! Here are some more recipes to make and enjoy:
Hungry for more? Subscribe to my newsletter and follow along on Facebook, Pinterest and Instagram for all of the latest updates.
Grain Free Baklava Bars
Ingredients
Nut Topping
⅓ cup chopped pistachios
⅓ cup chopped pecans or walnuts
¼ cup coconut sugar
¼ teaspoon salt, if nuts aren't salted
½ teaspoon cinnamon
3 tablespoons melted Danish Creamery Butter
Instructions
Preheat the oven to 325° and line a 9x9 pan with parchment paper.

Make the shortbread. In a medium bowl, combine the almond flour, coconut flour, salt, maple syrup and butter. Stir well until dough is formed. Press evenly into the prepared pan and bake for 15-18 minutes, until the edges are slightly brown.

While the shortbread bakes, make the nut topping. In a small bowl, combine the chopped nuts, coconut sugar, salt (if using), cinnamon, and melted butter. Stir to combine and scoop this over the partially baked shortbread crust. Try to spread it as evenly as possible and bake 18-20 more minutes, until edges are golden brown.

While the bars bake, make the honey topping. In a small saucepan, combine the honey, water, lemon juice and salt. Bring to a boil and then reduce and simmer for 5 minutes, until it starts to thicken. Stir regularly. Once the bars are done baking, pour this syrup evenly on top of the nuts and let fully cool.

These are easiest to cut 1 day after baking at room temperature. To cut into diamonds, make 1 ½ inch slices across one way, making a total of 5 long strips. Then make 1 ½ inch cuts at a diagonal, making diamonds. Alternatively, you can cut these into triangles which is easier and every piece is pretty.

Store these covered in the fridge for up to 10 days.
Nutrition Information
Calories: 267kcal (13%)Carbohydrates: 18g (6%)Protein: 6g (12%)Fat: 21g (32%)Saturated Fat: 5g (31%)Polyunsaturated Fat: 1gMonounsaturated Fat: 3gTrans Fat: 0.2gCholesterol: 14mg (5%)Sodium: 97mg (4%)Potassium: 50mg (1%)Fiber: 4g (17%)Sugar: 11g (12%)Vitamin A: 174IU (3%)Vitamin C: 1mg (1%)Calcium: 68mg (7%)Iron: 1mg (6%)