These Paleo Bacon Hamburger Potato Skins have all the flavors of a juicy burger, but packed in a crispy potato skin. Such a fun meal that everyone will love. They are gluten free, dairy free, and low fodmap.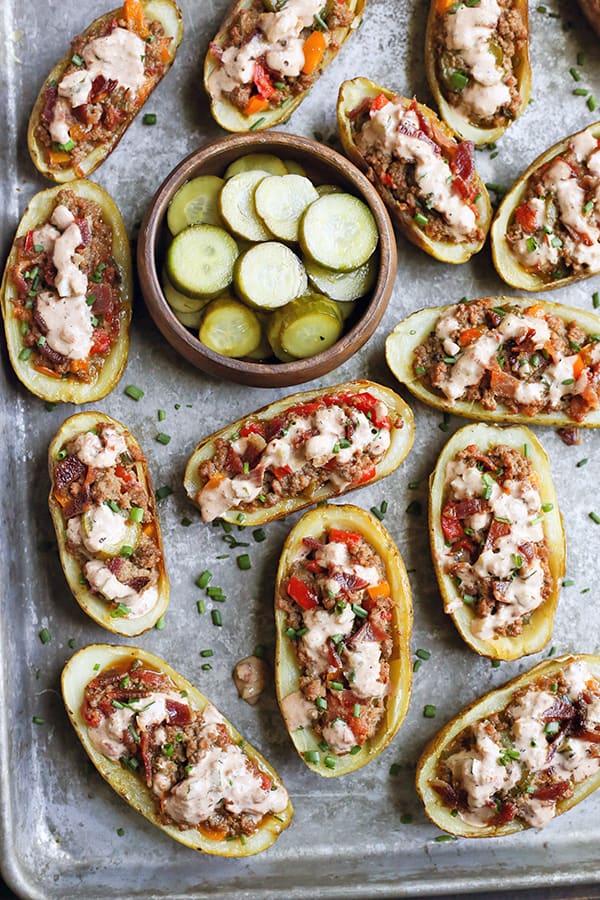 It's been too long since I've made potato skins. I have these Paleo Pizza Potato Skins from a couple years ago that are a major reader favorite and I knew it was time for a new one.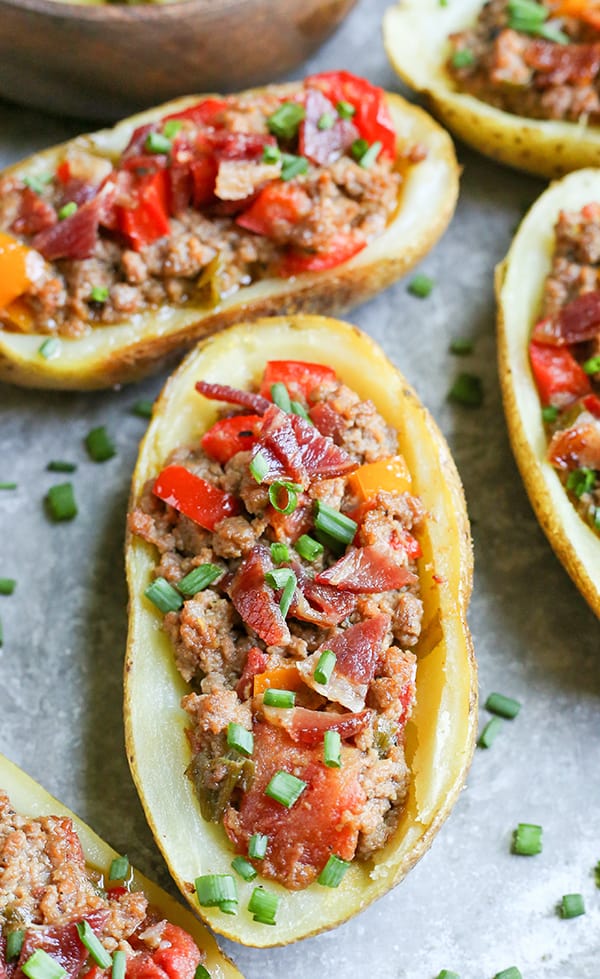 Eating burgers when you're paleo can be kind of boring. Your main choice is the lettuce wrap which is fine, but let's be honest, it's not a bun. I decided to take the idea of a burger and make them into potato skins and boy, they do not disappoint. I even went the easy route and ground the beef with all the toppings instead of making actual burgers. You still get all the same flavors.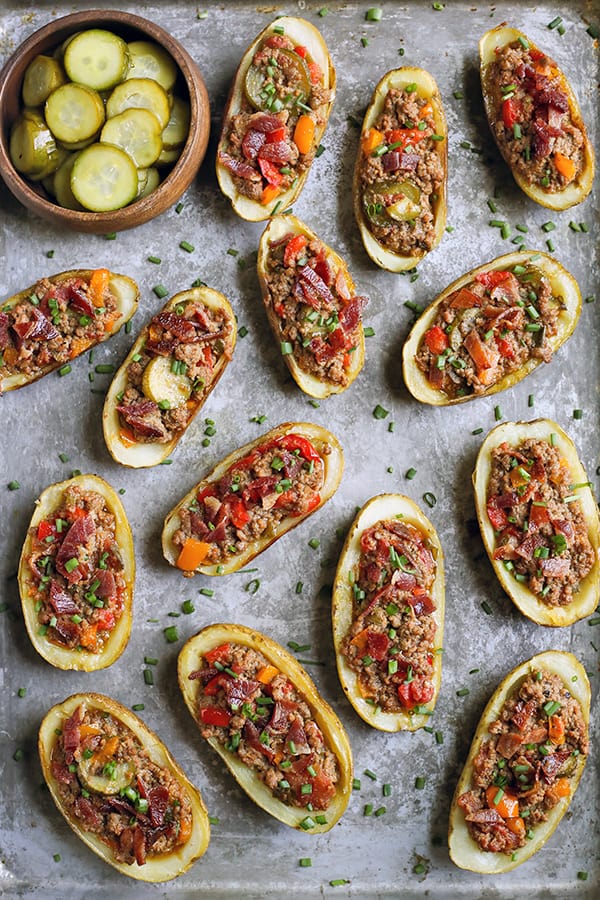 Simple Special Sauce
Once I had them made I decided they MUST have a "special" sauce to drizzle on top. Like what burger places serve. So I mixed up some mayo, ketchup, and chopped pickles. I don't have exact measurements, but I think the mayo and ketchup was about 50/50. This is a totally optional topping condiment, but does make them more fun.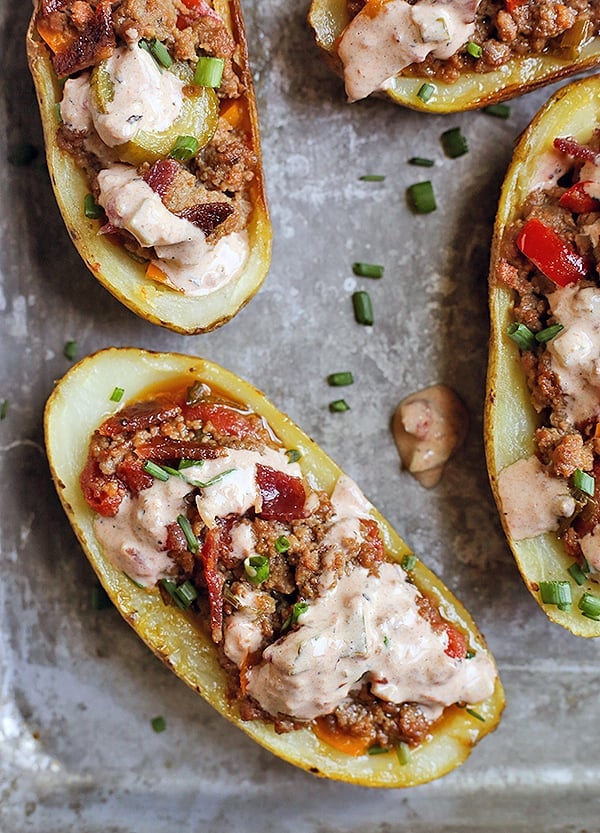 The one thing I would do differently next time is drain the beef before stuffing them in the potatoes. Some of them got a little greasy as they baked.
I used my Homemade Whole30 Dill Pickles that are super easy to make and so delicious. Pickles are unique in the fact that it can be hard to find clean versions. A lot of dyes, sugar, and other unwanted ingredients.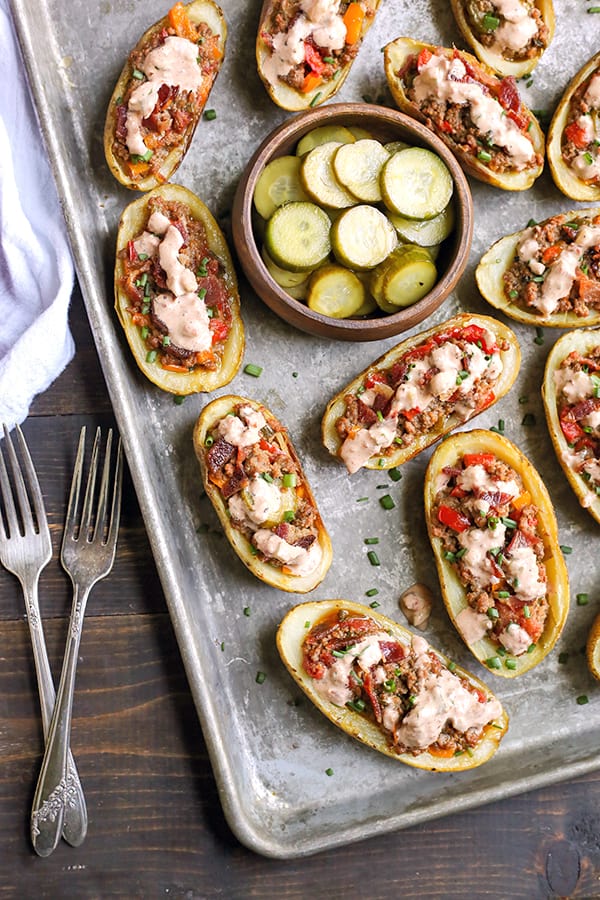 Are these the easiest, quickest meal you'll make? No. There is some prep involved with baking the potatoes and scooping them out, but it's so worth it. The potatoes can be baked ahead and the meat mixture can be made ahead so it comes together faster, but I suggest saving these for a fun weekend meal.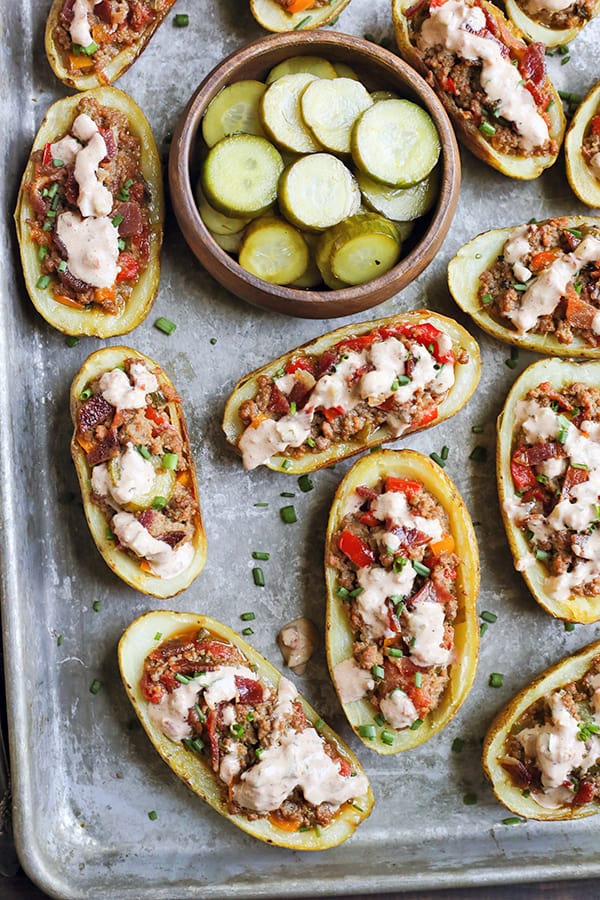 Best Potatoes for Potato Skins
I only had smaller potatoes available so it looks like a lot. And I had leftover meat as well. If you use larger Russet potatoes you shouldn't need as many, but work with what you have. I like Russet's because they have a hearty skin so it's less likely to rip when scooping out the inside.  Speaking of scooping out the inside, I recommend a cookie scoop because it perfectly scoops out the potato without ripping the skin. It's so hard with just a spoon.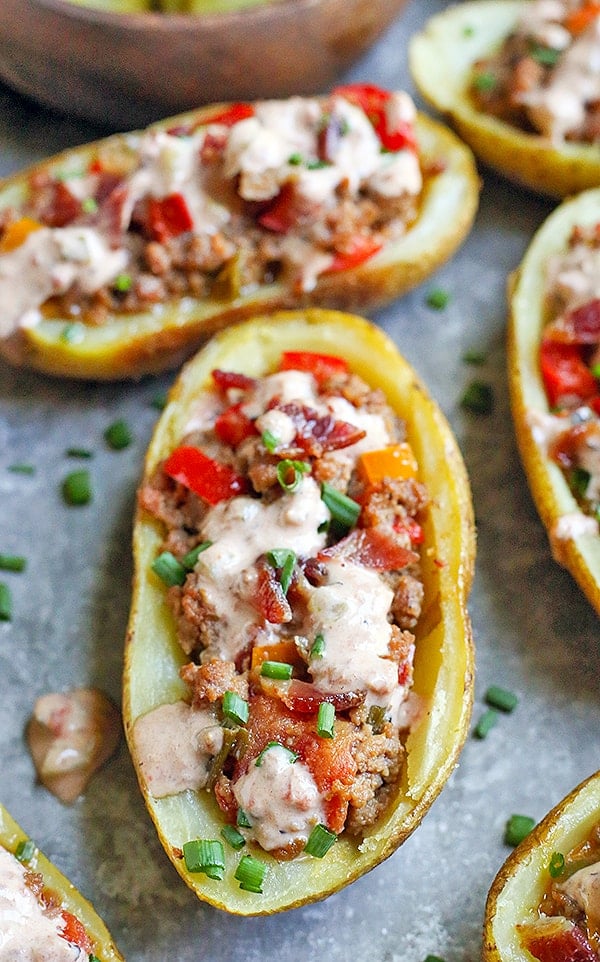 These paleo bacon hamburger potato skins would be great for watching a football game. They are hand held and could be used as an appetizer or meal. Here are some more game day ideas:
Hungry for more? Subscribe to my newsletter and follow along on Facebook, Pinterest and Instagram for all of the latest updates.
Paleo Bacon Hamburger Potato Skins
Instructions
Preheat oven to 400° and line a sheet tray with parchment paper.

Wash and poke holes in the potatoes, brush with avocado oil and bake for about 40 minutes or until tender. (If the bacon is not cooked, this would be a great time to bake it on a separate sheet tray. Check it around 20 minutes.)

While potatoes are cooking, make the meat mixture. In a large skillet add the beef, garlic oil, salt, pepper and cook over medium heat for about 5- 7 minutes or until the beef is cooked. Drain excess fat.

Add in the mustard, coconut aminos, tomatoes, peppers, and green onion. Continue cooking mixture, while stirring until the pepper are tender and the mixture is thick- 10-15 minutes. Add in the pickles.

Remove potatoes from the oven and let cool for about 10 minutes, then cut the potatoes in half and scoop out most of the inside. A cookie scoop works best for this. It removes the filling without ruining the skin.

Brush both sides lightly with avocado oil again and bake face down on the sheet tray for 7 minutes.

Turn over and bake 5 minutes.

Fill with meat mixture and bake for 10-12 minutes.

Top with crispy bacon and serve hot.
Nutrition Information
Calories: 481kcal (24%)Carbohydrates: 36g (12%)Protein: 21g (42%)Fat: 28g (43%)Saturated Fat: 10g (63%)Polyunsaturated Fat: 3gMonounsaturated Fat: 13gTrans Fat: 1gCholesterol: 72mg (24%)Sodium: 680mg (30%)Potassium: 1088mg (31%)Fiber: 3g (13%)Sugar: 2g (2%)Vitamin A: 660IU (13%)Vitamin C: 36mg (44%)Calcium: 47mg (5%)Iron: 3mg (17%)