These Paleo Whole30 Dill Pickles are easy and delicious. A healthy alternative to store bought and they take just minutes to make. Crunchy, garlicky, and so good. Made low fodmap with garlic oil!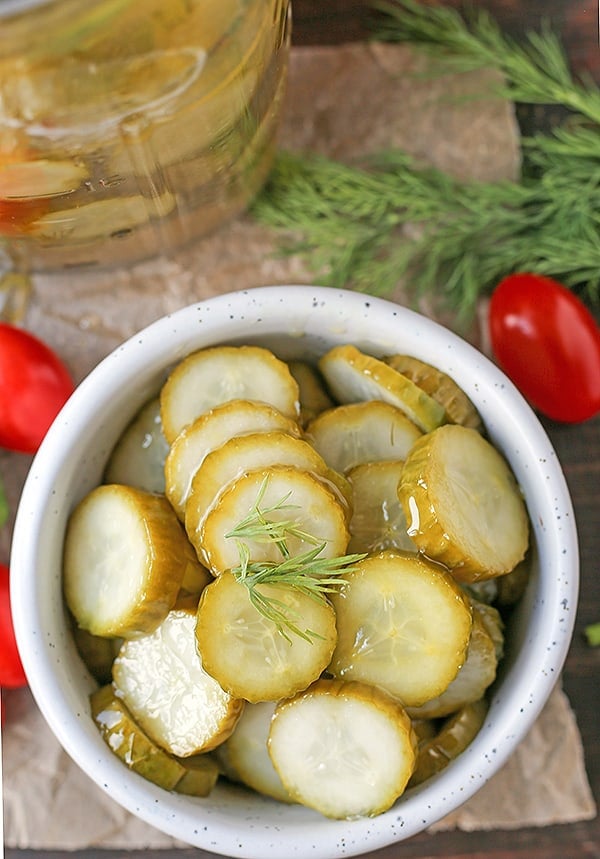 These pickles were born out of a necessity. It's basically impossible to find a low-fodmap pickle. I actually still have not seen one in stores because garlic is pretty key to the pickle flavor. So I decided to just make my own. I can control the ingredients and they came out better than store bought. Even if you don't need them low fodmap you should try them. Have you seen some of the ingredients in a jar of pickles? Food coloring, preservatives and "natural flavors" which can mean about anything. No thank you!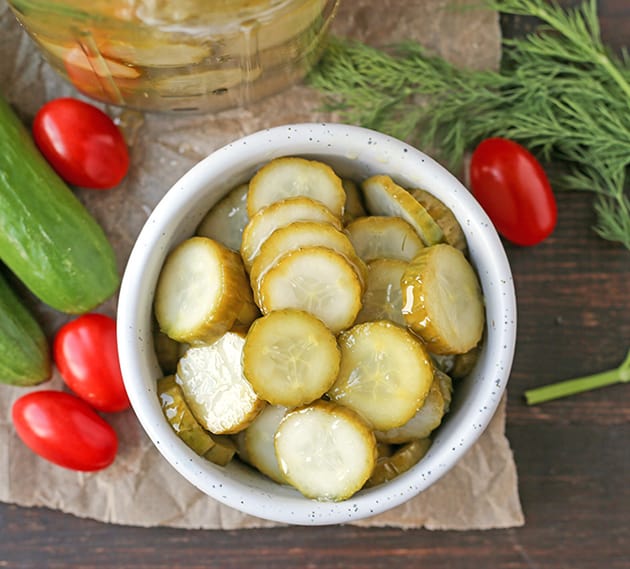 These pickles have just a few simple ingredients that you probably already have in your house. I used coconut vinegar which is my favorite vinegar to use, but white vinegar will also work. The garlic oil is key here. Like I mentioned before, garlic is pretty crucial to pickles so I used garlic oil for all the flavor and none of the stomach problems.These are not overly salty like some brands can be. Kosher Salt is used which is a larger grain. THIS is the brand I love and always use.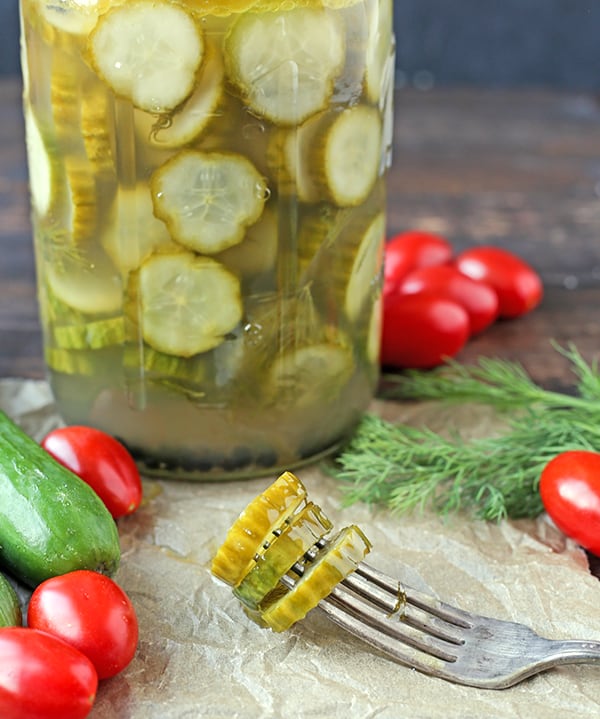 All you need to do is boil the vinegar, water, garlic oil, salt, and garlic oil together then pour it over the sliced cucumbers that are in a jar with the dill and black peppercorns. Then place them in the fridge to let all the flavors soak in and enjoy. It's best to wait at least 1 day for the best flavor. They also stay so crunchy which is nice.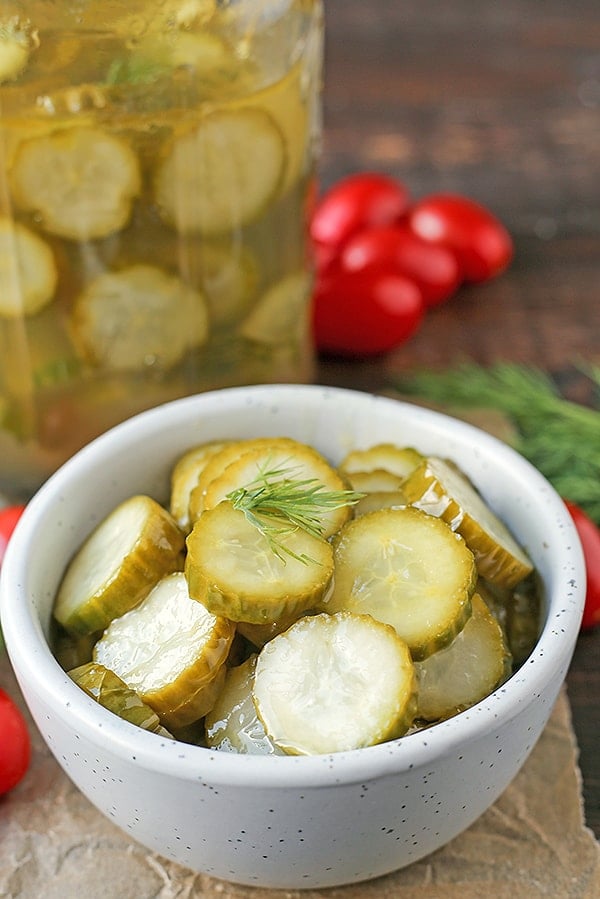 The best comment I got from these was my from my dad. He was over and I told him I made homemade pickles and he can try them. He got a fork and took a few and said, "These are actually good." Actually?? Apparently he did not have confidence in my pickle making skills, but ended up impressed.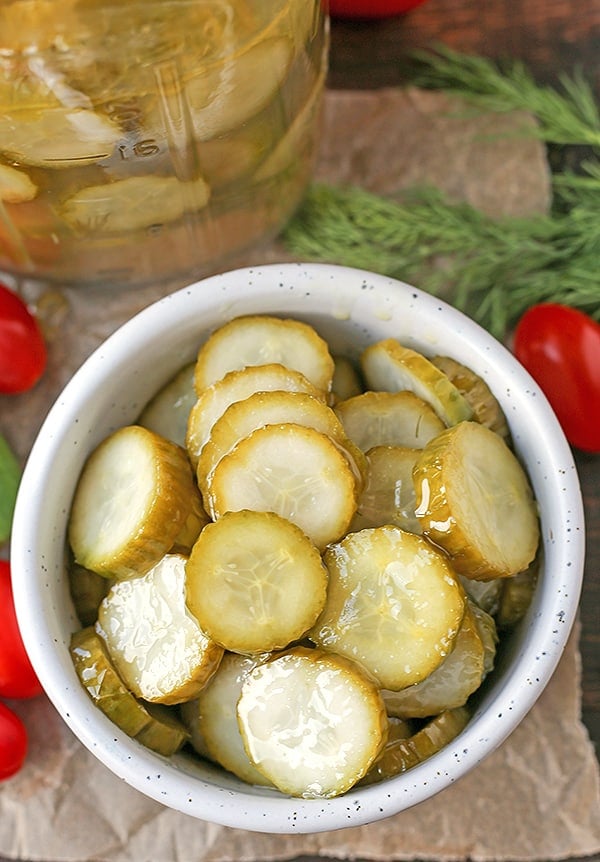 These would be great in the summer months when gardens and farmers markets are over flowing with cucumbers. I made these with little baby cucumbers, but any small cucumber will work. I promise once you try these homemade pickles you won't want store bought again.
Hungry for more? Subscribe to my newsletter and follow along on Facebook, Pinterest and Instagram for all of the latest updates.
Paleo Whole30 Dill Pickles
Instructions
Divide dill and peppercorns between the mason jars evenly. This recipe will fill 1 quart and 1 pint mason jar, but you can use 3 pints if that's what you have.

Rinse and slice the cucumbers into thin slices, about ¼ inch thick. Place in jars, filling them, but not packing too tight.

In a small sauce pan heat the vinegar, water, salt, and garlic oil over medium heat until it comes to a boil. Stir it to help the salt dissolve.

Take it off the heat and pour it evenly into the jars, making sure all the cucumbers are covered. Let cool to room temperature, then place the lids on and refrigerate.

Let sit 1 day for best flavor, but can be eaten within a couple hours.
Notes:
*Optional: add a teaspoon of red pepper flakes to the jars for a little heat.  *If you don't need them to be low fodmap, you can add a couple garlic cloves to the jars. 
Nutrition Information
Calories: 27kcal (1%)Carbohydrates: 0.4gProtein: 0.1gFat: 3g (5%)Saturated Fat: 0.4g (3%)Polyunsaturated Fat: 0.3gMonounsaturated Fat: 2gSodium: 699mg (30%)Potassium: 11mgFiber: 0.2g (1%)Sugar: 0.01gVitamin A: 10IUVitamin C: 0.1mgCalcium: 5mg (1%)Iron: 0.1mg (1%)