This Paleo Whole30 Sheet Pan Hash and Eggs is so simple to make and delicious! Crispy potatoes, bacon, and perfectly cooked eggs. It's gluten free, dairy free, and low FODMAP.
This post is sponsored on behalf of Happy Egg Co. All opinions are 100% my own, of course! Thank you for supporting brands that help make Real Food with Jessica possible!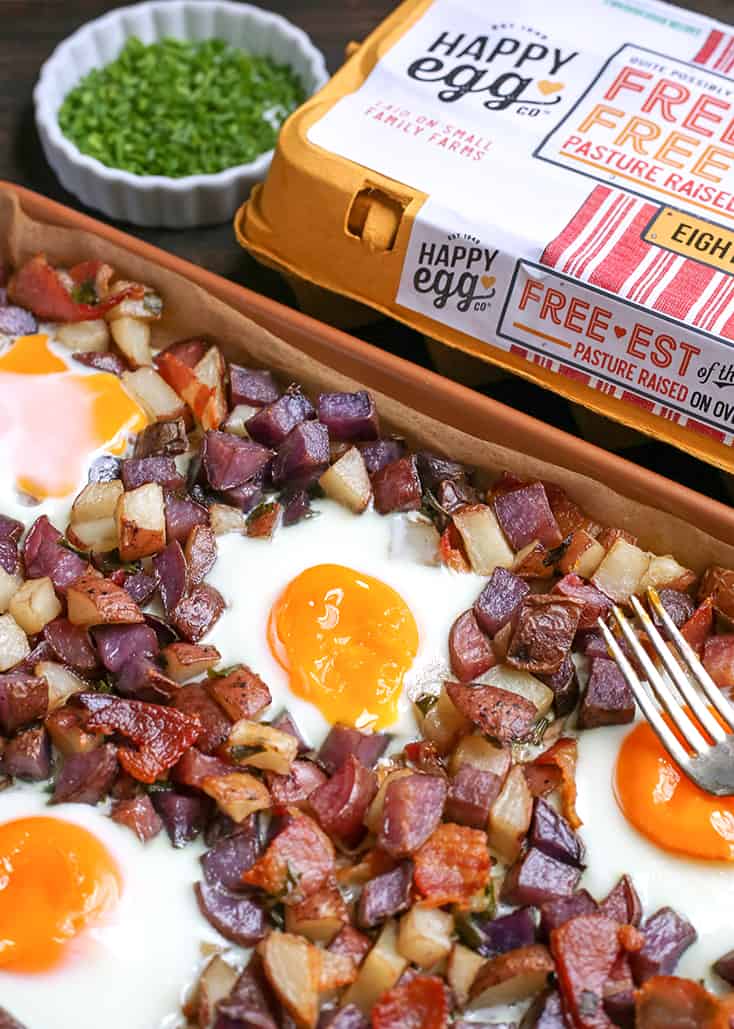 This sheet pan hash and Happy Eggs is so easy to make. The potatoes and bacon cook in the oven until they are crispy. Then a little well is made for each egg and cooked another 8 minutes to get the perfectly cooked sunny side up Happy Egg.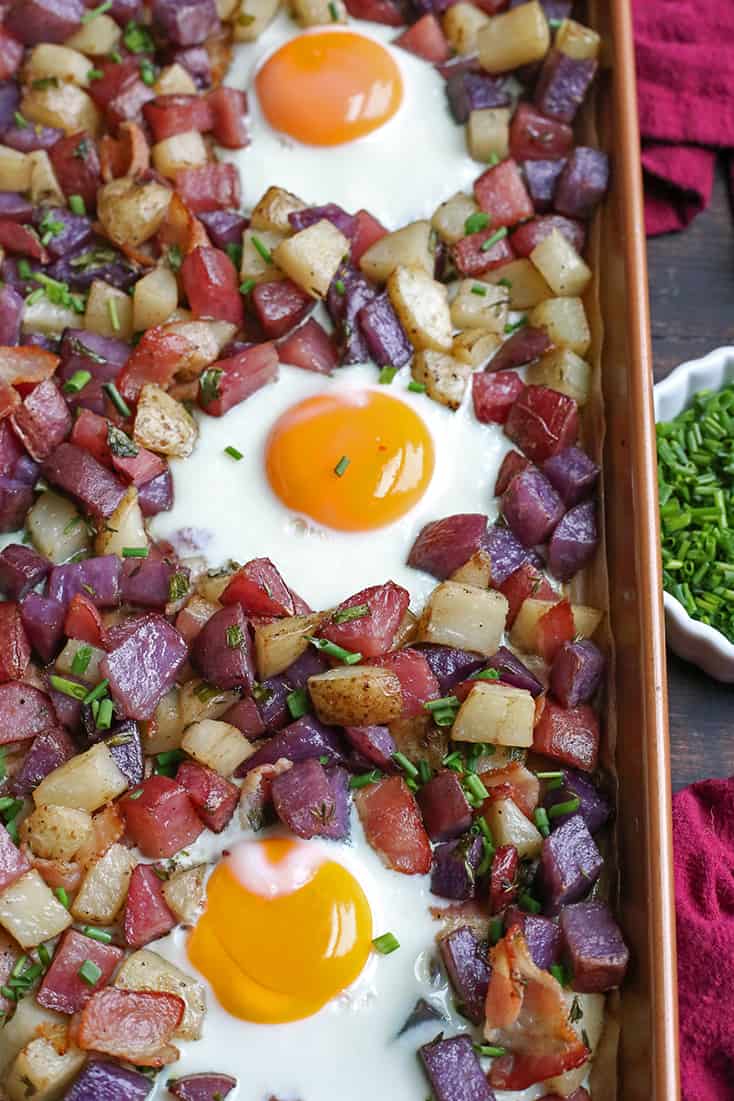 Why I Love Happy Eggs
I buy Happy Eggs exclusively. I love that I can find them at my local Meijer (HERE is a Happy Egg store locator to find near you!) but they truly taste farm fresh! The yolks are bright, creamy, and perfectly orange! Which is a sign Happy Egg hens are provided with wholesome, natural nutrition. Happy Egg hens have the freedom to forage & play on over 8+ acres of pasture, which is over 10 times the space of a standard free range farm!
So what really is the difference between cage free and free range, and when you see 'Organic', what does this mean?
Cage free: hens do not live inside caged wires, but they never go outside. They have just 1.5 square feet per bird and are always inside the barn. There is little ability to engage in natural behavior.
Standard Free Range: Certified Humane standards requires only 2 square feet per bird- much less than Happy Egg's standards which are certified by the American Humane that require 21 square-foot per bird.
Organic: to be USDA certified organic, farms must be herbicide and pesticide free for at least a three-year period and the hens must be fed an organic diet
Free-est of the Free Range™: Applies to Happy Egg hens only! Their farms each have over 8 acres of pasture for their hens to enjoy outdoors every day. Because Free-est of the Free Range™ is about more than just space, after laying their morning eggs, the hens venture outside to forage, perch, dust bathe and stretch their wings. Their barns are lined with 6 foot openings called "pop holes," which make it easy for their hens to come and go.
Happy Eggs also live by the Five Freedoms of Animal Welfare:
Freedom from Hunger and Thirst- easy access to fresh water and the most nutritious diet for full health & vigor
Freedom from Discomfort- Protected, comfortable spaces- indoor and out- for shelter and rest
Freedom from Pain, Injury and Disease- Active prevention and quick diagnosis and care
Freedom from Fear and Distress- Systems that balance light, warmth, and protection for a natural, calm environment
Freedom to Express Normal Behaviors- Over eight acres of varied terrain, roaming, perching, dust-bathing, and behaving naturally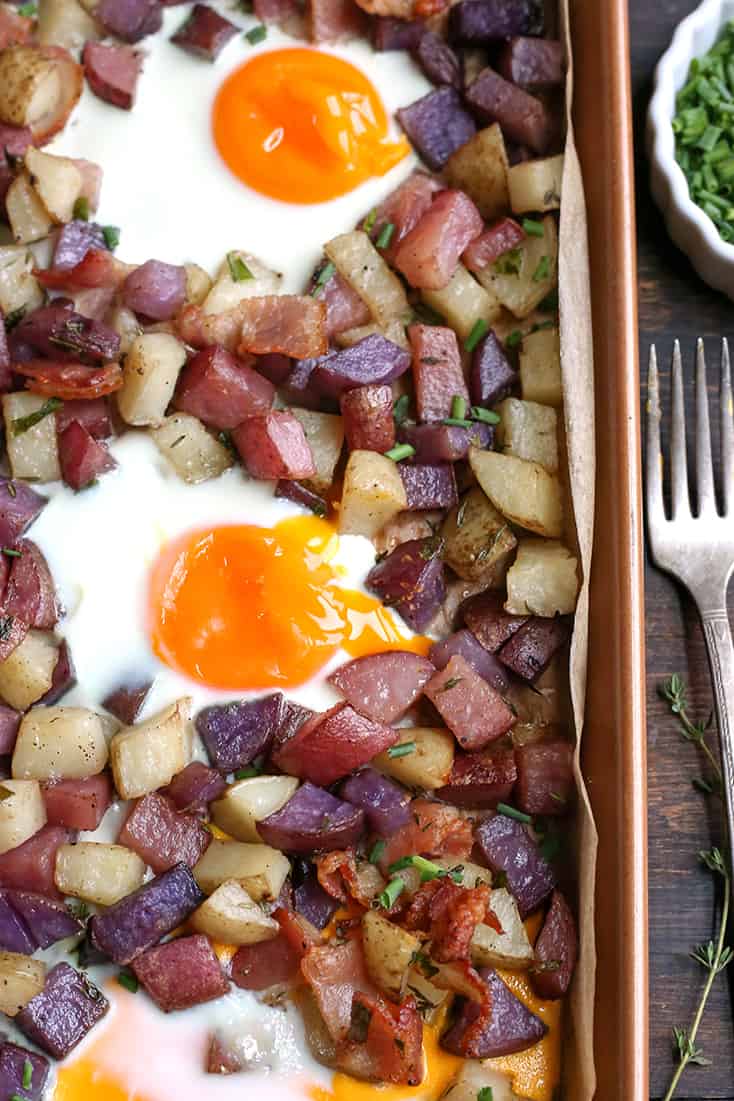 Low FODMAP
Potatoes and eggs are low FODMAP and using garlic oil and green onion for flavor keeps it low FODMAP as well. If you don't need it low FODMAP, use avocado oil and garlic powder. You could also use a red onion in place of the green onion.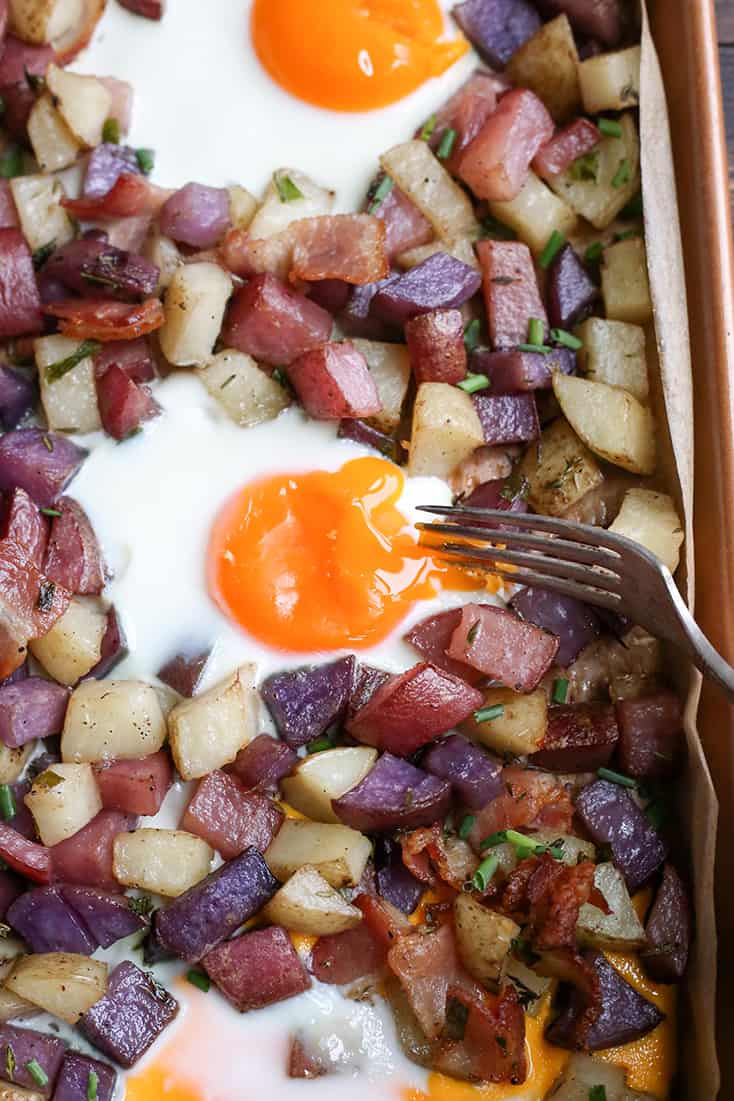 I think you will love this Happy Egg breakfast. It is delicious and definitely the perfect comfort food.
Here are some more breakfast recipes you may enjoy: Paleo Whole30 Sausage Zucchini Breakfast Casserole, Paleo Whole30 Sausage Gravy and Paleo Whole30 BLT Breakfast Bake.
Hungry for more? Subscribe to my newsletter and follow along on Facebook, Pinterest and Instagram for all of the latest updates.
Paleo Whole30 Sheet Pan Hash and Eggs
Ingredients
3 pounds potatoes
2-3 tablespoons garlic oil*
1 teaspoon salt
½ teaspoon pepper
1 tablespoon fresh thyme (optional)
¼ cup chopped green onion
4 pieces bacon, cut into 1 inch pieces
8 large Happy Eggs
Instructions
Preheat oven to 375° and line a sheet tray with parchment paper.

Chop the potatoes into ½ inch pieces, gently dry them off so they get crispy as they cook. Place them on the sheet tray and drizzle the garlic oil on them and toss with the green onion, salt and pepper. Place the bacon pieces on the potatoes. Bake 60 minutes, stirring every 20 minutes.

Remove from the oven and make 8 small wells, crack 1 egg into each and cook for 7-8 more minutes. Serve immediately.
Notes:
*If you don't need it low FODMAP, use avocado oil and garlic powder. 
Nutrition Information
Calories: 563kcal (28%)Carbohydrates: 61g (20%)Protein: 22g (44%)Fat: 26g (40%)Saturated Fat: 7g (44%)Polyunsaturated Fat: 4gMonounsaturated Fat: 13gTrans Fat: 0.1gCholesterol: 387mg (129%)Sodium: 891mg (39%)Potassium: 1645mg (47%)Fiber: 8g (33%)Sugar: 3g (3%)Vitamin A: 702IU (14%)Vitamin C: 71mg (86%)Calcium: 111mg (11%)Iron: 5mg (28%)