These Grain Free Lemon Pop Tart Bars have a soft shortbread crust, a thick layer of tangy lemon curd and a sweet glaze. They are gluten free and naturally sweetened.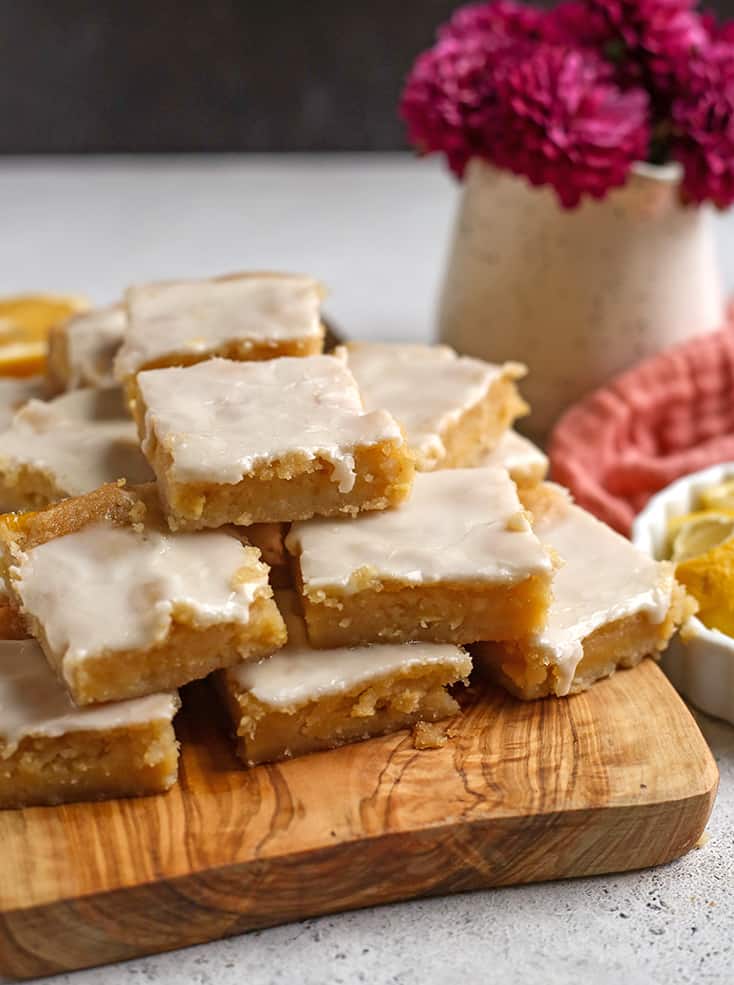 This post is sponsored on behalf of Danish Creamery. All opinions are 100% my own, of course! Thank you for supporting brands that make Real Food with Jessica possible.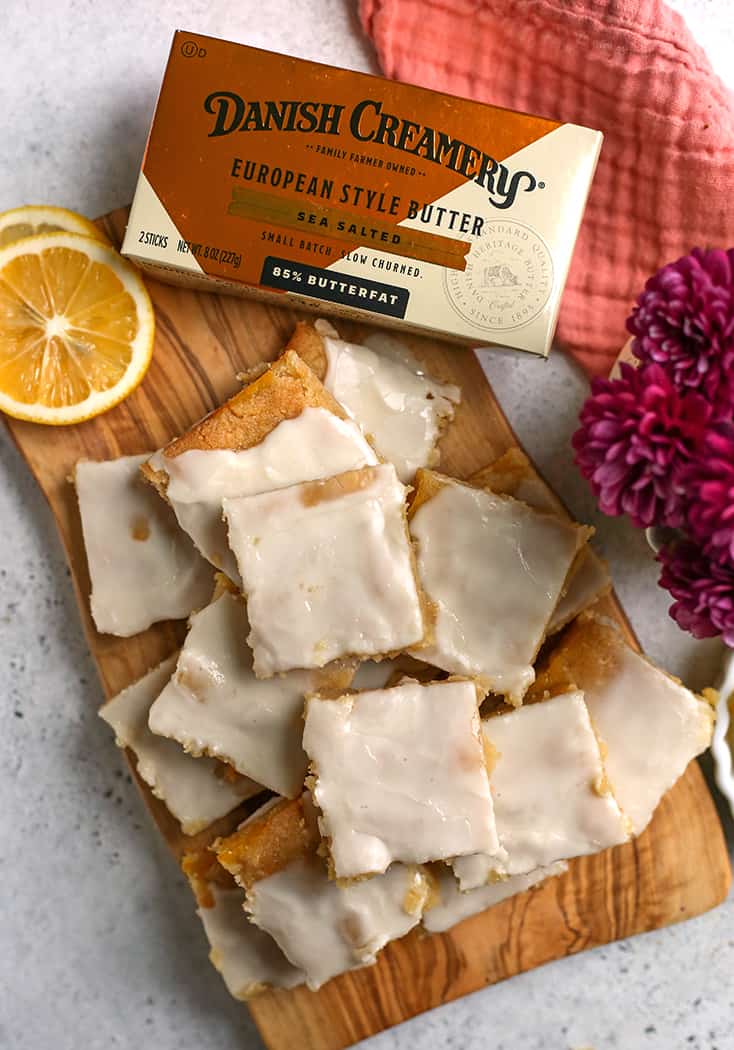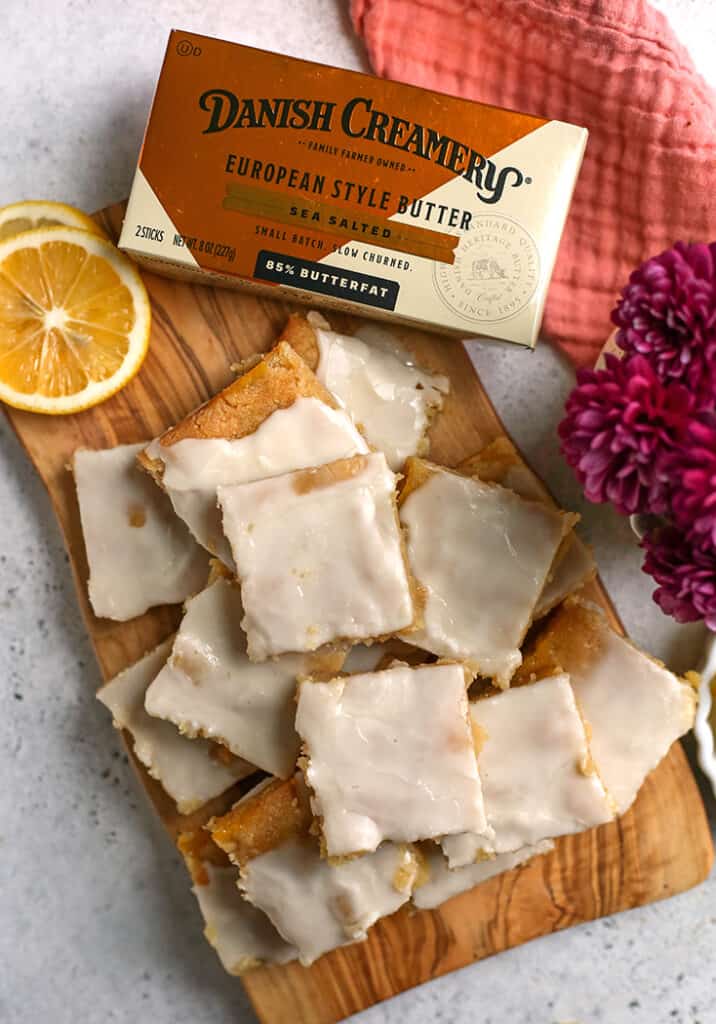 I'm back with another delicious pop bar and this time it's fresh lemon. This flavor had to be made and I thought lemon curd filling would be the way to go. These are really making me ready for spring time and warm weather 🙂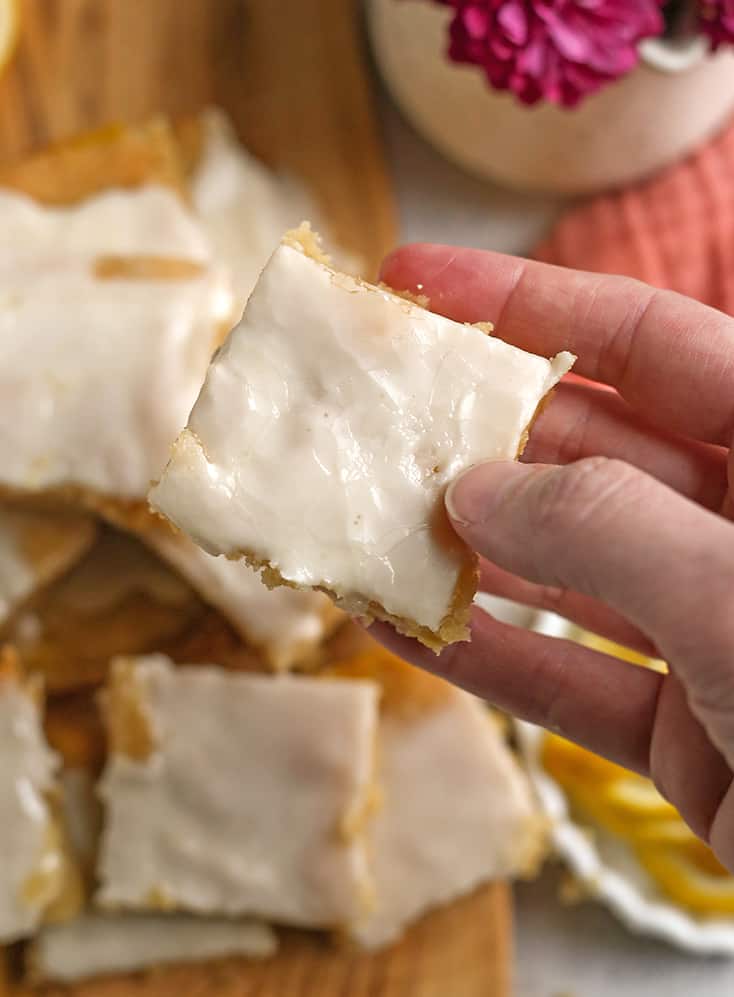 Jump To
Lemon Curd Filling
If you've never made lemon curd, don't be scared! It's one of the easiest things to make and feels fancy! Just warm some eggs, maple syrup and lemon juice until thick, stir in the Danish Creamery Butter and press through a fine mesh strainer to get all the little bits out so it's extra creamy. This is best made at least a day in advance so it can chill in the fridge. I have included the lemon curd recipe below the full pop tart recipe, I didn't want it to be confusing written in with the main recipe.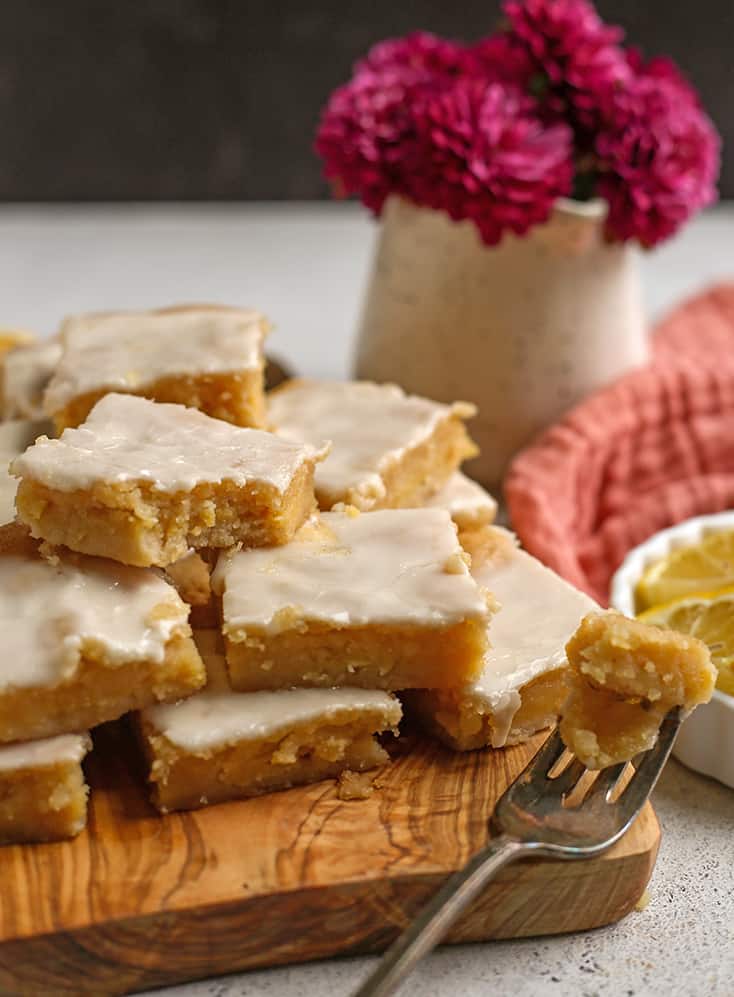 Shortbread Cookie
This shortbread recipe is my tried and true go-to that is melt in your mouth good and sweetened just right. It's a combination of almond and coconut flour, sweetened with maple syrup and a little butter to pull it all together. Half is pressed into the pan, then the lemon curd goes on top, and the remaining shortbread goes on top of that. Don't worry if it's not perfect, it will be frosted so little cracks are okay. I love how easy this shortbread is to whip up and I think you will too.
Why I Love Danish Creamery
Danish Creamery Butter is used both in the shortbread and the lemon curd. It is the star of the show here because it gives richness to the cookie crust and creaminess to the lemon curd filling. Using the best quality butter is so important and really makes these amazing. Danish Creamery European Style Butter boasts an 85% butterfat (much higher than other European style butters that come in at 82-83%) making it a dream in baking applications.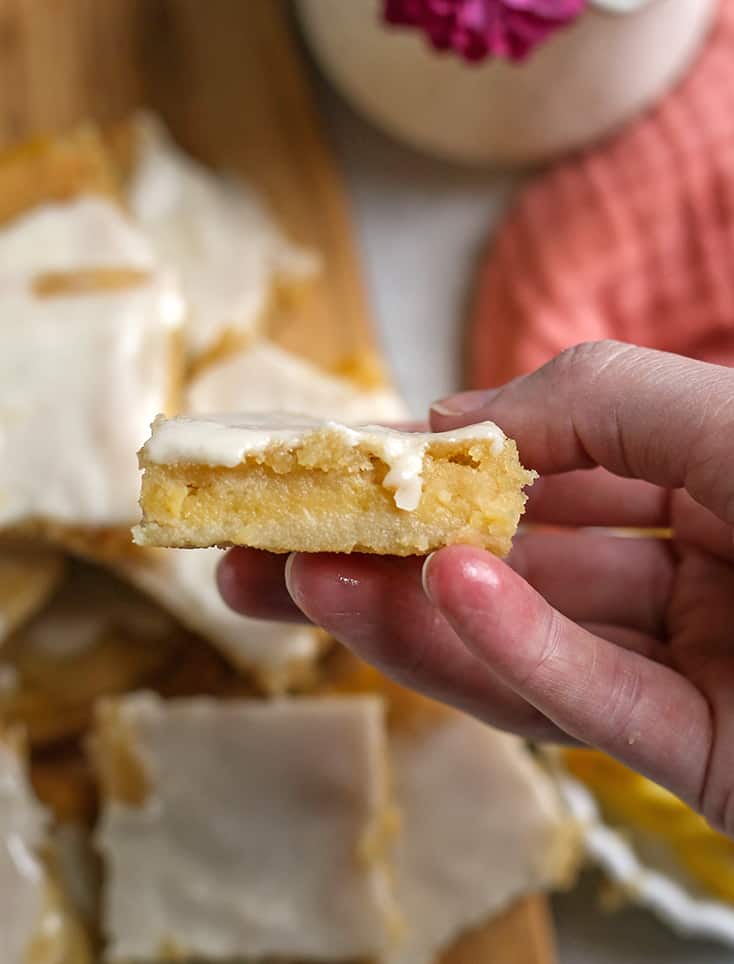 Simple Glaze
Powdered sugar and a little water is used for the frosting. I use coconut butter a lot and people seem to have trouble finding it so I thought I'd go with something a little easier to find. This is sweeter than coconut butter, but it's the perfect addition and makes them look and taste like a classic pop tart.
Storing Lemon Pop Tart Bars
These are super soft and delicate and best stored in the fridge. They are delicious cold and a fresh sweet treat. At room temperature they just get more soft and a fork may be needed to enjoy them. Still delicious!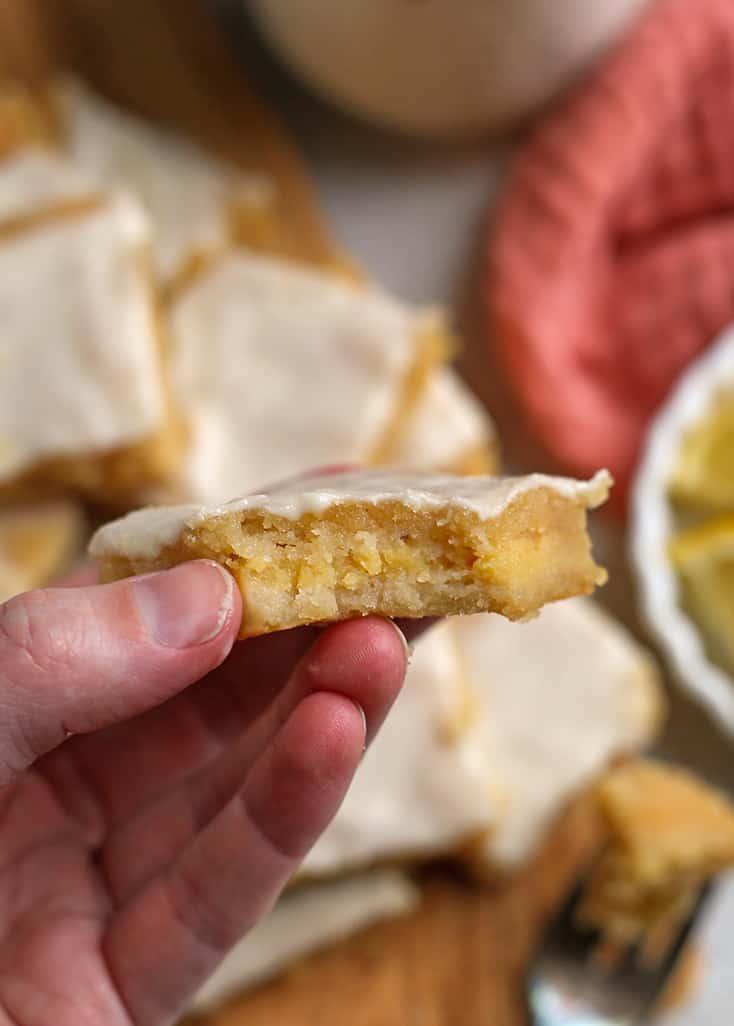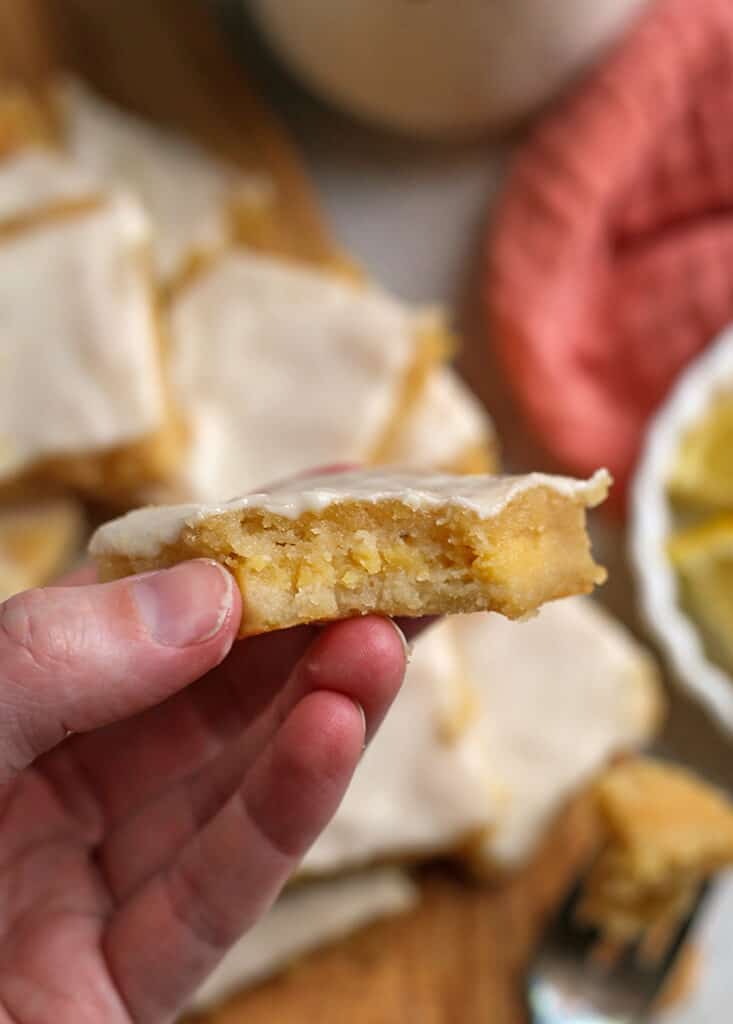 I know you will love these grain free lemon pop tart bars because they're simple to make, sweet and a little tangy. Here are more pop tart bars to try:
Hungry for more? Subscribe to my newsletter and follow along on Facebook, Pinterest and Instagram for all of the latest updates.
Grain Free Lemon Pop Tart Bars
Instructions
Make the lemon curd ahead and let chill. Full recipe is below.

Preheat oven to 350° and line a 9 inch square pan with parchment paper. Set aside.

Make the shortbread. In a medium bowl, combine almond flour, coconut flour, salt, vanilla, maple syrup, and butter. Stir together until it is well mixed and everything is incorporated evenly. Press ½ of the mixture into the bottom of the pan and bake for 10 minutes and then cool for 10 minutes.

Spread 1 cup of lemon curd evenly on the cooled crust and top with remaining shortbread. The best way to do this is to press the dough on a piece of wax paper into the size of the pan and then flip it on top of the lemon layer. Press any pieces together that come apart. Bake for 23-25 minutes, until golden brown around the edges. Let cool before frosting.

Make the frosting. In a small bowl, combine the powdered sugar and water and stir until smooth. Pour over the bars and place them in the fridge to set.

Store covered in the fridge for up to 10 days.
Nutrition Information
Calories: 300kcal (15%)Carbohydrates: 27g (9%)Protein: 7g (14%)Fat: 20g (31%)Saturated Fat: 4g (25%)Polyunsaturated Fat: 0.1gMonounsaturated Fat: 1gTrans Fat: 0.2gCholesterol: 10mg (3%)Sodium: 112mg (5%)Potassium: 17mgFiber: 3g (13%)Sugar: 21g (23%)Vitamin A: 118IU (2%)Calcium: 71mg (7%)Iron: 1mg (6%)
Hungry for more? Subscribe to my newsletter and follow along on Facebook, Pinterest and Instagram for all of the latest updates.
Lemon Curd
Ingredients
3 large eggs
¼ cup maple syrup
1 tablespoon lemon zest
½ cup lemon juice, from 3-4 lemons
¼ cup Danish Creamery Butter
Instructions
Combine eggs, maple syrup, lemon zest, lemon juice, and salt. Whisk to combine. Place over medium heat and stir consistently until mixture thickens, about 5 minutes. 

Remove from the heat and add the butter. Let it sit for a minute, then whisk it in. 

Press mixture through a fine mesh strainer over a bowl. Cool and then store in the fridge. Makes about 1 ½ cups. 
Nutrition Information
Calories: 54kcal (3%)Carbohydrates: 4g (1%)Protein: 1g (2%)Fat: 4g (6%)Saturated Fat: 2g (13%)Polyunsaturated Fat: 0.3gMonounsaturated Fat: 1gTrans Fat: 0.1gCholesterol: 43mg (14%)Sodium: 37mg (2%)Potassium: 34mg (1%)Fiber: 0.1gSugar: 3g (3%)Vitamin A: 140IU (3%)Vitamin C: 3mg (4%)Calcium: 13mg (1%)Iron: 0.2mg (1%)