These Paleo Whole30 Chicken Tenders are easy and packed with flavor! A healthy version of a classic favorite- made gluten, dairy, grain free, and low carb.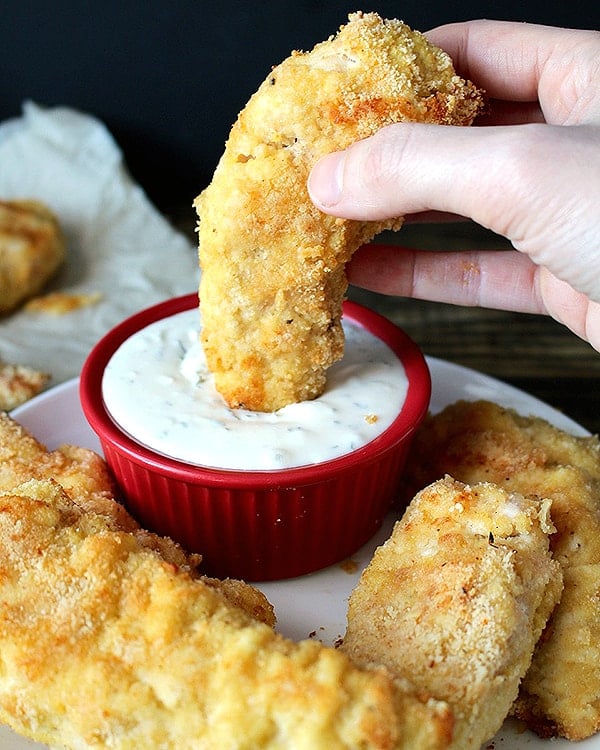 Chicken tenders were probably my favorite food growing up. From age 10-15 I ordered them, guaranteed, at every restaurant. Now I'm not talking about fast food nuggets, I'm talking about strips of actual meat- not saying they are any healthier, but that's what I preferred. And to go along side them for dipping?? Honey...always! I got many weird looks requesting honey with my chicken.
Making Paleo Chicken Tenders has been on my to-do list and now I'm regretting waiting so long. Oh my gosh they are so good!! They are easy to make- don't be intimidated by the 3 step breading process. It's so quick and simple. They'll be in the oven in no time and then done in 15 minutes!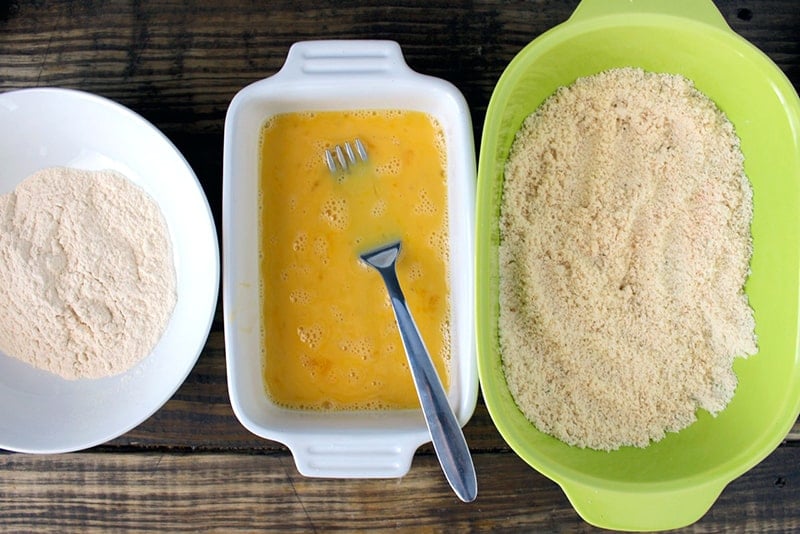 Make the breading station: choose 3 dishes that are flat bottomed and will fit the tenders. The coconut flour goes in the first bowl, then the eggs and milk, then the almond flour and spices. It will go- dry, wet, dry, sheet tray. So make sure that is ready. It is so simple and will go quickly once you have it laid out.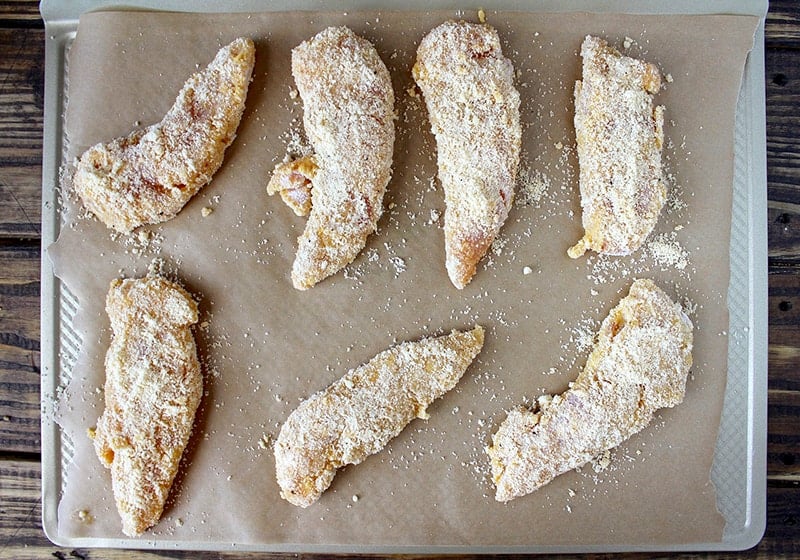 Here is what they look like once they have gone through the breading station and are ready to go in the oven.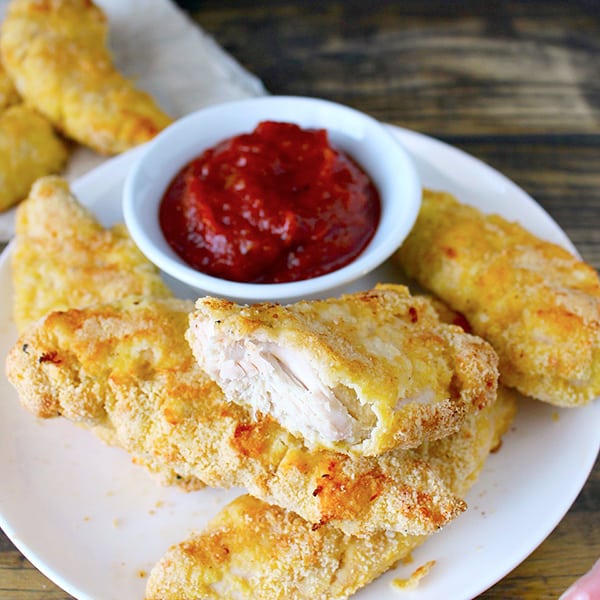 They are perfect dipped in ketchup!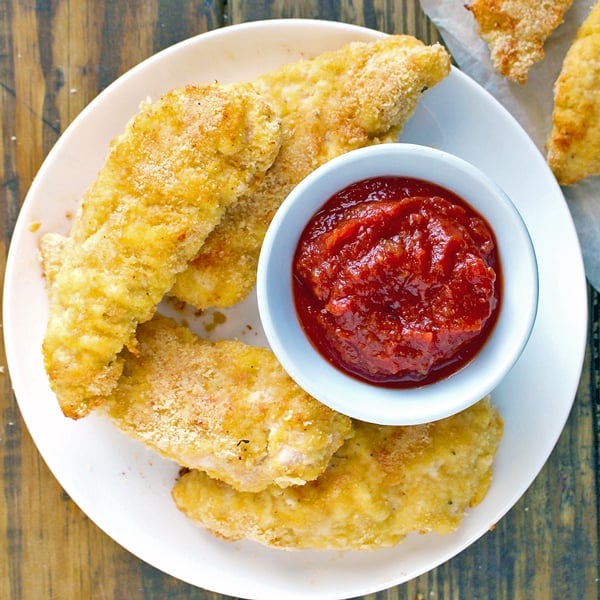 And the fact they are Whole30 as well seems almost too good to be true! I mean, you can't dip them in honey, but they are delicious without it. They are so good plain, but I admit, they are also good dipped in my Ranch! You will love how easy these are and they are also super kid friendly!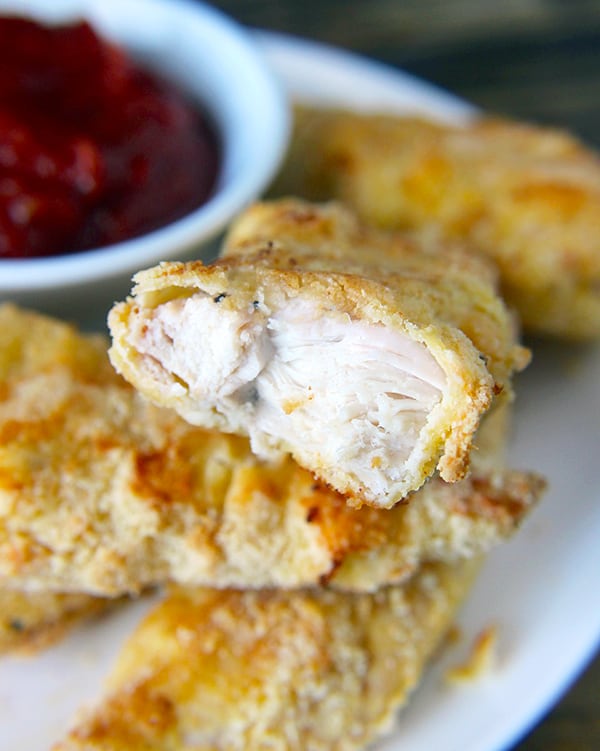 These are juicy, perfectly seasoned, and the breading is so good! You seriously can't tell it's healthy! I know I probably shouldn't say this, but this is my favorite thing I've made for my site. That's how much I love them! I hope you try them and love them as much as I do!
Hungry for more? Subscribe to my newsletter and follow along on Facebook, Pinterest and Instagram for all of the latest updates.
Paleo Whole30 Chicken Tenders
Ingredients
1 ½ pounds chicken preferably organic
⅓ cup coconut flour
2 large eggs
1 tablespoon almond milk
1 cup almond flour
½ teaspoon salt
¼ teaspoon pepper
½ teaspoon garlic powder
½ teaspoon onion powder
¼ teaspoon cayenne optional
Instructions
Preheat oven to 425° and line a sheet tray with parchment paper. Set aside.

Get out 3 shallow, flat-bottomed dishes. This will be your breading station.

Put the coconut flour in the first bowl.

Crack the eggs in the second bowl and add the almond milk. Whisk until combined.

Place the almond flour, salt, pepper, garlic, onion, and cayenne in the third bowl. Mix until all the seasonings are well incorporated.

Taking one strip at a time, dip it in the coconut flour and make sure it is fully coated. Then dip it in the egg mixture and let any extra drip off. Them dip it in the almond flour mixture and make sure it's fully coated with no wet spots showing.

Place it on the sheet tray and repeat with remaining tenders.

Spray with pure olive or coconut oil if you have it. This will help them brown.

Bake for 10 minutes, then flip them over and bake for 5 more minutes.

OPTIONAL: turn the oven to 500° and bake for an additional 5 minutes to brown the outside.
Nutrition Information
Calories: 338kcal (17%)Carbohydrates: 11g (4%)Protein: 19g (38%)Fat: 26g (40%)Saturated Fat: 4g (25%)Polyunsaturated Fat: 2gMonounsaturated Fat: 3gTrans Fat: 0.1gCholesterol: 88mg (29%)Sodium: 234mg (10%)Potassium: 114mg (3%)Fiber: 6g (25%)Sugar: 2g (2%)Vitamin A: 173IU (3%)Vitamin C: 1mg (1%)Calcium: 88mg (9%)Iron: 2mg (11%)