These Coconut Oil Rice Crispy Treats are easy, quick, and so delicious! A dairy free version of the classic treat that you are guaranteed to love!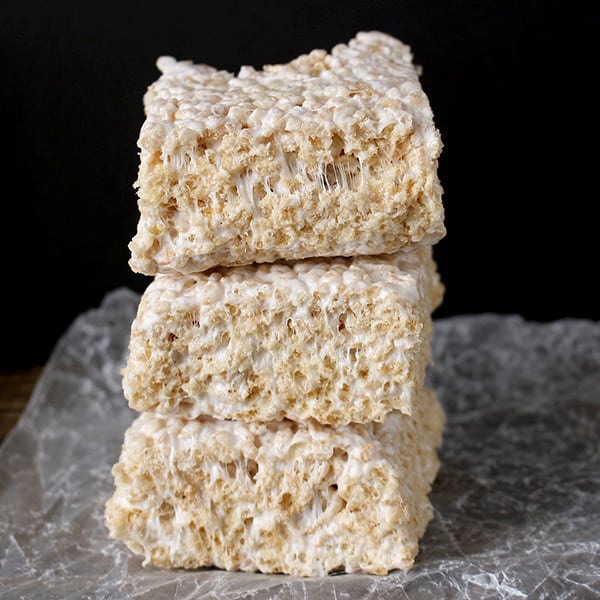 Rice Crispy (or Krispy) Treats were a favorite of mine growing up. I'm thinking my mom made them a lot because they are so easy. No baking, only a few minutes involved, and so good! I still love them and I wanted to try making them with coconut oil in place of the butter- it was a great idea! You will not miss the butter- promise!!
How to make sure they don't turn out hard
This is a common question when making crispy treats and the key is to melt the marshmallows slowly. Don't be tempted to crank up the heat, that is what results in them getting so hard when they set. Be patient, stir the marshmallows well as they slowly melt and you will have the best, soft and chewy crispy treats!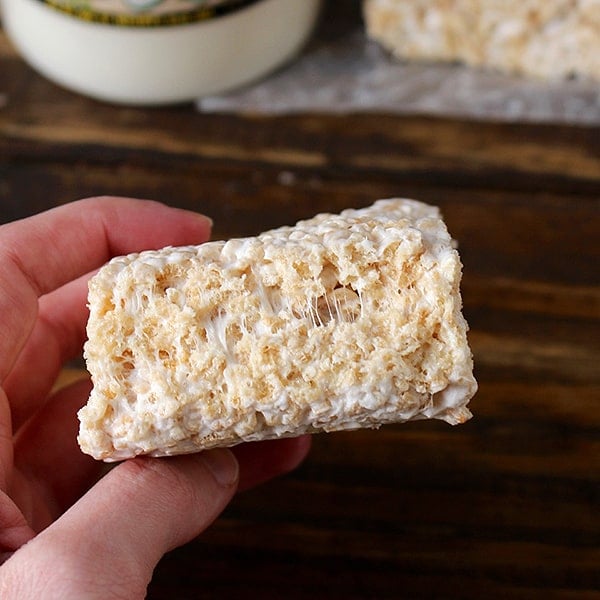 All you need is 3 simple ingredients to make these. It can't get much easier than that! One tip I have is to make sure the pan you use is big enough. It has to hold not only all those melted marshmallow, but also all the rice crispies. I have had a mess more than once trying to make these work in a too small pan.
To make using a 16oz bag of marshmallows
Sometimes you grab the big bag of marshmallows and want to use it all so I've updated the recipe with instructions for that. You'll want to increase the coconut oil to 6 tablespoons, the cereal to 7 cups and use a 13x9 pan. So easy for a bigger pan of crispy treats.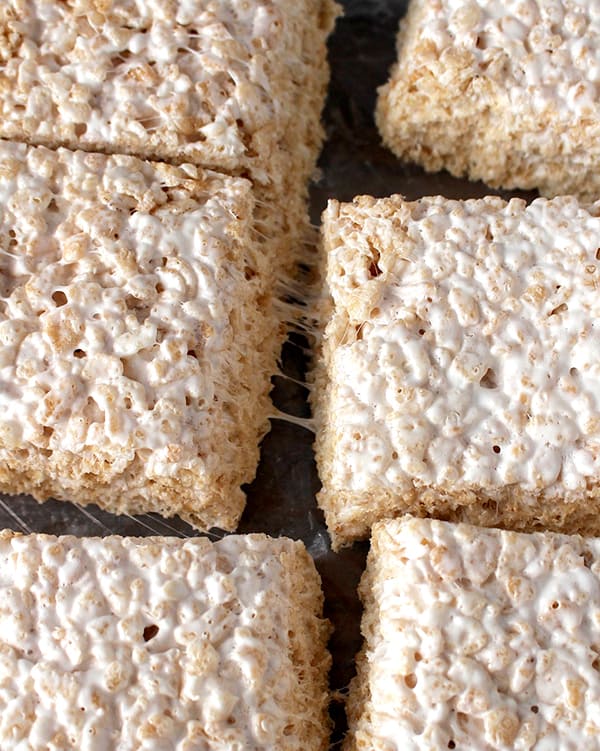 These are gooey, sweet, and the perfect combination of crispies and marshmallows. I know that might not seem like a big deal, but I have definitely had overly dry and overly marshmallowy treats. Made this way will result in ooey, gooey, soft, pillowy, sweet squares. They are perfect!
Dairy Free and Gluten Free
Because coconut oil replaces the butter, these are dairy free. They can also easily be made gluten free if you use gluten free rice crispy cereal. I made them with both regular and gluten free cereal and both turned out great.
You will love these Coconut Oil Rice Crispy Treats because they are so fast, easy, and delicious! Here are some more no-bake treats to enjoy:
Hungry for more? Subscribe to my newsletter and follow along on Facebook, Pinterest and Instagram for all of the latest updates.
Coconut Oil Rice Crispy Treats
Ingredients
¼ cup coconut oil
1 10.5 oz bag marshmallows
Instructions
Line a 9x9 square pan with foil and spray with non-stick spray. Set aside.

In a large pan, combine coconut oil and marshmallows over medium heat until completely melted. This should take 4-5 minutes and make sure to stir constantly so the bottom doesn't burn.

Once mixture is smooth, add the rice krispies and mix until evenly coated.

Pour into prepare pan and let cool for about an hour. Cut into squares and serve.
Notes:
*To make with a 16oz bag of marshmallows, use a 9x13 pan. Increase the coconut oil to 6 tablespoons and the crispy cereal to 7 cups.  *To make sure the treats don't get hard after making them, don't heat the marshmallows too quick. Heat on low and be patient for the ultimate chewy crispy treats. 
Nutrition Information
Calories: 118kcal (6%)Carbohydrates: 22g (7%)Protein: 1g (2%)Fat: 4g (6%)Saturated Fat: 3g (19%)Polyunsaturated Fat: 0.1gMonounsaturated Fat: 0.3gSodium: 46mg (2%)Potassium: 11mgFiber: 0.04gSugar: 11g (12%)Vitamin A: 582IU (12%)Vitamin C: 6mg (7%)Calcium: 0.5mgIron: 3mg (17%)